Dick Sargent ( 1930 – 94)
Dick Sargent was the original choice to play the male lead in the Bewitched series, but other commitments caused him to surrender the opportunity to Dick York. York was very good as Darrin Stephens, but suffered from a chronic back complaint that resulted in him collapsing on the set one day. Unable to continue in the role, he dropped out and was replaced by Sargent in 1969. Oddly enough, audiences were never given an explanation for the switch. One week we were watching York as Darrin, the next we were watching Sargent for the next four seasons. When the tabloids began referring to his cancer as 'AIDS-related', Sargent came out as a homosexual in 1989. Prostate cancer took him in 1994.
Agnes Moorehead (1900-74)
The second of three gay actors who were regulars on Bewitched is Agnes Moorehead, the wonderful character actor who played Endora, Samantha's mother, from 1964 until the series concluded in 1972. Agnes was already a highly successful radio performer back in the 1930s, when she was approached by Orson Welles and asked to become a founder member (along with him and Joseph Cotten) of the soon to be famous Mercury Theatre on the Air. She agreed and was actually part of the notorious 'War of the Worlds' broadcast in 1938, often described as 'The Night that Panicked America'. Throughout her life, Agnes refused to acknowledge her lesbianism. Paul Lynde described her as 'classy as hell, but one of the all-time Hollywood dykes.' Debbie Reynolds was Moorehead's closest 'friend' and hotly denied tales that Agnes was gay. Debbie's son Todd Fisher, however, wrote in his autobiography that Agnes and his mother had been lovers since they met on the set of How the West was Won, and their affair lasted until Moorehead's death in 1974. Even Todd's father, singer Eddie Fisher, told an interviewer: 'I think my wife is a lesbian'. A chapter he had planned for his autobiography about the Moorehead/Reynolds affair was deleted after Debbie's lawyers threatened him with legal action.
Paul Lynde (1926 – 82)
The third gay member of the Bewitched cast was Paul Lynde, which would come as no surprise to most fans. A very funny man, he often played camp characters. When asked by interviewers why he never married, Lynde always replied that his high school girlfriend broke his heart and it never mended. His long-term companion, Bing Davidson, fell to his death from a hotel balcony in San Francisco in 1965, while demonstrating how he could hang from the ledge by his fingertips. He and Lynde were very drunk at the time. When Paul died from heart failure at 55, his demise was attributed in part to excessive substance abuse. He had always drank and used drugs. It seems they finally caught up with him. Although he was terrific as Uncle Arthur here, I shall always think of him as 'The Singing Mountie' in an episode of my favourite TV comedy series F Troop back in the sixties.
On an unrelated note, I discovered that David White, the actor with the steel grey hair who played Darrin's demanding boss Larry Tate in Bewitched, suffered a devastating loss in real life. His only son, 33 year-old Jonathan, was desperately unlucky to be aboard Pan Am Flight 103 when Libyan terrorists blew it up over the town of Lockerbie, Scotland in 1988.
Ellen Page (1987 -)   today
Ellen first came to notice as a ten year-old in the series Pit Pony (1999-2000), playing Maggie MacLean. The delightful Canadian-born actress also appeared in the cult series Trailer Park Boys after her first series ended. It was her strong performance in the title role in the 2007 comedy Juno that saw her hit the big time, being nominated for an Oscar, a BAFTA, a Golden Globe and a SAG! At a Human Rights Campaign even in Las Vegas in 2014 she announced she was gay. Her folks had known for nearly a decade.
Dack Rambo (1941 – 94)
Dack Rambo was one of those bizarrely named members of gay agent Henry Willson's stable of young actors in the sixties. His identical twin brother Dirk was also signed by Willson. The identical twins were actually discovered by Loretta Young as they sat on a church pew in 1962. Soon both boys were on her TV show for its entire first season, before going their separate acting ways. Dirk got jobs on a couple of TV shows – The Virginian and Dragnet, before he was tragically killed by a drunk driver in 1967. Dack, meanwhile, landed a series called The Guns of Will Sonnett, playing Walter Brennan's son. It ran for three seasons (1967 – 69). Later, in 1978, he was Jack Ewing on Dallas, but his twin's death still affected him. Dack was bisexual, contracted the AIDS virus, and died from complications in 1994 aged 52. His final years were spent advocating safe sex and helping establish an international data-base for AIDS research
Megan Fox (1986 -)
If there is any young guy who was a teenager in 2007 when she made the first of the Transformers movies, who has never heard of Megan Fox, then it is a fair bet he must have been away visiting another planet in the galaxy, because this girl was hot. In 2004 she played Sydney Shanowski in the short-lived series Hope & Faith (2004-06). Today, she openly states that she is bisexual, although presently married to a man, but sadly, her endeavours to be candid about herself fall into the 'too much information' category. For example: 'I forget to flush the toilet. Friends will tell me, 'Megan, you totally pinched a loaf in my toilet and didn't flush.' Do we really need her to be so informative? I must be getting old. In another interview she shared the following: 'If you eat Chinese food, your farts come out like Chinese food. If you eat Mexican food, your farts come out like Mexican food. And milk, it's like – you can smell the warmth in the fart.' Suddenly, I find Megan Fox about as sexy as a pair of army socks. Yuk!
Jane Lynch (1960 -)
Gorgeous Jane Lynch has been a much sought after actress for several decades, and has graced a number of TV series over that time as a regular member of the cast. These include Boston Legal, Criminal Minds, Easy to Assemble, Help Me, Help You, The L Word and more. Her 10 year stint on Two and a Half Men, playing Dr. Linda Freeman, is probably recalled by most fans. Recently, she supplied the voice for Calhoun in the animated 2012 movie Wreck it Ralph. She said she first discovered she was a lesbian when she was 12 years old, but such was the stigma attached at the time, it took her another 19 years before she could bring herself to inform her parents of her discovery. Her 3 year marriage to clinical psychologist Lara Embly ended in 2013.
Richard Deacon (1921 – 84)
If anyone required a pompous, humourless, bank manager, school principal, waiter, or just all round authority figure with a foul temper, then bald, bespectacled Richard Deacon was their man. Beginning in 1953, he played these roles with seeming ease in dozens of films and a few TV shows as well. He was Lumpy Rutherford's dad in the hugely successful Leave it to Beaver (1957-63), Mr Baldwin in The Phyllis Diller Show (1966-67), and Mel Cooley in The Dick Van Dyke Show (1961-66). He remained tight-lipped about his homosexuality and never married. Heart disease claimed him at 63.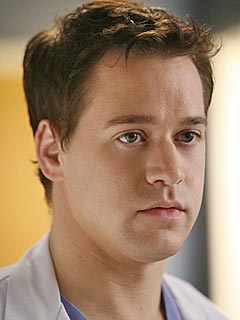 T. R. Knight (1973 – )
Isaiah Washington
In 2006, there was a heated argument on the set of Grey's Anatomy between Patrick Dempsey (Derek Shepherd) and Isaiah Washington (Preston Burke ), during which the latter said: 'I'm not your little faggot like [co-star T. R. Knight who played George O'Malley]'. Knight, one of the gentlest of men, was deeply hurt, choosing to acknowledge his homosexuality a few days later. 'I've never been called that to my face', he told Ellen DeGeneres. 'So I think when that happened, something shifted, and it became bigger than myself.' Washington apologized, but he had alienated many of his peers on Grey's Anatomy, including executives, who did not renew his contract in 2007.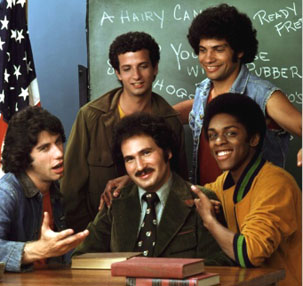 Ron Palillo (1949 – 2012)
Ron Palillo was one of those actors whose face was instantly recognizable, yet despite having appeared on our TV screens for five or six consecutive seasons in a highly successful series, (in his case Welcome Back Kotter 1975-79), I doubt if one in a hundred viewers would remember his name – not today and not then either. Like all the cast of that series, his character (Arnold Horshack) was memorable, yet Palillo's career never amounted to much for the remainder of his life. He worked regularly on film and stage throughout his life, living for 41 of his 63 years with his partner, Joseph Gramm, in Palm Beach, Florida. In January 2012, Robert Hegyes, who played Juan Epstein in the series, died at 60. In the same year Palillo, too, passed away.
Robert Hegyes as Epstein