Twenty year-old Brigitte Bardot was understudy to the star of Helen of Troy (1956), but ended up with a small role as Rosanna Podesta's handmaiden. She would make her British screen debut in Doctor At Sea in the same year. The French actress has had psychological issues for much of her life and has attempted suicide at least four times, the first of these when she was just fifteen. Once she even tried walking into the ocean to drown. Fellow French actor Yves Montand was particularly savage when asked his opinion of his nation's number one sex symbol. '…she was and remains cheap, petty, jealous, bigoted, and untalented', he said. 'She also tries to kill herself every few years, without success. I hope she never succeeds, but one wonders if she is any good at anything'. His wife, actress Simone Signoret, was equally scathing. 'Bardot was a sex symbol. Period', she said. 'When she lost her looks, she lost her career, everything. Her mind went, too'. Brigitte once explained her penchant for younger men, saying, 'I have always adored beautiful young men. Just because I grow older my taste doesn't change. So, if I can still have them, why not?'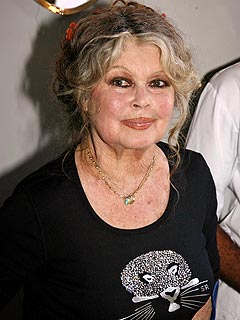 Brigitte Bardot today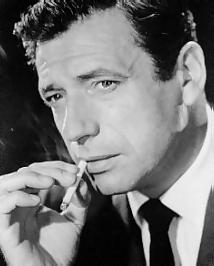 Yves Montand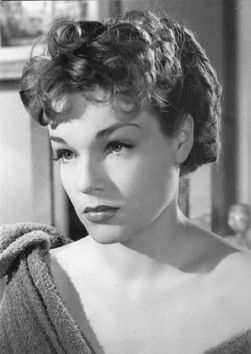 Simone Signoret
Ellen Barkin
Still sexy Ellen Barkin caused a stir at a tribute to George Clooney when she said with all the class she could muster (which wasn't much), 'Yes, I have fucked George Clooney. I'm very proud of it, actually. If you don't have chemistry with George Clooney, you need to check your pulse'. The 52 year-old actress had just divorced billionaire Ron Perelman when she made the remarks at the American Cinematheque Award ceremony. As usual, once everyone began their tut-tutting, a spokesmen for Miss Barkin said she was just 'goofing around'.
Van Johnson
Evie and Van Johnson
Keenan Wynn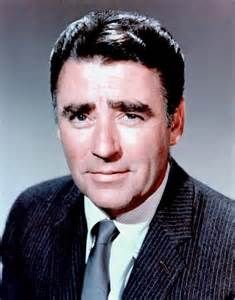 Peter Lawford
In 1938, actress Eve Abbott (known as Evie) married actor Keenan Wynn. Before they met she toured with lesbian actress Katharine Cornell and was once engaged to the bisexual Tyrone Power. But then she and Keenan met former New York chorus boy Van Johnson. Before long Keenan and Van were involved in an affair. Rumours soon reached LB Mayer, especially after another bisexual, Peter Lawford, joined in the action, and the MGM boss decided to scotch them in one fell swoop. Most studio employees were convinced that they were a sexual 'foursome', and that Van had fallen in love with Evie. Mayer had desperately tried to set him up with June Allyson, Gloria deHaven and Sonja Henie, in an endeavour to defer the talk around town, but Van simply wasn't interested in any of them.
Evie was Keenan's manager as well as his wife, so when she met with Mayer and Eddie Mannix to renew her husband's contract in December 1946, she was met with an ultimatum. She must divorce Wynn and marry Johnson or a) there would be no contract for Keenan, and b) she would never represent anyone at MGM ever again. She agreed. 'I was young and stupid enough to let Mayer manipulate me', she said later. 'I divorced Keenan, married Van, and became one of LB's victims.' She and Johnson were married four hours after her divorce was finalized. Gay writer Arthur Laurents noted in his L.A. column: 'A sunny male star caught performing in public urinals once too often was ordered by his studio to get married. His best friends, a comedian and his wife, divorced so he could marry the wife.' Van's affair with Lawford was common knowledge at MGM as well. The standing joke around the office was, 'Who gets custody of Peter?' The marriage lasted until 1968 when, according to Evie, Van left her for a young male dancer. His charge sheets (for importuning in public urinals in both New York City and Los Angeles) were conveniently 'mislaid', probably by MGM 'fixer' Howard Strickling acting on orders from Mayer. A lot of money is believed to have been paid out to the necessary officials to keep the studio's number one box-office star's reputation intact. Business as usual in Tinsel Town.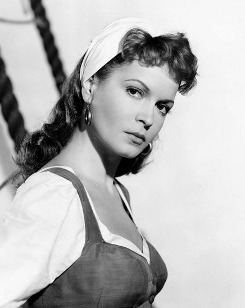 Eva Bartok
Curt Jurgens
Eva Bartok was born in Hungary in 1927 and spent several years in a German concentration camp during World War II. Then, while still a minor, she married a Nazi officer in 1941, ostensibly to save her life, (her father was Jewish). She later described the union as 'a series of brutal rapes worse than death'. Her father simply disappeared, a victim of the Holocaust. At war's end the marriage was annulled and she later tied the knot with actor Curt Jurgens. In the 1980s she publicly claimed her daughter Deana, born in 1957 when she was still married to Jurgens, was in fact sired by Frank Sinatra during their 1956 affair. After a brief burst of fame, including the female lead in The Crimson Pirate, her career faded away and she died in England in 1998, penniless and forgotten.
Busby Berkeley
Jerry Giesler (R) with Bugsy Siegel
Frank McHugh
By 1935 Busby Berkeley's brilliantly staged, choreographed, dance sequences were the talk of Hollywood and the movie-going world. He was a genius. He was also an alcoholic. On 8 September 1935, a drunken Berkeley crossed the median strip on the Pacific Coast Highway and struck two cars coming the other way, killing 3 members of a family in one car and severely injuring two people in the other. He escaped with minor injuries. MGM publicity head and 'fixer' Howard Strickling called lawyer Jerry Giesler at once. There were three trials over two years. Berkeley was wheeled into the first one on a gurney and swathed in bandages. Giesler argued that the tyres on the car were faulty and caused Berkeley's car to swerve out of control. Several witnesses stated he was blind drunk at the scene of the accident, but a dozen MGM and Warners stars, among them Pat O'Brien and Frank McHugh, as well as director Mervyn LeRoy, came forward and swore that Berkeley was stone cold sober when he left the party that night. McHugh went one lie further, claiming that he did not see anyone of the 200 guests touch any liquor whatsoever! The first two juries were hung, the third acquitted a very 'fortunate' Berkeley. MGM quietly paid out over $100,000 in law suits. For those interested in poetic justice, Busby's style of film-making went out of vogue quickly, and by 1946 his 25 room mansion was gone and so was his career. In July of that year he slashed his wrists and throat, but survived. Berkeley eventually died in obscurity in Palm Springs in 1976.
Joan Blondell
Joan Blondell plays the card dealer 'Lady Fingers' in The Cincinnati Kid (1965). James Cagney always said he only loved two women in his life; his wife and blousy Joan. Her eight year marriage to crooner Dick Powell ended when she became sick and tired of the endless procession of hangers-on and fair-weather friends that streamed in and out of their home at all hours of the day and night. By comparison, her marriage to impresario Mike Todd broke down for a different reason. He bankrupted her with his high stakes gambling (he was a mad bridge player). In her memoirs she revealed how a police officer had raped her one evening in 1927 while she was closing up the library where she worked. The man threatened to kill her if she reported the rape and she fearfully maintained her silence about it for several decades.
Pat Boone at his peak in the 1950s
Pat circa 1997
At the 1997 American Music Awards 63 year-old Pat Boone appeared dressed in a studded collar and leather waistcoat; sporting a tattoo on his chest. His fans from the fifties could scarcely believe their eyes. Needless to say he had an explanation for this sudden insanity, claiming he had simply listened to a Metallica/Deep Purple/Van Halen tape and was transformed into an aging heavy metal freak. Well, maybe he was, but his sudden epiphany cost him his Christian television series and a sizeable portion of his fifties fan base. A staunch supporter of the Republican Party, he campaigned for George W Bush in both the 2000 and 2004 elections. In 2006, at the age of 72, he went on the record with the World Net Daily proclaiming that any American who did not support the war in Iraq was 'unpatriotic', further proof that Pat has clearly lost the plot. He then alienated a few million more thinking Americans by declaring his outrage at the C&W group the Dixie Chicks for their opposition to the President and their unwillingness to 'respect their elders'. The girls responded by fighting fire with fire (see below). Early in 2007, despite his complete lack of formal scientific education, he wrote two articles decrying the theory of evolution as 'absurd' and 'nonsensical'. Another of his penned articles foolishly defended Mel Gibson's infamous anti-Semitic outburst. Sadly, it seems Pat has become one enormous oxygen thief.
The Dixie Chicks fight back