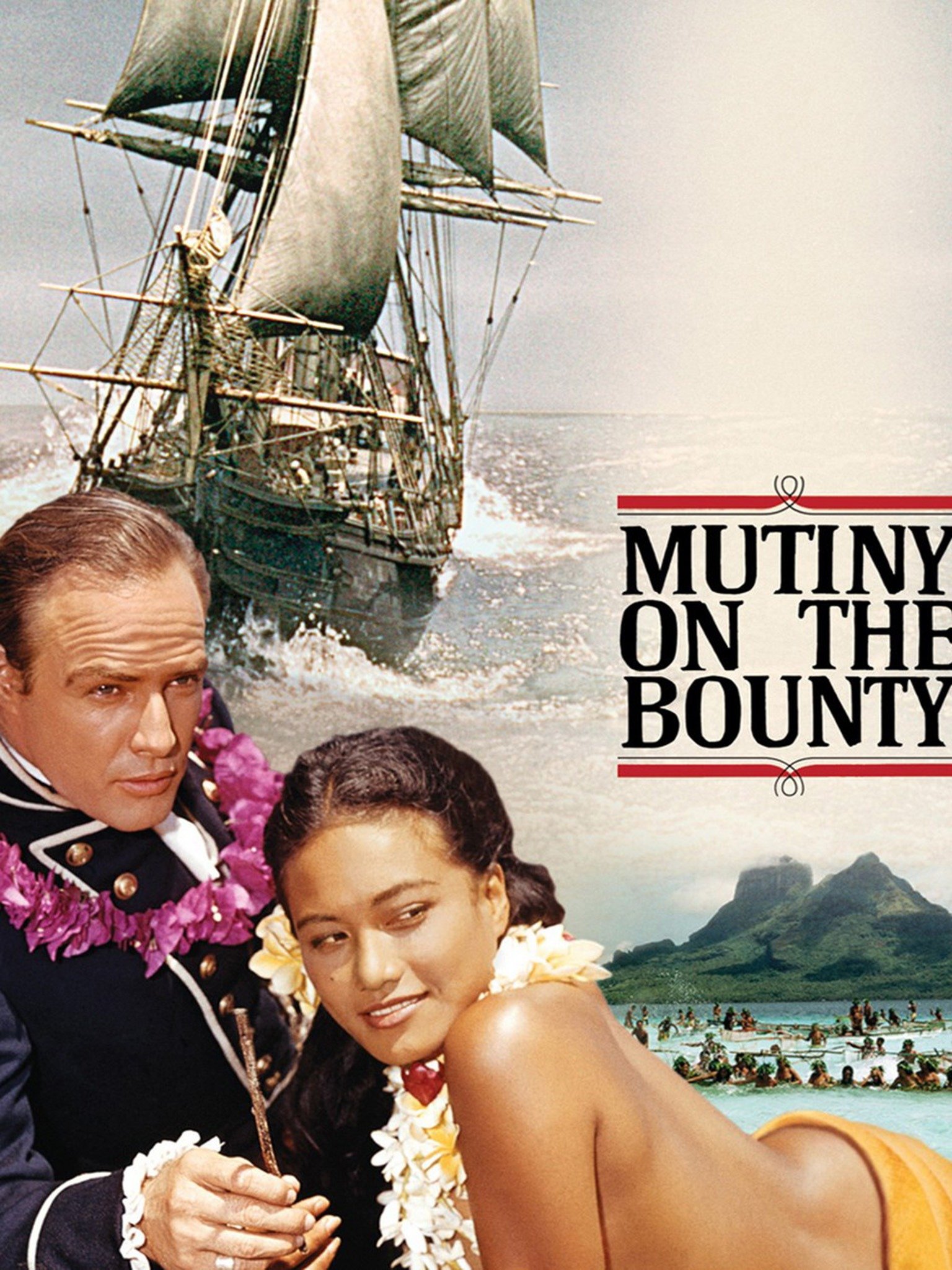 MUTINY ON THE BOUNTY (1962)          
This particular version of the happenings aboard the British ship Bounty in 1787; starring Marlon Brando as the mutinous Lt. Fletcher Christian and Trevor Howard as the irascible Lieutenant/ Captain Bligh, had to be one of the most unhappy movie sets in the history of motion pictures. And the blame can be squarely laid at the feet of Mr. Brando whose notorious on-set petulance reached a pinnacle in this film. The man's clout was such that he had MGM green-lighting every outrageous idea he came up with. If he wasn't pulling film crew off the set to decorate and design a friend's wedding in Tahiti, he was organizing airplanes filled with cases of champagne, turkeys and hams to supply parties there. His conduct in front of the cameras was both unprofessional and, at times, bordering on lunacy.
Marlon Brando as Fletcher Christian
It was bad enough that he continually improvised his lines in scenes with Howard, making it impossible for his co-star to respond to cues, but he even stuffed cotton wool in his own ears so he would be unable to hear Howard's lines when they were eventually delivered! Much later, it should be stated, Brando took the time to write a long letter to Howard apologizing for his behaviour during filming. It must have had some effect on the British actor because he became largely responsible for helping his American co-star win a libel action against a British newspaper concerning the movie. In fact, the two men acted together again in a couple of films – Morituri (1965) and Superman (1978).
Trevor Howard as Captain Bligh
Brando's on-set issues were not with Howard alone. If anything, they were even worse with Richard Harris who had signed on for the rather small role of Seaman John Mills in the picture, purely for the opportunity to work with Brando. The man's behaviour soured his adoration of the star forever. Indeed, Harris would later describe the production as 'nightmarish' and 'a total fucking disaster'. One scene in particular brought things to a head. Christian was required to strike Mills, but on the first take Brando's hit was quite feeble. Harris gave him a mock curtsy and waggled a limp wrist in the air. Brando did not get the joke. The blow delivered on the second take was also weak, prompting Harris to thrust his chin out and say, 'Come on, big boy, why don't you fucking kiss me and be done with it!' Brando was livid. When Harris, still joking around, kissed him on the cheek, hugged him and said 'Shall we dance?' Brando stormed from the set in a rage. Harris was barely known to cinema audiences at the time, yet he insisted on receiving third billing behind Brando and Howard so his character had to be built up. His friend Robert Mitchum informed him that he was the talk of the picture back in Britain. 'What are they saying about me?' asked Harris. 'They're all saying, 'who the fuck is Richard Harris?' he replied.
Richard Harris as Seaman John Mills
During another scene that featured the two actors, after a dozen or so takes, Brando suddenly gave up and simply walked off the set, muttering, 'I don't know if it is going to work or not'. Harris was momentarily speechless. Momentarily. When it became evident that the superstar was not going to return to finish the scene, Harris exploded and yelled after him: 'Damn you! Look at me! Act! Who the hell do you think you are?' The Irishman had such a terrible time making Mutiny on the Bounty because of Brando's shenanigans that he refused to attend the premiere. Of course, it is no secret that Harris himself was almost always hard to handle on the set of his movies. A notorious imbiber, he arrived in Tahiti, bottle of bourbon in hand, to be greeted by name by the clerk on the check-in desk. 'How do you know my name?' a bemused Harris asked. 'I recognized you from your hand luggage', replied the man.
Brando really did believe that the cast and crew should wait for him. Consequently, he alienated several of them with his chronic lateness on the set, repeatedly ignoring calls until he was good and ready. On the day that the scene was to be shot in which the natives welcome the Bounty to Tahiti, he spent an eternity talking to some local women while the cast and crew waited, sweltering in the hot sun. When he finally deigned to show up, Howard lost his temper and walked off the set himself, thereby making Brando wait for him. Howard, too, could become a handful on his movie sets although he maintained a standard of professionalism. On one occasion in Tahiti, he had been up drinking and carousing all night until police found him and drove him (two hours late) to the set. Once there, he performed his scene flawlessly, however.
Hugh Griffith as Alexander Smith
Back in 1960, Hugh Griffith won a Best Supporting Academy Award for his performance in Ben-Hur (1959). In Mutiny on the Bounty he played Alexander Smith, but went missing for large portions of the movie. If any fans have ever wondered why this happened, the answer is a simple one. The man was a hopeless alcoholic and when his alcoholism became unmanageable he was fired from the film. In fact, his behaviour was considered to be so bad, he was not even allowed back on the island for the final scenes!
The original director, Carol Reed, was fired and replaced by Lewis Milestone, a well-respected veteran with two directing Oscars to his credit. Milestone soon noticed that the cameramen would continue rolling in scenes featuring Brando, even after Milestone had called 'cut', and would only cease filming on Brando's signal. The actor later dismissed all criticism of this, arrogantly proclaiming that actors essentially directed themselves anyway! Hollywood, however, had lost patience with their prima donna star by this time, especially with his treatment of Milestone, and a decade would pass before Brando hit it big again with The Godfather (1972).
Director Lewis Milestone
Filming aboard Bounty was not a very pleasant way to spend a few months. Strong offshore winds constantly battered the ship and seasickness was soon rife throughout both cast and crew. Howard recalled that every evening, after returning to his hotel room, he continued to feel the floor moving beneath his feet. 'And that was before I'd had a fucking drink!' he remembered. Many of the cast and crew suffered from dysentery as well as other tropical ailments. There also existed problems with scorpions and rats! The MGM- built Bounty was scheduled to be burnt at the conclusion of the film (just as the original ship had been), but Brando threatened he would not complete the movie if this went ahead. The studio constructed a forty-foot replica and burned that instead.
Brando had refused the film twice, (once in the role of Christian and once as Bligh), before signing on for $500,000 against ten percent of the gross, plus $5,000 a day if shooting went over schedule! Thanks to him it went chronically over schedule and his overtime alone hit one million dollars! When Fletcher Christian's death scene was filmed, Harris spoke his lines to a log of wood; having refused to act with Brando anymore. When Brando wanted to film his own close-ups, Harris threw the log down and said, 'Let him talk to this!' Neither could Milestone bear working with the American any longer. His assistant directed that particular scene. At the New York City premiere Brando arrived in full naval uniform. Howard received thunderous applause that evening; while Brando was booed and jeered. When the audience began laughing at his English accent he walked out of the cinema.
Historically, the reason for Bounty sailing to Tahiti was to deliver breadfruit seedlings to Jamaica. The intention was for them to be cultivated to provide an inexpensive food source for slaves working on British plantations there. Evidently, the obscene profit margins enjoyed by the purchase of slaves (not to mention their free labour) did not render a high enough profit margin for the greedy plantation owners; they wanted more. But someone back in Britain had not thought the issue through. The slaves took one bite and refused to eat any more. The venture was a resounding flop.
As far as Bligh's court-martial went, this movie got it totally wrong. In reality, he was not only exonerated, but praised for his bravery and exemplary seamanship regarding his command of the open vessel he sailed to Timor with his loyalist crew. He most certainly was not reprimanded for his 'excess of zeal', not by the judge nor by anyone else other than the mutineers. Furthermore, Christian did not die on the beach at Pitcairn while the vessel burned. For one thing, Pitcairn Island has no beaches! Besides, Christian was murdered by the Tahitians on the island later.