Nick Adams achieved brief fame in 1959 when he starred in his own TV series called The Rebel, which ran for 76 episodes over two years. By February 1968 Adams was dead from a drug overdose at 36, although it has been argued ever since that his demise may have been accidental. Some even said it was murder, but with absolutely no evidence to back up their claims, it is safe to dismiss that option.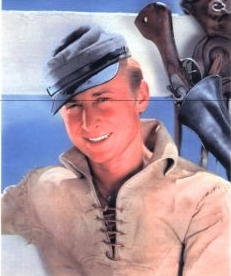 Nick Adams as The Rebel
Adams was one of the doomed actors who appeared in the jinxed 1955 film Rebel without a Cause. His fellow players in the picture included, James Dean (killed in a traffic accident that year), Sal Mineo (stabbed to death in 1976), and Natalie Wood (drowned in 1981). On 7 February 1968, he was found slumped against a wall in his apartment, eyes wide open, but with no sign of drug paraphernalia in the room. Coroner Thomas Noguchi recorded his findings as: 'accident, suicide, undetermined', which must be coroner-talk for 'beats me'. The 'accidental death' theory suggested he succumbed to a lethal combination of prescription drugs and alcohol, but the coroner found no trace of alcohol in his system, which kind of knocks that theory on the head. The rather lame murder theory could not even come up with a motive, much less any proof to support it.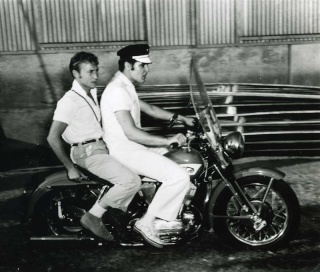 Adams & Elvis
Decades after Adams' death, rumours began to surface about his sexuality, and most of them are corroborated. His friendship with James Dean was well known and documented, writer Boze Hadleigh claiming Sal Mineo told him in 1972 that Dean and Adams 'had a big affair'. Albert Goldman in his book Elvis (1981) wrote that Adams 'ingratiated himself with Dean' and was his homosexual lover. There seems little doubt that the two men were intimate, but whether or not Adams then moved on to be intimate with Elvis is still not proven. In 2005, Presley biographer Alanna Nash wrote, 'Tongues wagged that Elvis and Adams were getting it on.' William Dakota was Adams' former fan-mail secretary, and he wrote that Elvis was bisexual and had been intimate with Adams many times. Another writer, David Kulczyk, stated that Elvis's manager Colonel Tom Parker knew all about the relationship, and even put Adams on the payroll when Elvis toured. 'As long as Elvis was having sex with Adams', he wrote, 'the Colonel didn't need to worry about Elvis impregnating young women and paying for abortions.' That seems a tad lame to me. Elvis had enough money to finance a revolution. An abortion or pay-off here and there would been chicken-feed.
Natalie Wood, Dennis Hopper & Nick Adams
on the set of Rebel Without A Cause
Studios went to considerable lengths to conceal their stars bisexuality or gayness, usually by having them date high profile actresses at establishments frequented by the press. Evidently, the studio arranged dates for Natalie Wood with bisexual partners, Sal Mineo and Nick Adams, so that newshounds would be duped into thinking both men were straight. Gay actors spent time on the homosexual Hollywood casting couch, before dating actresses from gay agent Henry Wilson's 'gay date pool', and Nick Adams was a regular. Morality clauses in studio contracts in the 50s and 60s made it very clear to actors that any hint of gayness would almost certainly terminate their careers. There was so much secrecy in Hollywood on this issue it is a wonder anyone had time for anything else. The gossip columnists knew that Elvis and Adams were 'close friends', but they never really guessed just how close that was.
Debra Paget & Elvis in Love Me Tender
So, was Elvis bisexual? His first real crush was on his co-star, Debra Paget, in his first film, Love Me Tender (1956), but she did not reciprocate his feelings. The resemblance between her and his future wife, Priscilla, is quite noticeable. Around that time Elvis's hero, James Dean, was killed. When he learned that one of Dean's closest friends was actor Nick Adams, he was soon in contact with him and their 'friendship' began to blossom. The media accused Adams of hanging off the coat-tails of the famous, first Dean, now Elvis, and possibly he did. The accusations hurt him and his career.
Bill Dakota, now a gossip columnist, wrote about Elvis's bisexuality, in particular his intimacy with Adams and sixties heartthrob Robert Conrad. He claimed that Conrad, who was married at the time, slept with both men on numerous occasions. Elvis, he said, became very jealous over the attention Adams began giving to Conrad. According to former friend and companion of 'the King', Dennis Miller, Elvis hated 'fags', the ones he referred to as the 'really effeminate ones, 'the swishy types', and that is why he took up karate and Kung-Fu. It was a macho thing, a way of convincing himself that he was very much a 'man's man'. Dakota is adamant that there were other guys who had sex with Presley, guys he picked up at times in his car.
Robert Conrad
Interestingly, Dakota published a list of bi-sexual actors back in 1981, a dangerous practice if it included any erroneous names, yet nearly three decades have gone by without law suits, so we can assume he knew what he was talking about. To quote him: 'this list was compiled through agents, personal experiences (Mr Dakota is himself gay), and others who have had the pleasure of getting it on with the Stars (sic)'. He named 150 actors, adding that a new list, should he care to write one today, would probably contain a further 150 names! Most are already well known, but there were several surprises. He stated that he published the list in the Hollywood Star newspaper 'so they would be 'outed' and whenever anyone would say, such and such a person is gay or bisexual, it would already have been common knowledge, and it wouldn't matter anymore if they were or weren't Bi.' Very commendable. I have no such lofty principles. I mention a few here out of curiosity – and surprise, but stress that some of these people's names (male and female) appear only on Dakota's lists. Here are a few of them:
George Maharis, Jim Hutton, Richard Anderson, Johnny Weismuller, George Nader, Guy Madison, Pernell Roberts, Norman Fell, Horst Bucholtz, Yul Brynner, Robert Walker, Richard Jaeckel, Paul Newman, Rory Calhoun, Michael Landon, Chuck Connors, Terry-Thomas, Roddy McDowall, Dennis Hopper, Jack Benny, Burt Lancaster, Charles Bronson, Broderick Crawford, Van Johnson, Audie Murphy, Vincent Price, Peter Ustinov, Ricky Nelson, Elvis Presley, Walt Disney, Jeffrey Hunter, Vic Morrow, Steve McQueen.
Those on the list that are still living include: Robert Wagner, Lee Majors, Richard Gere, Peter Fonda, John Travolta, Patrick Wayne, David Cassidy, Shaun Cassidy, Stuart Whitman, Robert Conrad, Martin Sheen, Matt Dillon, Alain Delon, Tom Jones, Fabian, Hardy Kreuger, George Hamilton, Tom Berringer, Harry Belafonte, Frankie Avalon, Glenn Campbell, Sylvester Stallone, David Essex, Dean Stockwell, Al Pacino, Jeff Bridges, Terence Stamp, Gary Lockwood.
Barbara Stanwyck
Dakota's list of bisexual actresses, published in the Hollywood Star at around the same time contains more surprises. Writer Boze Hadleigh showed the list to Barbara Stanwyck in the 80s. It had her name at the top. He questioned her for a while, but when he began asking about her presumed 'arranged' marriage to Robert Taylor, she terminated the interview and ordered him to leave. Other names on the list included:
Angie Dickinson, June Allyson, Janet Leigh, Elke Sommer, Carol Burnett, Thelma Ritter, Jane Russell, Cher, Jean Peters, Ava Gardner, Debbie Reynolds, Julie Christie, Judy Garland, Senta Berger, Loretta Swit, Betty White, Lauren Bacall, Julie Andrews, Jane Fonda, Leslie Caron, Ursula Andress, Debra Paget, Kim Novak, Bo Derek, Liza Minnelli, Brigitte Bardot, Natalie Wood, Carol Lynley, Annette Funicello, Anne Francis, Stella Stevens, Capucine, Veronica Lake, Corrine Calvet, Kate Jackson, Lizbeth Scott.
Do I believe Elvis was bisexual? No, I don't. To be Frank, I had trouble accepting many of the names on both lists, but then again, when kids at school back in the fifties told me Rock Hudson was gay, I did not believe them either. Hollywood has always been such a place of intrigue, lies and cover-ups, especially back in the studio days, that nothing would surprise me. The fact that Mr Dakota published his lists (that included Elvis's name plus a lot of living actors and actresses), yet has not been sued by any of them, tends to lend some creedance to his information, but who really knows? Perhaps, stars are just tired of responding to such allegations. Pesonally, I find it difficult to be totally convinced by either list, but you, of course, are free to make up your own mind