Outside of Hollywood debate raged for years about matinee idol Cary Grant's sexuality. Was he heterosexual, homosexual or bisexual? He had lovers from both sexes, so I guess that makes him bisexual, although I admit I have no real idea if that is the sole criteria used to assess such things. From what I have read down the years, he appears to have been deeply in love with two people, one woman (Sophia Loren) and one man (Randolph Scott). His feelings for Sophia were not returned, but his affair with Scott went on for around 40 years!
Randolph Scott & Cary Grant in the 1930s
He and western actor Randolph Scott shared a house for ten years, from 1932 to 1942, until Cary married Woolworths' heiress Barbara Hutton. During that period Cary also wed actress Virginia Cherrill on orders from the studio, but that only lasted 13 months from 1934-5, before he and Scott moved back in together again. Cary had once shared a house with Hollywood's most loveable gay actor William Haines. Later still, he lived for a while with the equally gay Noel Coward who wrote his famous song, 'Mad about the Boy', for Cary. Nevertheless, and despite his five marriages, Cary's great love was Randolph Scott, and it was mutual until well into their latter years.
William Haines
Actor Jim Hutton worked with Cary on Walk, Don't Run, in 1966. 'One thing Cary Grant did admit when we worked together – the two of us, sitting talking between scenes', he said, 'was that he had a crush on Elvis Presley. He didn't say the word 'crush', but that's clearly what he meant'. I'd heard tales that Howard Hughes had been more than Grant's best man. That they were very close, but I didn't pursue that.' Writer Truman Capote made the following comment about his own and Grant's drug taking during the sixties. 'Mostly, I took drugs to please Cary Grant. He was trying LSD, back when it was legal. He had the notion that he could become heterosexual with it'. In all, Cary attended about 100 LSD sessions and always said they benefited him greatly.
Gay writer Truman Capote
Even as late as 1980, when he was in his 76th year, he was still denying his homosexuality. 'I have nothing against gays', he told a rather pushy interviewer. 'I'm just not one myself'. It was totally untrue, of course. All Hollywood knew of his and Scott's romance. It had gone on for decades. He was forced to marry Virginia Cherrill in 1934 by the studio, just to get news hounds of his back, but he was thoroughly miserable about the whole arrangement and even attempted suicide after a few months. Virginia stated in her complaint that he was 'drunk and sullen for the duration'. The problem was apparent to all who knew him. He missed Scott.
Virginia Cherrill & Cary Grant
The delightfully outspoken Carole Lombard knew everybody's secrets. After all, she was wed to the 'King' himself, Clark Gable, a man who harboured one himself regarding a homosexual experience. One drunken night in 1929 he had been seduced by Billy Haines. A decade later, the director of Gone with the Wind, George Cukor, (an openly gay man), was heard to refer to Clark as 'one of Billy's tricks'. The remark positively zoomed around Hollywood, and so upset Gable that he had Cukor removed from the picture. 'I won't be directed by a fairy', the 'King' complained. 'I have to work with a real man.' Carole knew all about it, and she also knew how deep the love between Grant and Scott was even if, as she put it, 'Their relationship is perfect. Randy pays the bills, and Cary mails them.'
Noel Coward, Mae West & Cary Grant
She was referring to Cary's legendary tight-fisted approach to money. In 1959, he was paid $450,000 for making North by Northwest, plus a percentage of the profits, plus an additional $315,000 because the shoot went nine weeks past his contracted time. Having been a star since the 1930s, he was a very wealthy man, yet Eva Marie Saint recalled her bemusement at seeing him charge fans 15 cents a time for his autograph! When he died in 1986 his estate was valued at $60 million.
Just a few days from completion of filming Penny Serenade in 1941, the tragic news reached Cary that the Luftwaffe had bombed Bristol, the hometown he had left twenty years earlier, killing five members of his family – an aunt and uncle, their daughter and son-in-law, and their grandchild. Cary was still a British citizen, but his star was on the rise in Hollywood so he opted not to return to Britain. Instead, he donated half his salary to British War Relief. Given his reputation as a miserly penny-pincher this was probably a considerable wrench for him. Needless to say, his generous donation was made fully public by the studio.
In 1940, Cary and Randy made their only movie together, a light-hearted romantic comedy called My Favourite Wife, which had a script that required them to feud over the female lead Irene Dunne. Those who know about the camera say it picks up on chemistry between people. Both men clearly appear more at ease with each other than they do with Dunne, the woman they are supposed to be madly in love with. Columnist Hedda Hopper wrote in her personal papers after Cary divorced his first wife: 'Whom does he think he's fooling? He started with the boys and now he's gone back to them.' Hedda was another who knew everything that went on in Tinsel Town.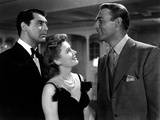 Grant & Scott with Irene Dunne in My Favourite Wife
While he was in Spain in 1956 making The Pride and the Passion, Cary fell hopelessly in love with his co-star Sophia Loren (who could possibly blame him?) and asked her mentor Carlo Ponti to secretly agree to her playing the female lead in his movie Houseboat (1958) when it was ready to go into production the following year. Ponti gave him the green light, unaware of the feelings fifty-two year-old Cary held for his 22 year-old protege. Grant coldly arranged the deal, knowing full well that his own wife at that time, Betsy Drake, had already been promised the role he now gave to Loren.
The incomparable Sophia Loren in 
The Pride & the Passion
By the time filming began, however, Sophia was very much in love with Ponti. Undeterred, Grant showered her with flowers and gifts and even proposed marriage. While he awaited an answer, Sophia and Ponti slipped across the border into Mexico and quietly tied the knot. They returned to the set on the following Monday in time to shoot the final scene in the movie which, ironically, happened to be the wedding between Sophia's character and Grant's. Ouch!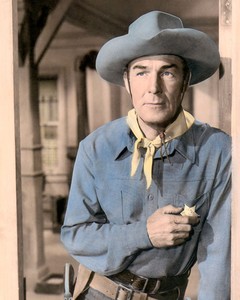 Randolph Scott as most westerns fans remember him
Grant and Scott were in love most of their adult lives. Sadly for them, it was in an era when others, with a lot at stake, had the power to order them to be apart, hence the loveless marriages for both men. When faced with a choice to either live their lives together in obscurity, or to continue hiding their affection and maintain their status as highly paid movie stars, they opted for the latter. So, literally for decades, they tried to keep their affections from the media. One evening, when both men were in their seventies, the maitre d' of the Beverly Hillcrest Hotel observed them seated in a quiet booth after the place had emptied. They were holding hands.
Cary Grant in later years
One final word on the subject: Cary's daughter wrote her memoir, Good Stuff, which was released in January 2015. In it she dismissed the talk of her father's homosexuality as 'gossip', nothing more. Not surprisingly, her book is mostly about him, and she devotes several pages to the 'rumours'. Randolph Scott, her father's 'best friend' for nearly fifty years, is not even mentioned! Form your own conclusions on that if you will.