Lee Marvin in Paint Your Wagon
There have been a lot of pop singers, rockers, opera singers and country & western vocalists who have made it to the silver screen over the decades, usually with considerable success. Of course, not all of them were gifted with great sets of pipes, but the technology involved in the industry often made these people sound a lot better than nature had intended. A classic example of this was Lee Marvin's recording of 'Wand'rin' Star', which, in 1970, made it to the top of the charts in Ireland and the United Kingdom, and to #10 in Australia. Jean Seberg, one of his co-stars in Paint Your Wagon (1969), described Lee's voice as 'rain gurgling down a rusty pipe'. Both the song and the movie 'bombed' in the USA, however. Even so, non-singers like Marvin have rarely succeeded as vocalists in the movies. Most of the following singer/actor/ actresses had genuine talent that resulted in them progressing beyond the 'one-hit-wonder' status of Mr. Marvin.
 ED AMES (1927 – )
Ed Ames arrived in this world in Massachusetts, in 1927. Twenty years later, he and his brothers Vic, Joe and Gene, formed a singing group that enjoyed several big hits as the Ames Brothers in the 1950s, before disbanding in 1963. In all they racked up forty-nine chart entries. In 1998 they were inducted into the Vocal Group Hall of Fame, and rightly so, for they were a very classy act. Vic perished in a car accident in 1978, cancer claimed Gene in 1997 and a heart attack took Joe a decade later. Ed, at 95 (as of August 2022), is the sole survivor of the group, and continued as a solo performer after the group broke up. He had four top 20 hits between 1966 and 1968. Television viewers will no doubt recall him with affection playing Daniel Boone's off-sider Mingo in the Daniel Boone series (1964-8). Mingo, would you believe, was educated at Oxford University, being the produce of an English father and a Cherokee mother?
JULIE ANDREWS (1935 – )
There has never been any doubt that Julie Andrews was more than qualified as a singer to ensure her success in the movies. She was a child prodigy in her homeland (England), her vaudevillian parents convinced she could take her four-octave voice to the top of the tree. And she did. It was said she could sing notes only dogs could hear when she was just seven years of age. Julie came to Broadway in 1954, starring in 'The Boyfriend', and within two years was the toast of the town playing Eliza Doolittle in 'My Fair Lady'. Warner Brothers, however, were not prepared to risk their costly movie production of My Fair Lady (1964) to a virtual 'movie unknown', and gave the role to the much-loved Audrey Hepburn instead. Although her singing was dubbed by Marnie Nixon, Audrey gave a delightful performance in the role. Ironically, however, it was Julie who picked up an Oscar the following year for her portrayal of the title character in Mary Poppins, a part she accepted because she had been over-looked for Eliza.
It would be accurate to acknowledge that the public, especially after the monumental success of her 1965 film The Sound of Music, fully expected Julie to focus on musicals only, but she had her sights set on spreading her wings into dramatic roles. She starred in The Americanization of Emily (1964) and even landed the lead in a Hitchcock thriller Torn Curtain in 1966, (after his first choice Tippi Hedren refused to work with him again), but both films were received in a lukewarm fashion by Julie's adoring fans. In fairness to her, Torn Curtain was a far cry from Alfred's best work. When Star! (1968) and Darling Lili (1970), both musicals, bombed at the box-office, many thought her career might not recover. Once again, it would be fair to say that musicals were by then on the decline anyway. Undeterred, she bounced back in three films directed by her husband Blake Edwards – 10 (1979), S.O.B. (81) and Victor/Victoria (1982). The last of these saw her (unsuccessfully) nominated for a Best Actress Oscar, but for the most part fans were talking about the unexpected scene in S.O.B. in which Julie exposed her breasts! 'Mary Poppins pops out!' became the catch-cry for a while.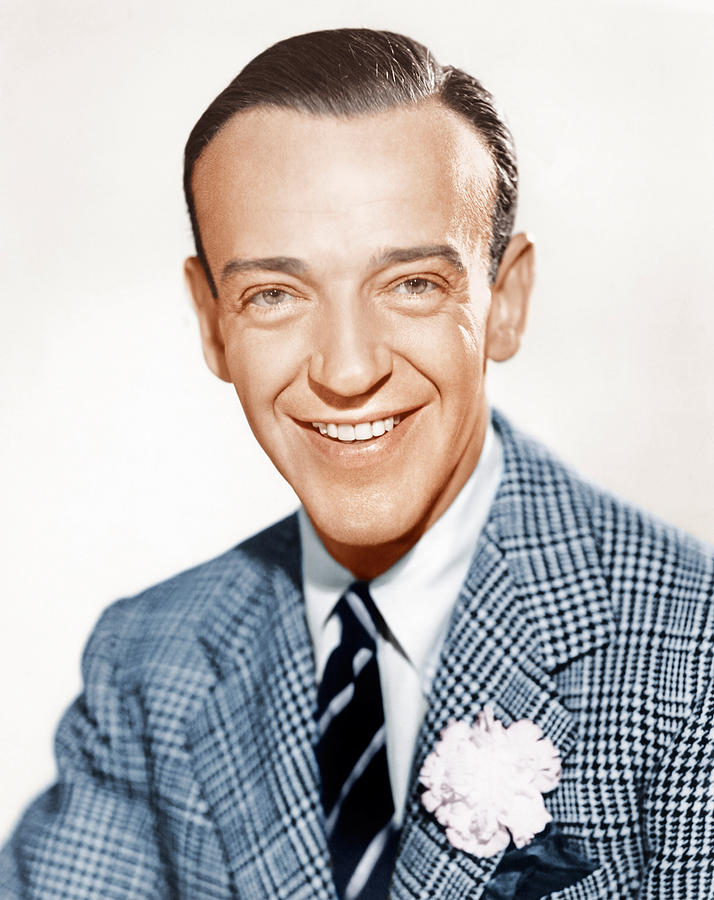 FRED ASTAIRE (1899 – 1987)
Fred was, of course, an outstanding dancer (probably the best ever movie dancer), and quite a reliable actor, both in light comedy and drama. However, he also had a voice that enhanced a lot of good songs (and quite a few that were not so good). In short, his singing voice turned out to be perfect for musical films. 'It's nice that all the composers have said that nobody interprets a lyric like Fred Astaire', he once said. 'But when it comes to selling records I was never worth anything particularly, except as a collector's item. The RKO screen-tester who assessed him as: 'Can't act, can't sing, slightly bald, can dance a little', got it mostly wrong. Fred was balding, of course. In time he could do all three aspects of entertainment adequately – one of them superbly.
Premiere Magazine voted him the 23rd Greatest Movie Star of all time, and the American Film Institute named him as the fifth Greatest Actor of its 50 Greatest Screen Legends. And these accolades were not just for his dancing; they took into account his acting and his singing as well! He was also adept as a musician, both on piano and the drums, as he demonstrated in Follow the Fleet (1936) and Damsel in Distress (1937). Fred also played roles in four dramas, and was nominated for a Golden Globe Award for his portrayal of scientist Julian Osborne in On the Beach (1960). In fact, he was nominated a total of five times for Golden Globes, winning once for The Towering Inferno in 1974. He was also Oscar-nominated for the same film. Fred Astaire truly was the full package.