MARLENE DIETRICH        (1901-92)
Marlene had literally hundreds of lovers of both sexes. Debate still rages over whether or not she and Greta Garbo were intimate.  There is considerable evidence that they made a movie together in Europe before heading for America, but both ladies always maintained they had never met and that denial has continued to fuel the fires of doubt ever since. Among Marlene's many other female lovers rumours persist that she was probably intimate with Judy Garland, Tallulah Bankhead, Jean Arthur, Paulette Goddard, Lili Damita, Claudette Colbert and Frances Day. Definite female bed-mates include Mercedes de Acosta, Ona Munson, Elizabeth Allan, Edith Piaf and Dolores del Rio.
Ona Munson in Gone with the Wind       Dolores del Rio
Edith Piaf                                           Garbo – lover or not?
During WW2 she did two USO tours in Europe, Italy and North Africa. Affairs with Generals George Patton and James Gavin became public knowledge. She only married once (back in Germany in 1923), gave birth to a daughter, and rarely saw her husband again. Of her many affairs, the highest profile ones were with John Wayne during the war and Jimmy Stewart (when they made Destry Rides Again together in 1939). She became pregnant to him but aborted the child without informing Jimmy of her condition.
General James Gavin
Marlene was proud to tell everyone that she had bedded no fewer than three members of the Kennedy dynasty during her lifetime – JFK, his older brother Joseph Junior, and his father Joe Senior. She also slept with scores of other celebrities – Spencer Tracy, Burt Lancaster, Orson Welles, Ty Power, Joe DiMaggio, Marlon Brando, Yul Brynner, Howard Hughes, Errol Flynn, Frank Sinatra, Anthony Quinn, George Raft, Ernest Hemingway, Humphrey Bogart, Kirk Douglas, Gary Cooper and Maurice Chevalier – to name but a few.
LANA TURNER       (1921-95)
Lana was entirely heterosexual. To say she liked men would be an understatement. She loved them. Well, according to several of her lovers, it would be more accurate to say she loved having sex. Lana's idea of bliss was to spend two or three days at a time locked in a hotel room with an insatiable lover, stopping only for room service. Unfortunately, most men struggled to keep up with her demands and tired of her (literally) before too long.
Lex Barker                                              Johnny Stompanato                           Cheryl Crane
She had seven husbands and, in the opinion of many people, almost certainly stabbed a man to death as well, although a jury was satisfied to accept that her 14 year-old daughter Cheryl killed him while defending her mother from his attacks. Just a year earlier, it should be noted, Lana had pulled a gun on her then husband Lex Barker and ordered him to leave their home. She was convinced he had been sexually molesting Cheryl for some time. Many people believe she may have caught her boyfriend Johnny Stompanato in bed with Cheryl as well and stabbed him to death in anger and jealousy. There are plenty of photographs of Stompanato lying dead on the bedroom floor at Lana's home, in the spot where he allegedly died after running into the butcher's knife brandished by Cheryl as she raced to her mother's defence. Interestingly, there is not a drop of blood in sight? I am not a medical man nor a forensics expert, but surely a wound in the abdomen that proved fatal would bleed considerably. Was he, therefore, killed elsewhere?
Lana at 16 in They Won't Forget
Lana Turner only made 57 movies in her entire career. In four of those she was uncredited. In another her scenes were deleted. She was just sixteen on debut in the 1937 drama They Won't Forget where she caused a sensation simply by walking down the street dressed in a skirt and sweater. Immediately dubbed 'the Sweater Girl', she drew the attention of Mickey Rooney who, no doubt, had some say in placing her in Love Finds Andy Hardy the following year. He was heading towards number one at the box-office (a couple of years away but he was already very popular), and had an eye for a pretty girl. As the Andy Hardy series developed into the most successful in movie history to that point, Mickey wasted no time in cutting a swathe through all the beautiful young girls who got their screen starts in one picture or another. If we can believe his autobiography, Lana was an early conquest. Indeed, he bragged he had taken her virginity. She denied this until the day she died.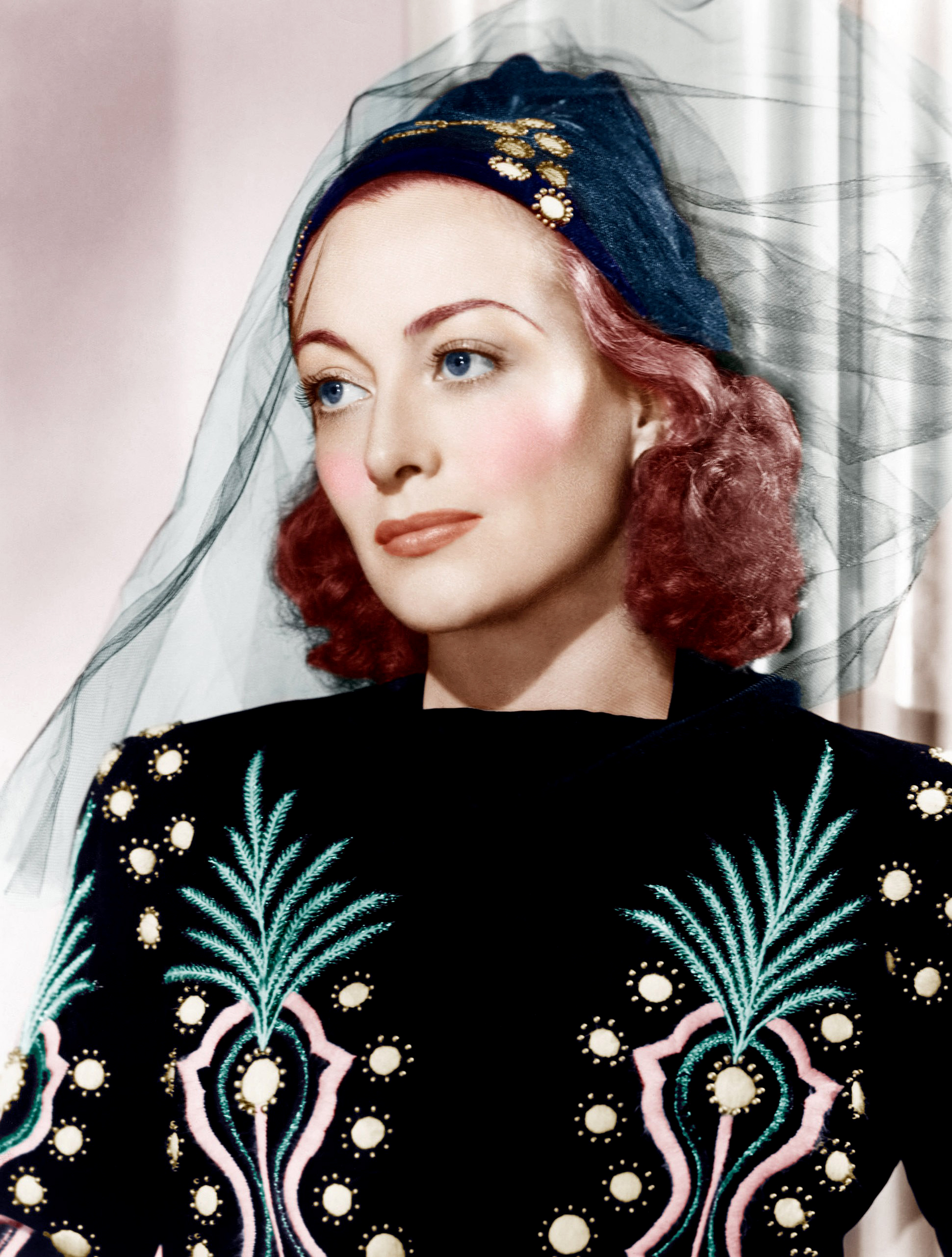 JOAN CRAWFORD (1906-77)
Crawford had a rap sheet in Detroit as a hooker. She also starred in two porn films, 'Velvet Lips' and 'The Casting Couch', long before she hit Hollywood. Once in Hollywood, she slept with whomever could get her foot in the door at the various studios. And then she married into Tinsel Town 'royalty', the Fairbanks family. Her marriage to Douglas Fairbanks Junior was over in 5 years (1929-34), much to the relief of her husband's folks, Doug Snr and Mary Pickford. They knew how the game was played in Hollywood and Joan was some kind of player. Although she later married Franchot Tone, there is no doubt that the love of her life was Clark Gable. Their affair was long-standing (although off and on) and they made 8 pictures together.
Mr. & Mrs. Doug Fairbanks Jnr                            Mr. & Mrs. Franchot Tone
Director Vincent Sherman described Joan's approach to seduction as 'more aggressive than any man'. Part of that was due to her strategy of propositioning her director early in proceedings in order to maintain an advantage over the rest of the women in the cast. It helped her get her own way on the set. If he was attracted to her their off-screen activity made for an enjoyable shoot. If he was married and merely having a fling, well, that placed him in a compromising position. Either way she held all the cards.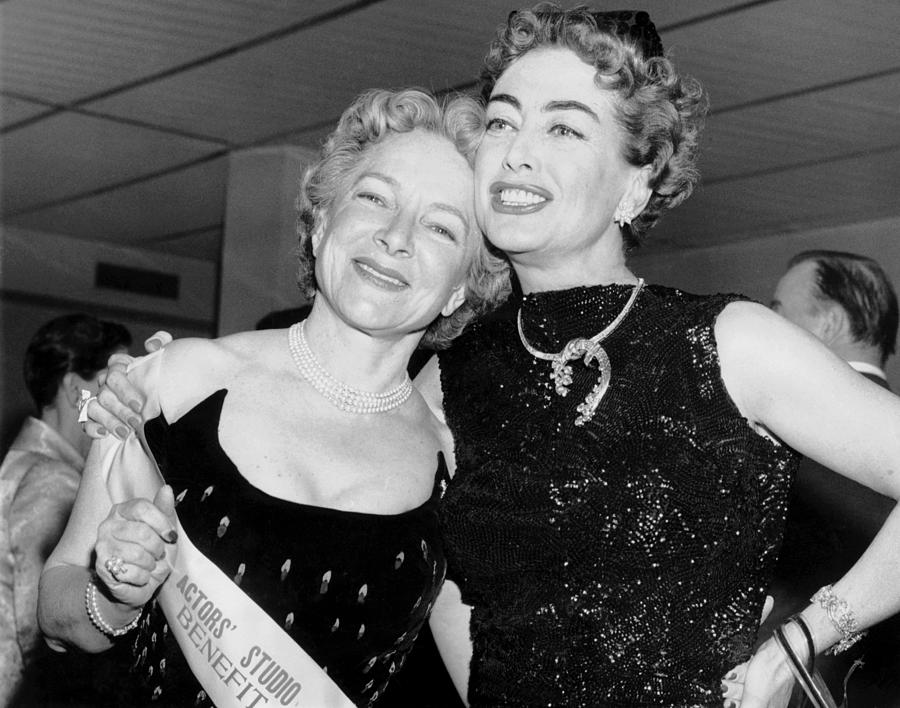 Betty Hutton and Joan                                 Helen Hayes and Joan
Two of Crawford's nearby friends and neighbours in her later years were Betty Hutton and Helen Hayes. When Joan's adopted daughter Christina published her biography titled 'Mommie Dearest', they more or less supported the girl's accusations that Joan was a monstrous parent. Hutton said she often encouraged her own children to play with Joan's adopted children (there were just two then), Christopher and Christina, as she felt they needed some fun in their lives. Helen was more forthright in her 1990 autobiography titled My Life in Three Acts. She wrote: 'Joan was not quite rational in her raising of children. You might say she was strict or stern. But cruel is probably the right word.' In all Joan adopted four children. The two named above were cut out of her will entirely. The other two were granted a 'modest' $77,500 each out of her $2 million estate.
Christopher (top L) and Christina (top R)
Joan made no secret of her fondness for sex, telling an interviewer on one occasion that she needed it every day for her complexion. Her lovers (of both sexes) included the following: A one-night stand with Marilyn Monroe was not repeated when Marilyn told her later that having sex with a woman did nothing for her. She preferred men. Joan was bitter about being rejected. Other female lovers included Claudette Colbert, Barbara Stanwyck, Tallulah Bankhead and director Dorothy Arzner. Probable lovers were Judy Garland, Martha Raye and Denise Parker. The men were far too numerous to mention them all here, but a few prominent conquests were JFK, Robert Mitchum, Paul Newman, Humphrey Bogart, Robert Taylor, Gary Cooper, Kirk Douglas, Johnny Weissmuller, Spencer Tracy, John Wayne, Frank Sinatra, Henry Fonda, Yul Brynner and Tony Curtis.