Every once in a while an actress comes along with whom the camera seems to fall in love. Ava Gardner, Marilyn Monroe and Greta Garbo were three one could name, but even these beauties took a back seat to Grace Kelly. She only made eleven movies, yet she will be remembered forever, not just as Her Serene Highness, Princess Grace of Monaco, but as Amy in High Noon (1952), Linda in Mogambo (1953), Margo in Dial M for Murder (1954), Lisa in Rear Window (1954), Tracy Lord in High Society (1956), and especially Frances in To Catch a Thief (1955). Her beauty and apparent class took our breath away. She took the breath away from most of her leading men, too.
Grace in To Catch A Thief
There is no denying that Grace had affairs with just about anyone who might advance her modeling and movie career in the late forties and fifties, whether it be with directors, drama coaches, other actors, writers, even key grips and cameramen. Yet, to movie-goers, she projected an image of wholesomeness, of the girl next door in whose mouth butter would definitely never melt. Former star of the silent screen Clara Bow (1905-65), herself no stranger to scandalous reputations and torrid affairs, had this to say about her: 'It's been 20 years since the trial that broke my heart. If it happened today, I'd still be a whore. Grace Kelly, however, will get away with having many lovers. Know why? The damn public will never believe it!' True.
Clara Bow
Grace Kelly counted among her many conquests several men who were much older than her. Gary Cooper was over 50 and married when he and 22 year-old Grace had their affair during the making of High Noon. Clark Gable was also over 50 the following year on the set of Mogambo, when he was merrily servicing both Grace and her co-star Ava Gardner at the same time. The very married Ray Milland was a bit younger (47) when he fell for Grace while making the Hitchcock thriller Dial M for Murder in 1954. In fact, so besotted was he that he threatened to leave his wife of 22 years for his gorgeous co-star.
Coops & Grace in High Noon
in Dial 'M' For Murder
Ray Milland
It would be reasonable to say that 1954 was a lucrative year for Grace. Five of her eleven pictures were released and she fell in love with Milland, William Holden and Bing Crosby. Her tryst with Holden (when they made The Bridges at Toko-Ri) only lasted a couple of weeks; but she was extremely hot for her over-50 co-star Bing Crosby (yet another married man) on the set of The Country Girl. Her other two leading men that year were reasonably recent newlyweds who had long tired of seducing actresses throughout Tinsel Town. I refer to Jimmy Stewart (Rear Window), and Stewart Granger (Green Fire). There exists no evidence that either actor succumbed to Grace's charms, although if form is anything to go by, she probably sounded both of them out.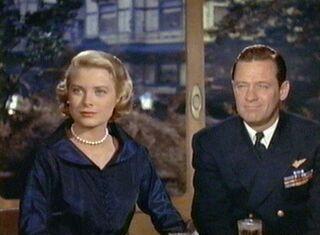 with Bill Holden in The Bridges At Toko-Ri
with Gable in Mogambo
with Sinatra in High Society
In 1956 Grace made High Society with Crosby and Frank Sinatra and slept with them both. Other lovers included John F Kennedy (of course), David Niven, Marlon Brando, Paul Newman, Spencer Tracy, the Shah of Iran and Prince Aly Kahn. There were dozens more until she wed Prince Rainier of Monaco in the same year, 1956, and many more after as well. 'She had more boyfriends in a month than I had in a lifetime', said Zsa Zsa Gabor. 'She went to bed with anyone she fancied at the time.' Author Gore Vidal commented: 'Grace almost always laid the leading man. She was notorious for that in this town.' When her daughters began to hit the scandal sheets she confided to her biographer Gwen Robyns, 'How can I bring up my daughters not to have affairs, when I am having affairs with married men all the time?' How, indeed?