He was born Nicholas Coppola, his father being the brother of screen director Francis Ford Coppola. Young Nicholas changed his name in the early days of his career because he wanted to make his own way in the acting business without his connection to Francis Ford giving him unfair advantages. Well, that's what he says, anyway, although how effective that was is debatable, given that everybody and his dog in the industry knows full well who he is. His first role was in a failed TV pilot called Best of Times (1981). Interestingly, he was billed as Nicolas Coppola. Then he landed a small part that ended on the cutting-room floor in Fast Times at Ridgemont High (1982), again as Nicolas Coppola. So much for anonymity. In 1983 he became Nicolas Cage for the ordinary Valley Girl, but that very same year he scored a supporting role in Rumble Fish, directed by – guess who? Yes, Uncle Francis Ford, no less. That was fortunate.
To cut a long story short, Nicolas Cage's career took off, if not with his smallish role in Uncle FF's The Cotton Club in 1984, then certainly with his starring gig in Uncle FF's popular 1986 comedy Peggy Sue Got Married. So, does his story about changing his name hold much water? Well, you be the judge. It should be added that Francis Ford Coppola has a history of nepotism. Besides giving nephew Nicolas a helping hand, he also inserted his own sister (Talia Shire) into The Godfather (1972) playing Connie Corleone, and then in 1990 he replaced Winona Ryder as Mary Corleone in The Godfather III with his daughter Sofia! Roman Coppola, the eight year-old son of FFC, played the young Sonny Corleone in The Godfather Pt II in 1974, by the way.
in Peggy Sue Got Married
In 1979 FFC made Apocalypse Now. The composer for the picture's score was none other than Carmine Coppola, his father. And Carmine's apprentice on this picture – Nicolas Cage's brother Christopher Coppola, who has since become a director. Nicolas's other brother, Marc Coppola, had the good fortune to land acting roles in both The Cotton Club and Apocalypse Now. What a talented family. When Nicolas first met actress Patricia Arquette in the early 1980s he proposed to her that same day. She rejected his proposal, finding him rather weird, in fact, but then played along with him to the extent that she gave him a list of things to fulfill if he was to have any hope of marrying her. When he began working his way through the list she got a little worried and decided to avoid him. Several years later they met again and did indeed eventually marry. They did indeed eventually divorce as well about six years further on. A year later he would wed Lisa Marie Presley, the 'King's' daughter, but that, too, ended in divorce inside just two years.
Patricia Arquette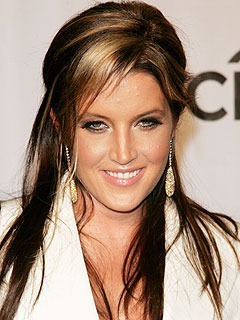 Lisa Marie Presley
If you ever have any doubts about the lengths to which Cage will go for his art, then you should watch his film Vampire's Kiss (1988). It is utter rubbish, but there is in it a scene where he eats a cockroach – a real cockroach! It took three takes to complete the shot. 'Every muscle in my body didn't want to do it', he recalled, 'but I did it anyway.' One can, perhaps, understand him doing it for Schindler's List or In the Name of the Father, or something equally worthwhile – but for a vampire picture? In the same year, 2006, he bought a mini-castle in Bavaria and paid $24 million for a home on the property of the late John Wayne. He also owned homes in New Orleans, Los Angeles, San Francisco, Las Vegas, New York City, plus one on Rhode Island. In 2007, he paid $10 million for Midford Castle near Bath, England. However, when the real estate bubble burst and he suddenly found himself $14 million in debt, he was forced to sell off most of his fabulous properties, taking a severe loss on them. Today, he works steadily to provide him with enough money to cover his child maintenance bills that amount to a tidy $75,000 a month!