Lindsay Lohan was born into a wealthy family in 1986 in New York City. Her mother was once a Rockette at Radio City Music Hall in Manhattan; later a Wall Street analyst; later still, career manager for her daughter. The girl's father, a Wall Street trader for years, turned the family's pasta business into a multi-million dollar fortune, which he uses to fund and develop independent Hollywood projects. Lindsay has been performing since the age of three, initially in TV commercials, until she hit it big in a few Disney movies. She even managed to churn out a couple of albums for Casablanca Records. In fact, performance-wise everything went swimmingly until she made the smash hit Mean Girls in 2004. After that she went totally off the rails, becoming a party animal interested only in sex, drugs and booze, and in thumbing her nose at society in general.
In 2003 she was voted the fifth hottest teen female in show business; the next year she made People Magazine's '50 Most Beautiful People in the World' list. These days she would be a shoo-in for a top ten spot in anyone's 'Top 50 Most Stupid and Annoying People' list. Even so, her net worth increased to about $7 million by 2007. By 2012, however, decent acting offers had dried up and she went bankrupt, owing nearly a quarter of a million dollars.
So, what had gone so terribly wrong? By 2013, according to several sources, Lindsay Lohan has been romantically involved with over seventy male celebrities; among them Orlando Bloom, Zac Efron, Ashton Kutcher, Justin Timberlake, Aaron Carter, Jared Leto, Joaquin Phoenix, Chris Pine, Benicio Del Toro, Sean Lennon, Robbie Williams, Jude Law, James Blunt, Heath Ledger, Gerard Butler, Colin Farrell, even the aging Bruce Willis. Her name has also been linked romantically with a number of celebrity women. In 2008, she entered into a relationship with British DJ Samantha Ronson, but by 2009 they had split and gone their separate ways.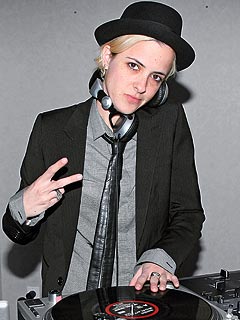 British DJ Samantha Ronson
In 2010, she was sentenced to 90 days in jail for violation of her probation. 'Are you serious?' was her remark to the judge on hearing his ruling. She served just 14 days and was released. Perhaps, he wasn't serious after all. Then again, he did warn her that any further violation of probation would see her back inside to finish her sentence. Surprise, surprise, she soon failed another drug test, which landed her back in the can until, again, she was paroled – this time after just 14 days. The official explanation – over-crowding.
Things went from bad to worse in April 2011 for the troubled actress when she copped 120 days for grand theft, having purloined a $250,000 necklace three months previously. Again (it seems to happen a lot to the rich and famous in the USA), she only served five days before being released and given community service. May 26, 2011, saw Lindsay voluntarily turn up at the Lynwood Correction Facility where she was fitted with an electronic tag on her ankle (presumably, carrying out community service just wasn't her thing), and ordered into 'house arrest' for the next 35 days! Thirty-five days stuck in her magnificent home with all its lights and whistles must have been tough to endure for a month, but somehow she struggled through. What a trooper. In June the following year she crashed her Porsche, totalling it, and landing herself in hospital briefly.
Not a good look
Nothing much changed when 2013 rolled around. For violating her probation yet again Lindsay was ordered to attend 90 days of lock-down rehab, 18 months of psychiatric counselling, and some more community service. She once said, 'I am happy being able to play roles with people my age because once you do something really mature there is no turning back.' The question on everyone's lips must be: 'Is Lindsay Lohan ever going to do something mature?'