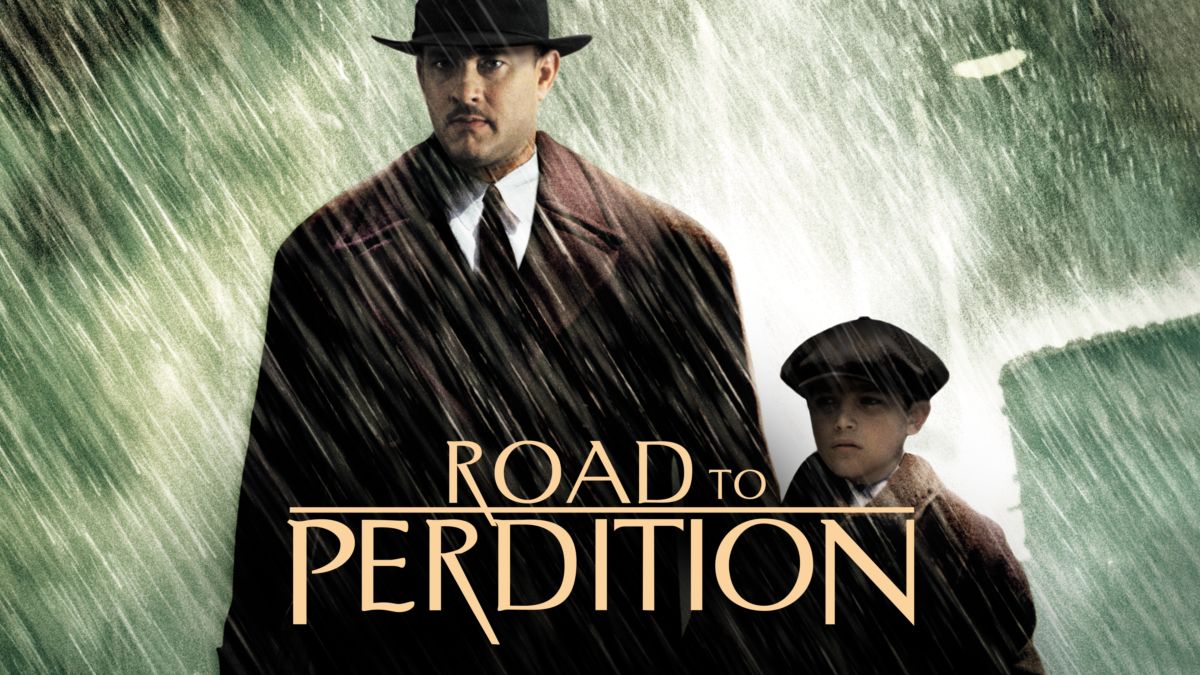 ROAD TO PERDITION (2002)                  
I imagine there have been hundreds of gangster films churned out over the past ninety or so years, most of which are eminently forgettable. But then along comes a gem every so often such as Road to Perdition (2002), and one fosters renewed hope for the genre after all. I have never appreciated Hollywood's glamorization of low-life mobsters and killers such as Bonnie Parker and Clyde Barrow, John Dillinger, Baby Face Nelson, Machine Gun Kelly and others, but this picture is a cut above such rubbish. Michael Sullivan, who is brilliantly portrayed by Tom Hanks, is a 'heavy' who works to orders for a mob boss named John Rooney, superbly played by Paul Newman. Sullivan is no hero. He has chosen the life he leads and makes no apologies for it. When his wife and son are murdered, however, he hits the road with his other surviving son, hell-bent on avenging their deaths. What follows is a beautifully crafted depiction of life on the run from a hired killer in the early 1930s. Director Sam Mendes captures the era and the desperate times most effectively.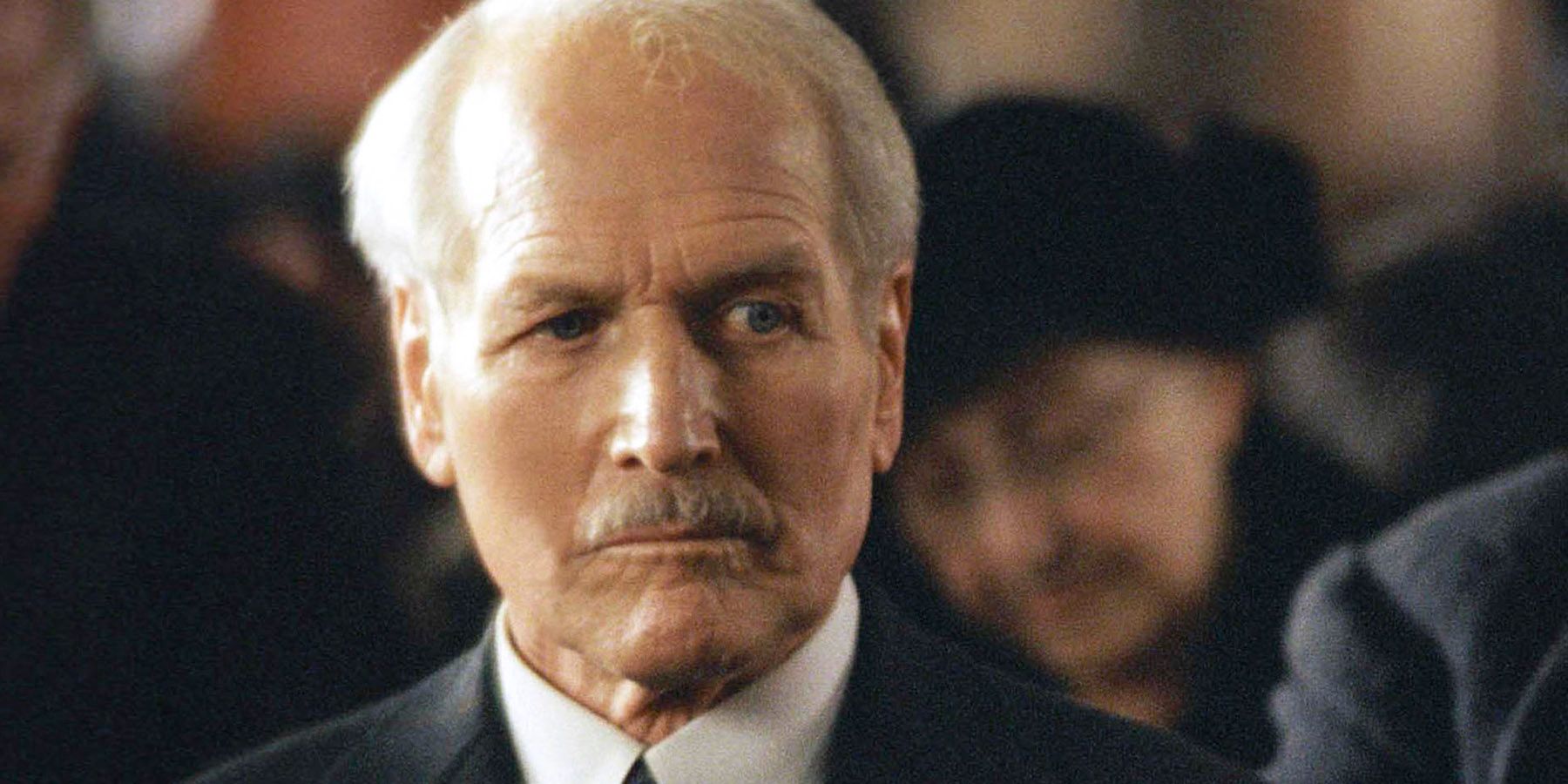 Paul Newman as mob boss John Rooney
I have always been a Tom Hanks fan, although some of his films have been a tad disappointing. In my opinion, this is his best work, even better than his stint in Saving Private Ryan (1998). Tom's son Chet agrees with me: 'In every one of my dad's films, I can see him; he's being himself. But that role is the farthest from his normal self out of any of the movies he's done', he says. Tom, incidentally, wore a prosthetic nose to make him appear more 'gangster-like'. The piano duet at the opening wake was actually performed by Tom and Paul Newman. Jude Law worked with a magician who taught him how to lace a coin through his fingers; a trick Law's character performs during the movie.
Jude Law in Road to Perdition
The picture is set in 1931 at the height of the Depression, when fashions lacked the flamboyance of the 1920s or the 'gangster' style of the 1930s. Costume designer Albert Wolsky, unable to find usable real clothes from 1931, found a weaver who was able to make all the required clothes, using fabrics of the period. Once woven, they were aged and dyed. Stanley Tucci portrays mob boss Frank Nitti in this film. Nitti was a chain-smoker, so in order to stay in character during takes, Stanley was required to go through around eighty cigarettes daily. John and Connor Looney were the real-life mobsters on whose lives the Paul Newman and Daniel Craig characters were loosely based. Their surname was changed to Rooney. This was Newman's final on-screen, live action feature film of his career. He passed away in 2008.
ANALYZE THIS (1999)
This is a very funny film. That should be not all that surprising given it stars Billy Crystal and features Lisa Kudrow of Friends fame. It is, however, unusual for the co-star in a comedy to be Robert De Niro, yet he gives a most enjoyable performance, even if his weeping in a couple of scenes seems a tad phony. One gets the impression that crying is not something De Niro gets to do a lot in his pictures (or in real life, for that matter). That aside, he plays Mafia Don Paul Vitti who is suffering from intense anxiety attacks that are beginning to make him appear weak and vulnerable to his gangland colleagues and associates; so he commandeers New York City psychologist Dr Ben Sobel (Crystal), and gives him two weeks to come up with a solution to his problem. Sobel is on the eve of his wedding to Lisa's character and suddenly finds he is on 24-hour call to Vitti. A scary situation indeed.
Joe Viterelli
De Niro felt it was very important that the movie felt authentic, so he and director Harold Ramis drove around New York City's 'Little Italy' seeking out real people to cast. Over a decade earlier, Italian-American businessman Joe Viterelli was coaxed into taking up acting by director Leo Penn, a decision that embarked him upon a thirty-film career that only ended with his death (at sixty-six) in 2004. Billy Crystal delivered the eulogy at his memorial service held at the Beverly Hills Friars Club. Viterelli portrays Jelly here, the moronic bodyguard employed by Vitti. He is hilarious and almost steals the picture.
Chazz Palminteri
The De Niro character was loosely inspired by real-life mob boss John Gotti. It was De Niro who suggested Chazz Palminteri for the role of rival mobster Primo Sidone. The two had acted together in A Bronx Tale in 1993. Chazz had grown up in The Bronx, New York City where life was tough. 'The big guys used to beat up the little guys, and the little guys used to beat up the real little guys', he recalled. 'If you were a little guy, you'd become a big guy and then beat up the little guys underneath you. Kids now, all they do is sit down and play Facebook. I was on the stoop, and I saw a man kill another man right in front of me. People go, 'You must have been traumatized!' I really wasn't. I just saw this guy kill a guy, and my father dragged me upstairs, we talked about it, I didn't rat on the guy, and that was it.'
Fans of the space exploration biopic The Right Stuff (1983) will possibly recognize the bar with the fish tanks that Dr Sobel gets tossed into in Analyze This. The same bar was utilized in both films. The sharks in the tank into which Crystal's character is thrown were digitally added in post-production. Incidentally, the term 'consiglieri' is used incorrectly by Crystal's character. The correct form for an adviser in Italian is 'consigliere' 'Consiglieri' is the plural form of the word.
Despite the quest for authenticity in this film, it is interesting to note that a basic historical error takes place in the well-documented scene of the 1957 police raid on the mob bosses' Appalachian meeting. Federal agents of the FBI are shown conducting the raid when, in fact, J Edgar Hoover's policy in that year was to deny the very existence of the Mafia or Cosa Nostra. The raid was carried out by New York state troopers only. The FBI were never there. Contrastingly, however, every restaurant interior in the movie was the site of a real-life gangland hit, with the singular exception of Spark's Steakhouse, (where the hit took place outside the premises.)