PARADISE (1988-91) 56 EPISODES                     
Paradise is the name of Californian town in which this series, set in 1890, is set. It was broadcast by CBS from October 1988 until May 1991, and was re-named Guns of Paradise for the third season. Ethan Allen Cord is a fictitious professional gunfighter (portrayed by Lee Horsley), who is forced to take into custody of his dying sister's four children. Aware that his chosen profession does not really lend itself to raising children, he rents a farm from Amelia Lawson (played by Australian-born actress Sigrid Thornton) and attempts to lead a normal life. Unfortunately, his violent past too often catches up with him and he is frequently called upon by the good people of Paradise to defend them against lawlessness. Interestingly, his close friend John Taylor (played by Dehl Berti) is a Native-American medicine man who counsels him from time to time.
A highlight of the series was a two-part episode in which Gene Barry and Hugh O'Brian guest-starred as the characters they played in two other successful western series – Bat Masterson (Barry) and The Life and Legend of Wyatt Earp (O'Brian). This particular episode briefly launched the ratings-challenged series into the Top Ten of the Nielsen Ratings. Adjustments were made prior to the commencement of season three, not least of which was the name change. Executives felt it necessary to point out to viewers that 'Paradise' was, in fact, a 'western'. Ethan and Amelia also became engaged to be married. Despite these 'tweaks', a strong supporter base, and sound reviews, the series was canned after season three. In April 2017, Warner Bros released the first season on DVD.
Lee Horsley was born in Muleshoe, Texas in 1955. His screen career has not amounted to much, probably because of his other varied interests. Prior to coming to Hollywood and TV he had a strong musical theatre background, having toured extensively with such shows as West Side Story and Oklahoma! An expert horseman and outdoorsman, he has participated in rodeo events over the years and has hunted all over the world, including Africa and Argentina.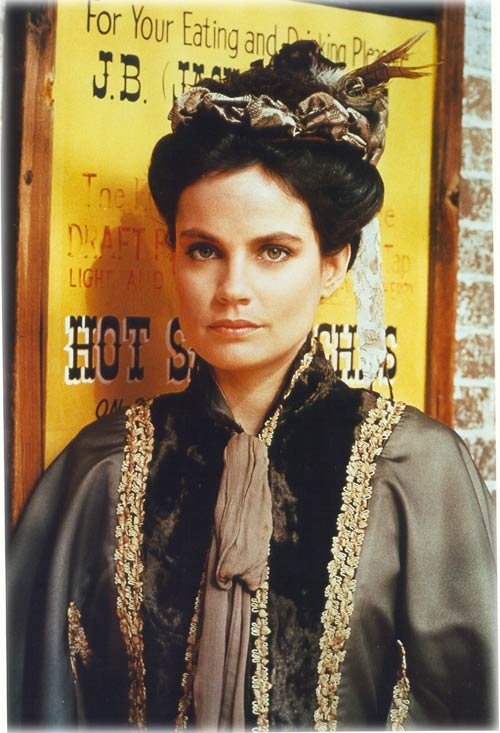 Sigrid Thornton
Sigrid Thornton entered this world from Canberra in the Australian Capital Territory in 1959. Having starred in numerous Australian cinema successes, she was selected for the role of Amelia Lawson in Paradise, the character being specifically written for her. This made her the first Australian actress to star in an American network series and her work earned her the highly prestigious 'Cowboy Hall of Fame' Award for the best TV contribution to Western Heritage.
PISTOLS 'N' PETTICOATS (1966-7) 27 EPISODES     
This series was created as a vehicle to showcase the comedic talents of its star Ann Sheridan. During the Second World War she was a hugely popular pin-up girl but, by the time Pistols 'N' Petticoats commenced filming, she was over fifty and past her prime. Tragically, she was also diagnosed with oesophageal cancer and would not see out the series' first season, dying a month shy of her fifty-second birthday in January 1967.
In the pilot episode, twenty-five year old beauty Chris Noel was cast as Ann's daughter, but test audiences found her portrayal unsympathetic and she was unceremoniously dumped for Carole Wells in the series proper. Listeners during the Vietnam War knew and liked her from the Armed Forces Radio and Television Service, where she was known as 'The Voice of Vietnam'. She also toured the war zone eight times, twice with Bob Hope, and the helicopter in which she was a passenger narrowly avoided being shot down on two occasions! In 1965 she appeared in the Elvis Presley picture Girl Happy.
Set in 1871, in the fictional town of Wretched, Colorado, the Pistols 'N' Petticoats series only ran from September 1966 until March 1967. It was shot in colour but could not survive the untimely death of its star and was shut down just two months after her demise. Of its twenty-seven episodes, Ann only appeared in twenty-one of them.  Basically, the show revolved around the gun-slinging Hanks family, of which Henriette (Ann) was the oldest (and widowed) daughter.
PONY EXPRESS (1959-60) 35 EPISODES          
The real Pony Express operated from April 3, 1860 until October 26, 1861, between Missouri and California. It was a mail service that delivered messages, mail and newspapers by utilising relays of riders on horseback. These intrepid individuals were able to deliver messages between the Atlantic and Pacific coasts in about ten days. The enterprise was short-lived, however, lasting only 18 months until the transcontinental telegraph was established in late October 1861. Financially, it was never a going concern and went bankrupt despite being heavily subsidized.
The television series was created by California National Productions (CNP), for the 100th anniversary of the actual Pony Express, and lasted for approximately the same length of time. It starred Grant Sullivan as Brett Clark, a roving investigator for the company, and Don Dorrell as Donovan, a young Pony Express rider. Neither actor enjoyed much of a screen career and are all but forgotten today. The pilot for Pony Express was shot back in February 1957 and featured James Best in the lead role. It failed to sell, although it was later edited and became one of the episodes of the syndicated series. Best, of course, went on to have a fine screen career as a popular character actor.
THE QUEST (1976) 15 EPISODES                                     
This extremely short-lived series died an early death because of a combination of two significant factors. The western genre had lost popularity long before 1976 and the show was slotted into the 10pm Eastern Wednesday spot opposite the enormously popular Charlie's Angels. It was no contest. The first episode aired on September 22; the eleventh (and final) on December 29 three months later. Episodes 12 through 15 did not even reach the screen in the USA.
Created by Tracy Keenan Wynn, son of actor Keenan Wynn, the idea of having to brothers endeavouring to track down and rescue their long lost sister who had been taken by the Cheyenne, was an original concept that might very well have gained a following a decade or more earlier. But not in 1976. Twenty-five year old Kurt Russell portrays Morgan 'Two Persons' Beaudine, himself a former captive of the Cheyenne, and his physician older brother, Quinton, is portrayed by Tim Matheson. The siblings roam the Great Plains in search of their sister, Patricia.