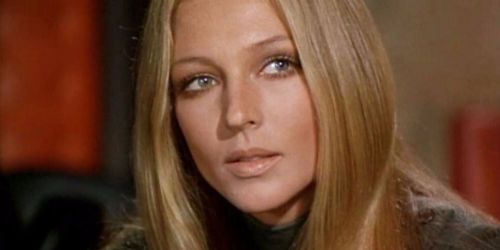 Joanna Pettet
Joanna & Alan Bates towards the end of his life
In 1968, British actress Joanna Pettet married American actor Alex Cord. Less than four months later, she gave birth to a boy who was the biological son of British actor Terence Stamp. The boy would die aged twenty-six from an acute heroin overdose! Joanna and Alex divorced in 1989 after twenty-one years of marriage. On August 8, 1969, she had lunch with her good friend, actress Sharon Tate, at Sharon's Cielo Drive home, but left before dinner-time. Just hours later, Sharon and her other guests were murdered by members of the Charles Manson 'Family'. When another British actor, Alan Bates, passed away from pancreatic cancer in 2003, it was discovered he had bequeathed Joanna ninety-five thousand pounds in his will. She had been his companion and care-giver throughout his final months.
Shirley Temple circa 1940
On May 27, 1940, Shirley Temple and her mother were driven to the 20th Century Fox studio, for the final time, to empty personal belongings from Shirley's studio bungalow. John Barrymore would move in briefly soon afterwards, even posing at one time aboard her backyard swing. Later, the bungalow would become a dental office, and in 1955, a medical dispensary run by the physician brother of murdered mobster Benjamin 'Bugsy' Siegel.
Deborah Raffin
Lovely Deborah Raffin was the second choice to play Sandy in Grease (1978) after Susan Dey. However, Susan passed on the opportunity and, soon afterwards, producer Allan Carr was invited to a dinner at Helen Reddy's home. By chance Helen invited her fellow Australian singer/friend Olivia Newton-John to join them. Carr liked what he saw and opted for Olivia over Deborah for the part.
Dean Jagger as Brigham Young (1940)
Laraine Day
Dean Jagger won a well-deserved Supporting Actor Academy Award for portraying Major Stovall in the 1949 film Twelve O'clock High. It might surprise fans to learn that he spoke with a pronounced 'lisp' in his every-day life, the characteristic only disappearing when he ventured in front of the camera. A staunch Republican, he openly supported Senator Joseph McCarthy during the man's investigations into alleged Communist spies in the U.S. Justice Department. Jagger was very much taken by the character of Brigham Young whom he portrayed in the 1940 movie of the same name that starred Tyrone Power. Thirty-two years later, in 1972, he would be baptized a member of the Mormon Church. Ultimately, he would will his personal papers and movie memorabilia to the Harold B. Lee Library at Brigham Young University. Jagger and actress Laraine Day were the first Mormon actors to receive stars on the Hollywood Walk of Fame. They were inducted on February 8, 1960.
Mary Astor & husband Dr Thorpe
In 1936, during a custody fight over her daughter with her second husband, Dr Franklyn Thorpe, extracts from Mary Astor's diary were published in newspapers after it fell into the good doctor's hands. The extracts revealed lurid details of her torrid affair with playwright George S. Kaufman, and Thorpe had no hesitation in using its contents in an attempt to prove Mary was an unfit mother for his child. During the trial it was revealed, however, that her husband was anything but an angel either. He had been sexually servicing several floozies from Busby Berkeley's chorus line in the family home. Despite the nation's newspaper readers being titillated by diary excerpts such as this one regarding a night of passion one weekend in Palm Springs: 'Ah, desert night – with George's body plunging into mine, naked under the stars', Mary somehow kept her daughter and emerged from the ordeal with her screen career still intact. Indeed, the notoriety enhanced it, if anything, for arguably her biggest hit, The Maltese Falcon, came along in 1941. Nearly twenty years later, Mary wrote of her troubles at the time, admitting that, 'sexually I was out of control.'
Errol Flynn 1943
Young Truman Capote
By the 1950s, booze, drugs and haemorrhoids had taken their toll on former matinee idol Errol Flynn. In 1953, while filming in Rome, he contracted hepatitis from a dirty needle and was hospitalized. Privately, the bisexual rake made regular trips to Mexico to satisfy his craving for pubescent girls and teenage boys. His male lovers included his on-again, off-again affair with superstar Tyrone Power. Back in 1943 in New York, Flynn had even slept with 18 year-old Truman Capote. When, years later, Marilyn Monroe asked Capote if he enjoyed the encounter, the diminutive writer replied, 'If it hadn't been Flynn, I wouldn't have remembered it.' Errol died in Vancouver in 1959, victim of a heart attack at 50. His last girlfriend, sixteen year-old Beverly Aadland, survived their affair with her virginity intact. Heart failure also claimed her in 2010. She was 67.
Peter Lawford circa 1946
Fame could come quickly in Hollywood, as newcomer Peter Lawford discovered when his film Two Sisters from Boston hit screens in the summer of 1946. Seemingly overnight he became a 'hot item'. He liked to spend his spare time at the beaches of Malibu, State and Venice, playing volleyball, surfing and meeting women. All that changed with the advent of sudden fame. One day he noticed a small girl following him wherever he went. Intent on shaking her off, he waded into the water. She followed. Finally she was up to her neck, holding her arms aloft. As she got closer to him, he saw she was holding an autograph book out in front of her! He laughed out loud as she approached him, her head and arms above water, and breathlessly asked: 'Do you have a pencil?'
Peter Lawford (R) circa 1968 with Sammy Davis Jr
Bobby Kennedy died in the early hours of June 6, 1968 and a funeral service was held two days later in New York. As the divorced former husband of Pat Kennedy, Peter Lawford was invited to attend the service. The invitation, because of space constraints, specifically stated he attend alone. He had just met a sexy young woman he wanted to impress, so he invited her to accompany him! Lawford's agent, Milt Ebbins, recalled what happened. 'This girl went out and bought a black mini-skirt, a black hat, and black gloves. Christ, the dress was so short it was obscene.' At the cathedral she clung tightly to the actor's arm. 'It was awful', said Ebbins. 'The Kennedys were furious with him.' Lawford's lousy judgment was looked on by the family as an insult to Bobby's memory and they never forgave him.