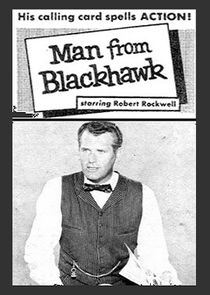 THE MAN FROM BLACKHAWK (1959-60) 37 EPISODES                  
It is generally believed that this short-lived series was created to take advantage of the popularity of 'private eye' television series such as 77 Sunset Strip at the time. It starred Robert Rockwell as Sam Logan, an insurance investigator from the Blackhawk Insurance Company, but varied from the standard western series in that the hero dressed in a suit and drawstring tie instead of the classic cowboy apparel. He also preferred to use his fists, rather than a gun to bring perpetrators to justice. Not every episode of this series took place in the West, however, as Logan journeyed to the city of New Orleans on one occasion, to the whaling industry of coastal New England on another; to the Bowery in New York City, and even to Montreal, Canada in another segment. Unfortunately, the series failed to catch on with the public.
Robert Rockwell & Eve Arden in Our Miss Brooks
Rockwell is one of those second-tier actors whose name has disappeared into the mists of television history for most fans, although his face would be immediately recognizable to fans of the popular fifties series Our Miss Brooks (1952-6). The former Republic Pictures contract player put in over 350 appearances in TV shows over fifty years, but it was his stint as the awkwardly handsome biology teacher, Mr. Boynton, opposite Eve Arden in Our Miss Brooks, that beamed his face into living rooms around the world. Along the way he also appeared in over two hundred commercials and voiceovers. His 60-year marriage produced five children and ended with his death from cancer at 86 in 2003.
MAN WITHOUT A GUN (1957-9) 52 EPISODES           
Somewhat similar to The Man from Blackhawk, the hero in this show tried to solve issues without resorting to firearms although not always successfully. Rex Reason played Adam MacLean, editor of the Yellowstone Sentinel located in the town of Yellowstone in Dakota Territory. On the occasion that MacLean was unable to get his message through to the bad guys via his editorials, there was always Marshal Frank Tallman (portrayed by Mort Mills) to tidy things up with his six-guns. Mills would later appear as a semi-regular on Bonanza (1959-73). Man without a Gun focused on the editor's moral ethics and his use of common sense to bring outlaws to justice. In fact, the show was used as a schoolroom in the 1950s to teach youngsters about decency and the differences between right and wrong. Perhaps, all this moralizing wore thin with audiences for the show folded inside two years.
Rex Reason was the older brother of Rhodes Reason, an even lesser-known actor than he was. Rex was offered the co-starring role in The Manchurian Candidate (1962), by Frank Sinatra as a professional nod to him, (they had done a screen test together for From Here to Eternity (1953), the picture that re-ignited Frank's career). However, at the time, Rex had just completed starring in the TV series The Roaring Twenties (1960) and, disillusioned with acting, had quit the business and gone into real estate instead. Sinatra was unable to contact him so the role eventually went to Laurence Harvey. Bladder cancer took Rex at eighty-six in 2015.
As for Mort Mills, he was yet another actor whose name has been long since forgotten by TV fans, but whose face, most likely, would be immediately familiar to those old enough to recall the early days of television. In fact, he even graced a few quality films as well – Touch of Evil (1958), Psycho (1960) and Torn Curtain (1966) – among them. In 1993, it was inaccurately reported that he had been smoking in bed, had fallen asleep and had burned to death in the subsequent fire. The coroner later amended the cause of death, stating that Mort had perished from a heart attack prior to the fire. He was seventy-four.
MAVERICK (1957-62) 124 EPISODES
James Garner as Bret
I was twelve years old when television started in my hometown in 1959, and one of the first series purchased and screened by our local channel was this one. There were two Maverick brothers – Bret and Bart – played by James Garner and Jack Kelly respectively. Jim Garner stole the show lock, stock and barrel, which may sound a tad harsh on Kelly who was a fine actor himself. But Garner had 'superstar' written all over him. Come to think of it, my mother thought so too. She had a crush on him that lasted about thirty years!
Jack Kelly as Bart
Two seasons into its run, the brothers were joined (for sixteen episodes) by their English cousin Beau, played by none other than the up-and-coming Roger Moore, a future James Bond. All three appeared together occasionally, but episodes were generally alternated between Bret and Bart. The well-dressed gamblers would drift from town to town looking for a card game, usually five card draw poker. The traditional western, according to producer/creator Roy Huggins, revolved around a situation that was always serious, but never hopeless, whereas a Maverick episode was always hopeless, but never serious. And therein lay the show's enormous popularity. It never really took itself seriously.
(L to R) Jack Kelly, Roger Moore & Robert Colbert
In 1960, during the writers' strike of that year, Warner Brothers suspended Garner without pay, so he promptly sued the studio. Warners' claim that the suspension was justified, because there were no scripts available during the strike, was proven in court testimony to be a blatant lie. The studio had, in fact, secretly obtained one hundred television scripts during the strike. The court ruled in Garner's favour and he was released from his contract with the series. Moore was assured that he was not brought into the show to replace Garner, but when he went to the costume department, all his clothes had the name 'Jim Garner' semi-scratched out on them. Roger left after sixteen episodes because he felt the quality of the scripts had deteriorated since Garner's departure. Only Kelly would appear in all five seasons of Maverick.
Colbert & James Darren in The Time Tunnel (1966)
A measure of Garner's appeal and popularity in this series was aptly demonstrated in his hometown of Norman, Oklahoma, in April 2006, when a ten-foot high statue of him, dressed as Bret Maverick, was unveiled. He was on hand for the ceremony. Back in the sixties, the producers cast Robert Colbert (future star of The Time Tunnel (1966) series), as Brent Maverick, and had him dress identically to Bret in a desperate attempt to recapture the magic Garner had projected. Mortified with the prospect of being compared to the former star, Colbert told the producers, 'Put me in a dress and call me Brenda, but don't do this to me!' He lasted just three episodes.