Wesley Snipes
If you ever wondered why the movie career of Wesley Snipes got derailed, the answer is simple enough. In 2010 he was sentenced to three years in the Federal Correctional Institution McKean for failure to file US federal income tax returns for three years. He was released in 2013 and also ordered to pay $17 million in unpaid taxes and penalties. Snipes has never been a shrinking violet. Back in 2000 he publicly blasted John Singleton for not casting him in the title role in Shaft, claiming the film would have doubled its $60 million earnings with him in the lead.
Pee-Wee Herman
Bow-tied Pee-Wee Herman was at the peak of his game in the 1980s, with two feature films and an Emmy – winning children's TV series all going gangbusters. Then, in 1991, it all came crashing down when he was arrested in Florida by sheriff's deputies who spotted him masturbating at an adult movie theatre. The thirty-eight year old actor pled 'no contest' but the backlash was inevitable. Pee Wee toys were quickly removed from shelves across the nation and he disappeared from the public eye for the rest of the decade. An attempted comeback after the turn of the century was thwarted by a string of further charges relating to child pornography, charges that would surely see the remnants of his career and reputation go up in flames. Incredibly, he made another comeback in 2016 with the Netflix film Pee-Wee's Big Holiday, which was positively received!
Mark Salling
Fans of the TV series Glee (2009-15) would doubtless recall Mark Salling who played Noah Puckerman in 96 episodes. In 2015, he was arrested in Los Angeles and charged with possessing and distributing child pornography. Investigators found his laptop, USD drive and hard drive, filled with thousands of photographs and videos of child pornography, some of it involving children as young as five. Needless to say, he was immediately dropped from the series prior to being tried. Before sentencing could be passed, however, he hanged himself in a canyon near Los Angeles. His body was discovered on January 30, 2018.
Roberto Rossellini & Ingrid Bergman
Ingrid Bergman's much-publicized affair with Italian director Roberto Rossellini almost ended her movie career. In 1949, she travelled to Italy to make Stromboli (1950) under Rossellini's direction and fell in love with him. The problem was that she was already married to Dr Peter Lindstrom and the couple had a daughter, Pia. When Ingrid abandoned both of them for a life with her Italian lover, America's 'moral guardians' in both the press and the pulpits gave her no quarter. Such was the moral outrage that it even reached Washington and the corridors of power. Senator Edwin C. Johnson, sensing a chance to make a name for himself, attempted to have a bill passed through the house, one that required both movies and those who appeared in them to be morally 'squeaky clean'. A tall order anywhere but even more so in Tinsel Town. Warming to his self-appointed task, the senator charged the Swedish actress with perpetrating 'an assault on the institution of marriage', describing her as 'a powerful influence for evil.' He even attempted to have all her future films banned from the United States of America! The furore eventually died down and Ingrid stayed out of the USA for the next eight years before returning in triumph.
Alexis Bledel (L) as Rory Gilmore & Lisa Weil as Paris Geller in The Gilmore Girls
Alexis Bledel (Rory in the hit series The Gilmore Girls (2000-07), actually dated Milo Ventimiglia (Jess in the same series) in real life for three and a half years. Unlike her coffee-crazy character in the series, Alexis hates the stuff and always sipped Coca-Cola from her coffee cup in all her scenes. Rory's pal, Lane Kim, was played by Keiko Agena who was actually 26 years old when she portrayed 15 year-old Lane in season one! Lisa Weil originally tested for the role of Rory but did not get the part. However, the producers liked her so much that they wrote the role of Paris Geller especially for her.
Leslie Stefanson in The General's Daughter (1999)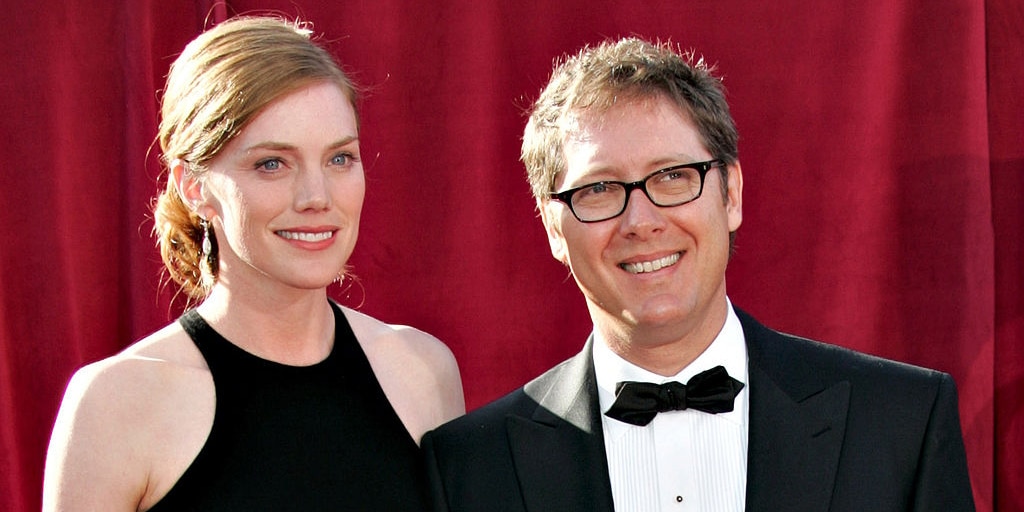 Leslie & real life partner James Spader
Leslie Stefanson is the attractive actress who portrayed Captain Elisabeth Campbell in the 1999 thriller The General's Daughter. Captain Campbell's body is found spreadeagled and naked and John Travolta's character sets out to find her killer. Leslie only racked up 18 screen credits before she chose to focus on her career as a sculptor. In 2008, she gave birth to a son by her fiancée, actor James Spader. The couple had been dating since 2002.
Peter Lawford in later years
Peter Lawford had met Playboy Magazine editor Hugh Hefner at a party in the sixties and had instantly hit it off. At the Playboy Mansion the actor was treated to the services of beautiful sex partners, the best food, booze and drugs. The two men were like brothers. Peter could drive up to the gate at any hour of the day or night and be waived through by the guard. He could have anything he wanted. When his alcoholism and drug addiction bankrupted him, he even managed to extract a $10,000 loan from Hefner. It was agreed he would repay it from the sales of his memoirs, only he never got around to writing them. He died owing money all over the place. Of all his debtors only Hefner made a claim on his estate for repayment. But there was nothing left.
Maureen O'Sullivan, Cheetah & Johnny Weissmuller
Commencing in 1931, Johnny Weissmuller worked with eight chimpanzees that would portray Cheetah in his Tarzan pictures. A trainer advised him to show no fear of these animals or they would attack him. It was necessary for him to show them who was boss. When Johnny, dressed in his Tarzan loincloth and hunting knife, walked up to the very first Cheetah, it promptly bared its teeth, growled and lunged at him. Johnny quickly took the knife from its sheath and held it in front of the chimp's nose so that the animal could smell it. Then he cracked the unsuspecting animal on the side of its head with the haft, re-sheathed the weapon and extended his hand in friendship to the chimp. The animal glared back at him and bared its teeth again, before jumping up and hugging him. From that moment onwards, although other cast and crew members had difficulties with these animals from time to time, Johnny used the same ruse with each knew chimp and they followed him around like puppy dogs.