THE ADVENTURES OF TOM SAWYER (1938)
I recently purchased a copy of this charming 1938 film and was surprised to find it had been shot in colour. Having only seen it once before (on television in 1960), I had expected it to be in black and white. In 1960 colour TV was still many years away from Western Australia. My wife and I watched the rather poor quality print and were pleasantly surprised by the quaint performances of the children in it. For the most part they over-acted, yet there was something refreshing about their natural exuberance that suited the production.
Tommy Kelly as Tom Sawyer
Tommy Kelly played the title character and he was delightful in spite of his outrageous overacting. Incidentally, he passed away in 2016 aged 90. The Adventures of Tom Sawyer was his movie debut in a screen career that ended after only a dozen credits in 1950. He would become a teacher in the Washington DC area, one who was noticeably reluctant to discuss any aspect of his film career. His only marriage lasted from 1948 until his death 68 years later; producing six children along the way.
David Holt as Tom's brother Sid
David Holt was an actor/songwriter who later became a sought after jazz pianist and composer. Indeed, he began composing at 14 and wrote material at one point for Doris Day. Here he portrayed Tom's smarmy, spoilt brat brother Sid. A year later he was again cast in similar vein as Gussie in the Gary Cooper version of Beau Geste. Sadly, David, too, had a shortish screen career; his winding down in 1955. 'Because I could dance', he recalled, 'my folks went through hell so I could be in movies. But I didn't dance in pictures. I cried! My parents broke up. My father resented that I was paid so much more than he was. When it was all over there was no money.' David also had a tough time adjusting to public school as a boy. 'My life was hell. My mother made me wear short pants – white short pants. Every boy in that school wanted to punch out the 'movie star', 'cry baby', 'sissy', and most of them tried. Fortunately, I had been scheduled to do a picture with Max Baer that was cancelled when he lost the championship. But we'd gotten friendly and he taught me how to box – really box. I whipped more asses at that school.' The boy once touted by Paramount as 'the male Shirley Temple' lived until 2003. He was 76 when he died.
Cora Sue Collins
Cute little Cora Sue Collins was originally cast as Becky Thatcher but grew too tall by the time Tommy Kelly was designated to play the lead, so she was replaced by Ann Gillis and recast as Tom's first 'love' Amy Lawrence. Cora Sue was very much in demand in the 1930s but opted to retire from the screen at the ripe old age of eighteen. At the time of writing (February 2021), she is heading towards her 94th birthday (due on April 19, 2021). Movie buffs might recall her playing Colleen Moore's illegitimate daughter in The Scarlet Letter (1934), arguably her most remembered role.
Ann Gillis as Becky Thatcher
Ann Gillis took over the role of Becky from Cora Sue. 'I always did exactly what I was told to do', she explained, 'whether it was my mother, a director or a teacher. Then I became an adult, at least officially, and I called a halt to a life I'd not chosen and didn't enjoy.' One of the first things she lost patience with and interest in was this movie. 'By the time it was over I couldn't stand that movie', she said. 'Of course, I had to watch it hundreds of times during the promotion tour. The director [Norman Taurog] was there to make Tommy Kelly a star. The rest of the kids got no direction from the man. It was horrible. I had to do a scene in which I had hysterics. I'm 10 or 11 years old. I have no idea what hysterics are. The director won't give me any advice. He says come back after lunch ready to do the scene. My mother took me into the trailer to help me. She said, 'I'll show you what hysterics are'. Scared me to death. The only direction I got on that movie was from my mother.'
Shirley Temple (L) with Claudette Colbert & Jennifer Jones in Since You Went Away (1944)
Ann worked with super-star Shirley Temple on Since You Went Away (1944), and saw how life in front of the camera was for the former child star who was now fifteen going on sixteen. 'I remember watching her on the set one day', Ann recalled. 'She got in place for the camera and her mother started yelling at her. I felt bad for her. Her mother pushed her hard and in an unpleasant way. It made me appreciate my own mother even more.' Ann's final screen appearance was as Astronaut Poole's mother in Stanley Kubrick's so-called masterpiece 2001: A Space Odyssey. She described Kubrick as 'a real jerk'. 'It shows you what can happen when a director is given a blank cheque', she added revealingly. Ann Gillis grew into quite a beauty, married three times and had three children. She passed away in 2018 from an undisclosed illness, just 12 days short of her 91st birthday.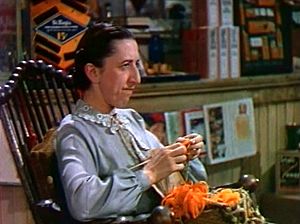 Margaret Hamilton pre The Wizard of Oz 
Margaret as Miss Gulch & The Wicked Witch of the West
Interestingly, fourteen year-old unknown Anne Baxter was flown in from the Big Apple to test, along with another young hopeful, Montgomery Clift. Neither, however, was picked up for the picture. Seventeen year-old Clift's acne was so bad at the time that the test was never even made and both youngsters were sent back to New York. Walter Brennan played Muff Potter and Victor Jory was cast as the evil Injun Joe. The two men first met on the set of this picture and would become lifelong friends. Thirty-five year-old Margaret Hamilton portrayed Mrs. Harper in this her 21st screen appearance. It was a small role. The following year she would achieve motion picture immortality as Miss Gulch/ The Wicked Witch in the classic children's musical fantasy The Wizard of Oz.