JACK WEBB (1920-82)                              
Although he achieved some success as a writer and, arguably, more as an actor in both movies and television, Jack Webb was primarily an executive producer (and creator) of three successful TV series, – Dragnet 67(1967-70), Adam-12 (1968-72) and Emergency! (1972). It is fair to say that he also executive produced several series that did not fare so well. When he became Head of Production for Warner Bros. Television, having been brought in to rejuvenate 77 Sunset Strip in 1963, his revision of the show saw it plummet in the ratings, an outcome that sent him into the wilderness for a couple of years, until he bounced back to star in Dragnet 67 alongside veteran actor Harry Morgan.
Harry Morgan (L) & Jack Webb in Dragnet (1967-70)
As an actor, Webb had a style, so dead-pan and expression-less, it made Charlton Heston appear as animated as a Mexican jumping bean! Indeed, Jack's wooden, lifeless monotone became his signature. It made him unique, the butt of numerous impersonations by comics across the nation. But the Dragnet series took off and lasted three seasons. Success breeds success in the movie and television industry and the hit series led to him creating and executive producing another popular cop show, Adam – 12. A few years later he cast his ex-wife, Julie London, and her then husband, Bobby Troup, in 1972's even more popular Emergency!
Jack's first wife, jazz singer Julie London
Webb had been a sufferer from acute asthma since the age of six, not that this seemed to deter him from engaging in his three pack-a day smoking habit, a habit that he continued all his life. His personal life saw him marry four times, the first of which was to the sultry torch singer Miss London. He first met her in 1941, when she was fifteen and he twenty-one. A heavy smoker herself, (Julie started smoking in 1942), she was a spokesperson for Marlboro Cigarettes from the late fifties until the early sixties. She was still smoking in 1995 when a debilitating stroke led to her death in October 2000 at the age of 74. Webb's third wife was former Miss New York and Miss USA (both in 1952), Jackie Loughery. She was an actress who met and married Jack about three years after she divorced singer Guy Mitchell in 1955.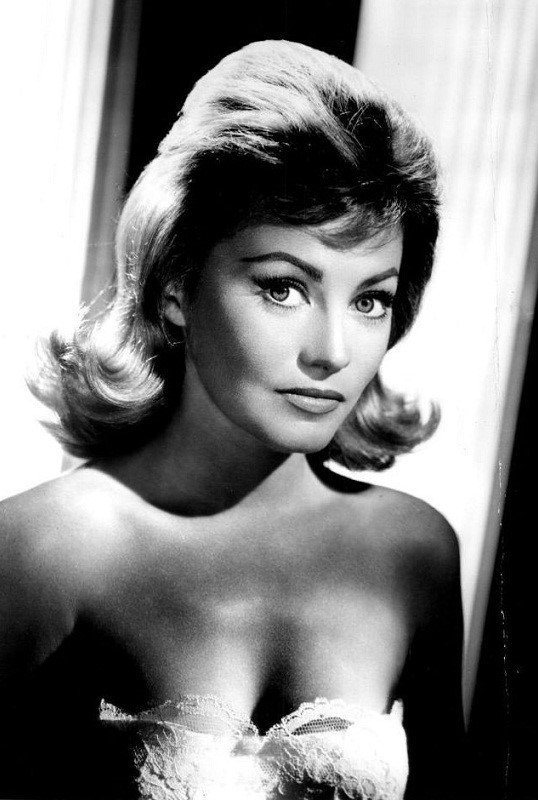 Jack's 3rd wife, actress Jackie Loughery
Jack was an avid jazz fan who ultimately amassed a collection of six thousand jazz albums by the time of his death in 1982. His equally strong love of baseball culminated in his decision to give his Dragnet character, Sergeant Joe Friday, the badge number '714', that being the number of home runs belted by 'The Sultan of Swat', Babe Ruth, during his illustrious ball-playing career. When Webb died, badge # 714 was officially retired by the Los Angeles Police Department (LAPD). In real life it had belonged to his close friend, Lt. Dan Cooke. Jack did a lot of charity work to benefit widows and children of police officers killed in the line of duty. At his funeral the LAPD honoured him with a seventeen – gun salute, the same honour reserved for detectives.
Sisters – (L to R) Lana & Natalie Wood                  
Ever since her older sister's body was found floating off Catalina Island in 1981, Lana Wood has been accusing Natalie Wood's former husband, actor Robert Wagner, of being directly involved in her death. Not far from where the actress's body was found, the boat on which Natalie, Wagner and actor Christopher Walken had spent the evening was anchored. Also on board was the skipper of the vessel, Dennis Davern. At the time, Natalie's death was officially ruled an accident and the case was closed. Natalie had left Wagner after a marital betrayal, but had decided to go back to him in 1972. Nine years later she was dead.
Robert Wagner & wife Natalie
The investigation was re-opened in 2011, by the Los Angeles County Sheriff's Department, after Davern said he had heard Natalie and Wagner arguing earlier that evening in 1981. Upon re-evaluation of the case details, the coroner amended the cause of death to 'drowning and other undetermined factors.' More witnesses have emerged since then, resulting in a police re-classification of her death – to 'suspicious'. They also described Wagner (he turned 90 in February 2020) as 'a person of interest'. The Sheriff's Department, however, would not offer specifics about the witnesses' identities or statements.
Christopher Walken & Natalie
'I think that Wagner holds the key', said lead homicide detective Ralph Hernandez. 'It is really only up to him at this point.' Whether or not Wagner can actually be charged with a crime, however, is not clear. The statute of limitations exists but applies only to lesser offences, leaving 'murder' as the only other option. Hernandez also said that the revised coroner's report states that Natalie appeared to be a victim of assault and battery, and that it was impossible to rule out that she was unconscious before she hit the water. Lana posed the question: 'Robert Wagner maintains her death was an accident. How was she accidentally assaulted?'
Lana Wood as Bond girl Plenty O'Toole
According to Lana, the notion that her sister accidentally drowned after getting into a dinghy, alone, on a stormy night is preposterous. 'Natalie didn't swim', she said. 'Her fear of dark water was deeply ingrained.' And there was more. 'Natalie would not go anywhere not fully made-up, wearing something terrific', vowed Lana who knew her sister's habits well. 'She certainly would not get into a dinghy in her nightgown by herself. She would get dressed, put on full makeup and have Dennis Davern take her ashore to stay in a motel on Catalina, which is exactly what she did the night before, when she wanted to leave.'
Dennis Davern believes Wagner murdered Natalie!
As of November 2020, Wagner steadfastly refuses to speak about that night long ago. Not so Lana. She is outspoken and highly suspicious about the circumstances surrounding Natalie's death. 'I cry for her often', she said recently. 'I expect I always will.' She also hotly disputes press reports that Wagner's current wife, actress Jill St. John, was a close friend of Natalie's. 'It drives me nuts. If anyone would know who Natalie's friends were, it would be me. Jill was never there. Not once!' In November 2019, the skipper of 'Splendour', Dennis Davern, said the Wagners' cabin was a mess, the result of a huge fight between Bob and Natalie that evening. One of Natalie's earrings had been thrown into a corner. He also said Walken was in tears upon learning of Natalie's death. Davern believes that Wagner murdered his wife. He also claims he was pressured by the actor to keep his mouth shut.