Dorothy Malone
Dorothy Malone was one of five children. Her two older sisters died very young of complications from polio. A younger brother had the incredible misfortune to be struck and killed by a bolt of lightning whilst on a Dallas golf course! When Dorothy won a Best Supporting Actress Academy Award for her performance in Written on the Wind (1956), she dedicated the award to her late brother. She died from natural causes ten days short of her 94th birthday in January 2018.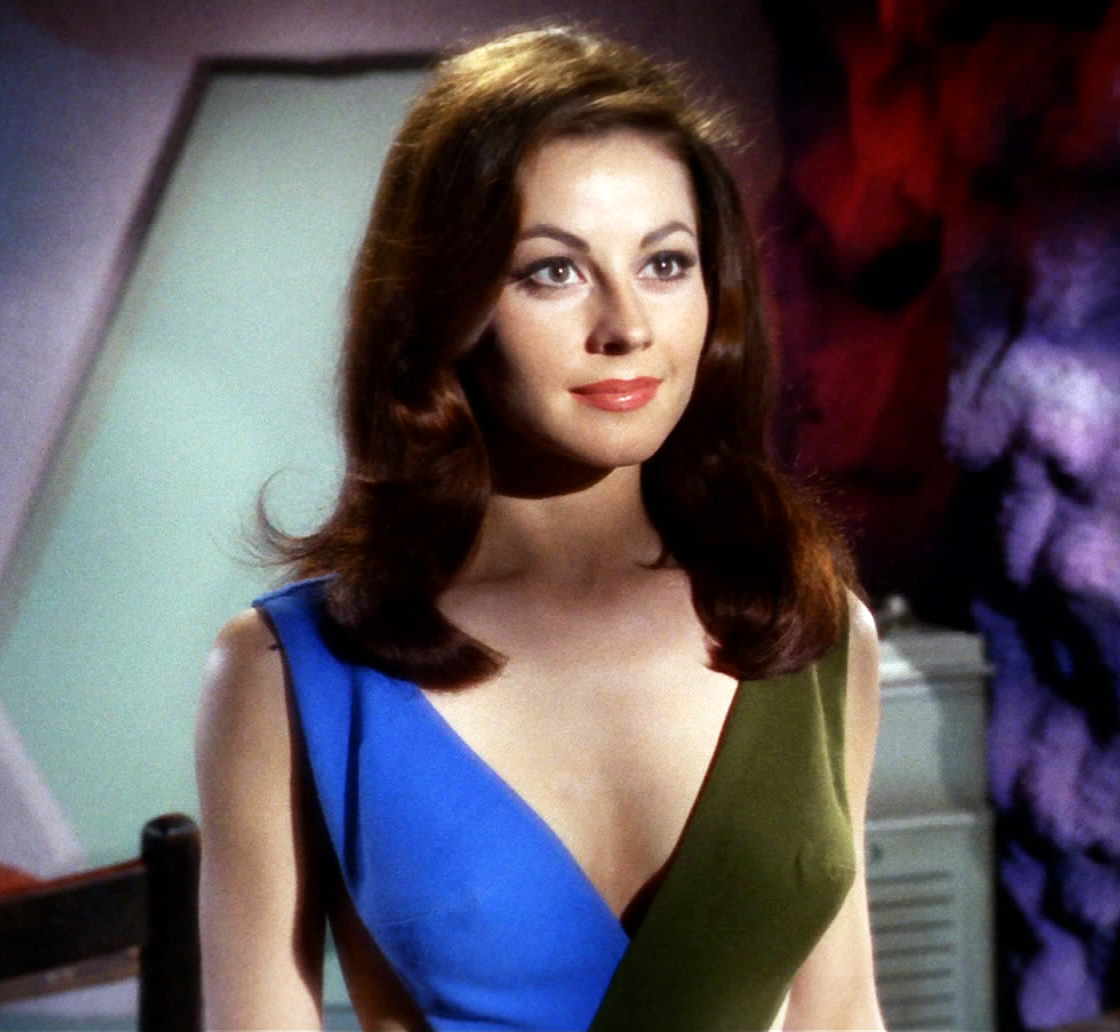 Sherry Jackson in Star Trek: The Original Series
Sherry Jackson was a chestnut-haired beauty who graced our screens (especially in TV shows) throughout the sixties and seventies, after beginning her acting career as a child in movies and series such as The Danny Thomas Show. The pleasant little girl suddenly blossomed into a stunning teenager and young woman and soon had a solid following, particularly among young males in the mid-sixties. She caused quite a stir in 1966, during season one of Star Trek: The Original Series, (in an aptly named episode titled 'What Are Little Girls Made Of?'), when she stunningly guest-starred as an android named Andrea. Her career escalated quickly after that, (as did her social life) as she was reported to be dating the likes of Elvis Presley, Bobby Rydell, Troy Donahue, Chad Everett, Dwayne Hickman and others. In 1967, she entered into a relationship with business executive and racehorse breeder Fletcher Jones, and remained with him until his untimely death in a plane crash five years later. Five months after his death, she filed a claim for a million dollars against his estate, her attorney claiming that Jones had promised to provide her with at least $25,000 a year for life. The litigation proved unsuccessful. In February, 2020, she celebrated her 78th birthday.
Ricky Nelson as 'Colorado' in Rio Bravo (1959)
Johnny Cash penned a song for Ricky Nelson to sing in Howard Hawks' movie Rio Bravo (1959). It was titled 'Restless Kid' and summed up his character, 'Colorado'. But he never got to sing it in the picture. Music director Dimitri Tiomkin insisted he sing the folk song 'Cindy' and Tiomkin's own, 'My Rifle, My Pony and Me'. Incidentally, a tragic coincidence saw both Ricky and Buddy Holly sing the tune, 'Rave On', as their last public performance prior to each man boarding the planes that took their lives – Buddy in 1959; Ricky in 1985.
Emma Thompson & husband Greg Wise
Prior to giving birth to her daughter Gaia in 1999, British actress Emma Thompson became pregnant by her then-husband, actor/director Kenneth Branagh, in 1994, then by her partner, actor Greg Wise, in 1997, but suffered miscarriages on both occasions. Emma and Wise used IVF to conceive Gaia. Fans of Sense and Sensibility (1995) will recall her present husband, Wise, playing Kate Winslet's love interest John Willoughby in the film. He and Emma met on the set and wed in 2003. They are still together (as of July 2020).
Keira Knightley & Natalie Portman
Keira Knightley's role as the decoy queen in Star Wars: Episode 1 – The Phantom Menace (1999) was kept secret in order to not spoil the surprise. Throughout the promotions, therefore, it was maintained that Natalie Portman played both the Queen and her decoy. Once Natalie and Keira were in make-up, their own mothers could not tell them apart. The similarity in their facial characteristics is quite extraordinary.
Ryan O'Neal & Farrah Fawcett
Hollywood has never had a shortage of Lotharios and Ryan O'Neal must rank among its most successful. It is well known how he betrayed his best friend Lee Majors by embarking on a lengthy affair with the guy's wife, Farrah Fawcett, while Lee was away on location, but she was by no means his only conquest. The following list of beautiful women he dated or was involved with is quite extensive and probably incomplete:
The Actresses
Anouk Aimee              Barbara Allen              Ursula Andress
Jacqueline Bisset         Florinda Bolkan          Juanita Brown
Barbara Carrera           Oona Chaplin              Julie Christie
Pat Cleveland              Joan Collins                 Britt Ekland
Melanie Griffith          Christa Helm               Anjelica Huston
Lauren Hutton            Bianca Jagger              Claudine Longet
Barbara Parkins           Diana Ross                  Cybill Shepherd
Leslie Stefanson          Barbra Streisand         Tuesday Weld
Lana Wood
Producers
Sabrina Guinness        Diane Von Furstenberg
He also married Leigh Taylor-Young and Joanna Moore.
Laurence Olivier
Time magazine reported, on 21 April 1958, that Laurence Olivier had turned down a Hollywood offer of $250,000 for one motion picture a year earlier. He preferred to take on the role of Archie Rice in John Osborne's The Entertainer (1960), a role specifically written for him, for the princely sum of $126 USD per week! A payment of $250,000 in 1957 would be the equivalent of more than two million dollars in today's money.
Wil Wheaton & Jerry O'Connell in Stand By Me (1986)
Director Rob Reiner has made some terrific movies, among them A Few Good Men (1992) and Stand by Me (1986). While filming the scene in Stand by Me in which Gordie and Vern are being chased by a train, he could not get the two child actors Wil Wheaton and Jerry O'Connell to look frightened enough so, after a take, he proceeded to yell at them until they began to cry, whereupon he immediately shot the scene again while they were still upset, and captured the reactions from them that he had been looking for.'
Michael Wilding & Margaret Leighton
The story goes that when actors Michael Wilding and Margaret Leighton endeavoured to get married in 1964, they encountered great difficulty in finding someone willing to perform the ceremony. With five failed marriages between them, they were denied not only by their church, but by numerous Justices of the Peace in the Los Angeles area. Wilding finally convinced a local judge to officiate by bribing him with a hundred-dollar bill! The union survived until Margaret's death in 1976.
Marlee Matlin & William Hurt 1987
Profoundly deaf Oscar-winning actress Marlee Matlin used to live with fellow actor William Hurt, and credits him with helping her seek help for her drug abuse. However, as she revealed in her biography, I'll Scream Later, their relationship was physically abusive on both sides, their fights alcohol and drug-fuelled. She found out about her Oscar nomination for Children of a Lesser God (1986) from her interpreter Jack Jason when she was in rehab in the Betty Ford Clinic for 26 days, seeking help because of her drug problems. She did not want the press to know she was in recovery, so she told Jack, 'I'll Scream Later.' And the phrase became the title of her 2009 memoir.