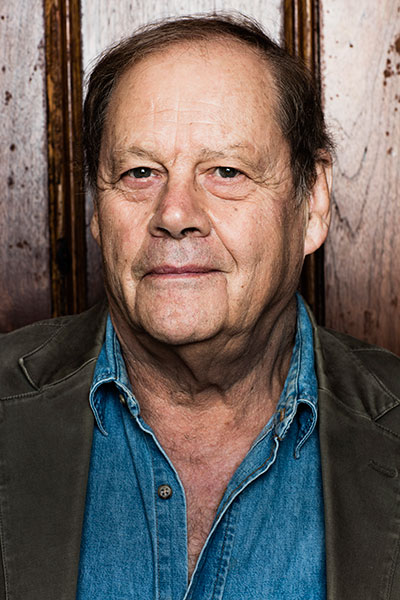 BRUCE BERESFORD: Breaker Morant (1980), Tender Mercies (1983), Driving Miss Daisy (1989), Double Jeopardy (1999).                   
Jodie Foster
[Director Bruce Beresford attached Jodie Foster to his thriller Double Jeopardy (1999), and met with her several times about the script.       This is his assessment of the conversations that eventually saw Ashley Judd winning the role after Jodie fell pregnant]: 'She [Jodie] said to me once, when we were having…not an argument, we had different points of view over something, and she said, 'we'll have to do it my way, I'm afraid.' And I said, 'Why, Jodie?' And she said, 'Because I'm so intelligent. I'm such an intelligent person that there is no point in disagreeing with me because I'm always right.' I thought she was joking, but she wasn't! [He laughs]. She had this extraordinary opinion of her own IQ.'
[His 2018 comments, reported in The Guardian, on the screenplays of Tender Mercies (1983) and Driving Miss Daisy (1989)]: 'Both of these projects were dismissed by various 'readers' – an anonymous group who supply 'coverage' to the finance people – as inept, pointless, amateurish, boring, etc., etc. Despite these acute insights, both films would go on to win the Academy Award for Best Screenplay
JOHN FORD: The Grapes of Wrath (1940), How Green Was My Valley (1941), She Wore a Yellow Ribbon (1949), The Searchers (1956).                                   
[His opinion of John Wayne]: 'Duke is the best actor in Hollywood.'
Dolores del Rio
'As a beauty, Dolores del Rio is in a class with Greta Garbo. Then she opens her mouth and becomes Minnie Mouse.'
Maureen O'Hara
'Maureen O'Hara is one of the actresses I most dislike. Everybody thought I was her lover. Actually, I hated her and she hated me, but she was right for the parts.'
'I didn't show up at the ceremony to collect any of my first three Oscars. Once I went fishing, another time there was a war on, and on another occasion, I remember, I was suddenly taken drunk.'       
[On Native American Indians]: 'We've treated them badly, it's a blot on our shield; we've robbed, cheated, murdered and massacred them, but they kill one white man and God, out come the troops.'
PENNY MARSHALL: Big (1988), Awakenings (1990), A League of Their Own (1992).            
'I'm not someone who has had to deal with much personal drama outside of the usual: growing up with parents who hated each other, two marriages and divorces of my own. There was the cancer thing, too.'
RIDLEY SCOTT: Alien (1979), Blade Runner (1982), Thelma & Louise (1991), Gladiator (2000).                       
Russell Crowe in Gladiator (2000)
'When I first said I wanted to make a film about Rome and cast Russell Crowe, everyone had a good old snigger. I thought, 'You wait.' They've done the same thing with Kingdom of Heaven (2005) and Orlando Bloom. I now say, 'Take a look at this.'
Orlando Bloom – Kingdom of Heaven
Balian [Orlando Bloom's character in Kingdom of Heaven] is an agnostic, just like me. I am not fighting another holy war here, I am trying to get across the fact that not everyone in the West is a good guy, and not all Muslims are bad. The tragedy is that we still have a lack of understanding between us, and it is 900 years since the Crusades! We have never resolved our differences.'
'I think movies are getting dumber, actually. Where it used to be 50/50, now it's 3% good, 97% stupid.'
'I'm from the generation that climbed trees, fell out of trees, broke my arm, my foot; my fingers, fell in the sea, nearly drowned. To design a catapult was high-tech. Today, kids don't do that. They probably play soccer but for the most part they're button-pushing. I just hope they have as much fun as I did.'
Sigourney Weaver as Ridley in Alien (1979)
[On casting Alien (1979)]: 'I cast Ripley really late. Two weeks out, we still hadn't found her. Then somebody came up, I think it was Warren Beatty, and said, 'There's this woman on off-Broadway, on the theatre boards called Sigourney Weaver, you should meet with her. Interesting.' So I called her, went to New York, she walks in, she must have been 6ft 6in, with an afro, so she's 7ft 2in. And I was like a midget, and I had dinner with her. That was it!'
'I remember reading Thelma & Louise (1991) and the executives were saying, 'Well, it's two bitches in a car…' And I said, 'Actually, it's a little more than that.' Originally, I was supposed to produce, and I offered it to four directors. One said, 'I've got a problem with the women'. And I said, 'That's the point, you dope! Clearly, you have big problems with women.'
WILLIAM WYLER: Mrs. Miniver (1942), The Best Years Of Our Lives (1946), Roman Holiday (1953), The Big Country (1958), Ben-Hur (1959).
'It's a miserable life in Hollywood. You're up at five or six o'clock in the morning to be ready to start shooting at nine. The working hours aren't arranged to suit the artists and the directors; they're for the convenience of the technicians. If you go to a party at night, you'll never find anyone there who's shooting a picture; they're all home in bed.'
'I made over forty westerns. I used to lie awake at nights trying to think up new ways of getting on and off a horse.'
[On why he turned down the offer to direct The Sound of Music (1965)]: 'I just can't bear to make a picture about all those nice Nazis.'
[On accepting the director's chair on Ben-Hur (1959)]: 'It was really not the kind of picture I'd been making but, I felt it would be intriguing to see if I could make a Cecil B. DeMille picture. Also, I thought that this picture would make lots of money and, you know, maybe I'll get some of it. Which I did! It took a Jew to make a really good movie about Christ.'
Jean Simmons & Greg Peck in The Big Country (1958)
[On Jean Simmons]: 'The first thing you look for is talent and this girl is full of it. She can play comedy and drama with equal facility.'
Frances Farmer
[On Frances Farmer]: 'The nicest thing I can say about Frances Farmer is that she is unbearable.'