KATY JURADO (1924-2002)                    
Katy began life as Maria Garcia in Mexico City, Mexico in January 1924, but was known as 'Katy' throughout her childhood by all those close to her. Many sources give Guadalajara as her place of birth, but her birth certificate clearly names Mexico City. She spent her early years in luxury until her family's lands were confiscated by the federal government for redistribution to the landless peasantry. At just fifteen years of age, (but looking considerably older), she was discovered by Mexican movie star Emilio Fernandez who wanted to cast her in one of his films. Her grandmother, the matriarch of the family, objected to her grand-daughter becoming an actress, but Katy eluded her control by marrying actor Victor Velazquez sometime in 1939. The couple had two children but divorced four years later, shortly after Katy commenced her film career in Mexico.
In her homeland she specialized in playing wicked and seductive women. 'I knew that my body was provocative, but also that I was not beautiful', she later said, 'although yes, I admit, my physique was different and very sensual.' Over the next seven years, before Hollywood came calling, she made a total of seventeen movies during what has been described as 'The Golden Age of Mexican Cinema'. To supplement her family's income she moonlighted as a movie columnist, radio reporter and bullfight critic! Indeed, it was at a bullfight that film-maker Budd Boetticher and actor John Wayne first spotted her in 1950. Before long, she was romantically involved with both Boetticher, and also with matinee idol Tyrone Power.
With Grace Kelly in a scene from High Noon (1952)
Boetticher rushed her into Bullfighter and the Lady (1951) opposite Gilbert Roland. Her performance brought her to the attention of Hollywood producer Stanley Kramer, who cast her in High Noon (1952). She earned a Golden Globe Award for Best Supporting Actress and her American movie career was off and running, despite her limited command of the English language. Katy was chosen to replace Dolores del Rio as Spencer Tracy's Comanche wife in Broken Lance (1954), after the US Government barred Dolores from working in the USA because of spurious allegations that she was a Communist sympathizer, charges levelled at the height of the Red Scare of the 'McCarthy Era'.
Katy & Marlon Brando
Marlon Brando saw Katy in High Noon and made a point of seeking her out and dating her. At the time he was intimately involved with actress Movita Castenada (who he later wed) and with up and coming actress Rita Moreno. Nevertheless, he and Katy embarked upon a torrid romance that lasted (on and off) for almost a decade. 'Marlon called me one night for a date', Katy recalled, 'and I accepted. I knew all about Movita. I knew he had a thing for Rita Moreno. Hell, it was just a date. I didn't plan to marry him!' She soon fell under his spell, however.
With husband Ernest Borgnine 1959
She was still seeing him when she met Ernest Borgnine during the filming of Vera Cruz (1954) in Mexico. The couple co-starred in The Badlanders (1958) four years later, and became husband and wife on December 31, 1959. The marriage was harmonious in the beginning, but both were highly temperamental characters and this led to numerous violent confrontations. Katy claimed to have suffered physical violence at her husband's hands. Like her first union, her second one ended after just four years. Borgnine once described her as, 'beautiful, but a tiger.' She called him 'bullito' (little bull).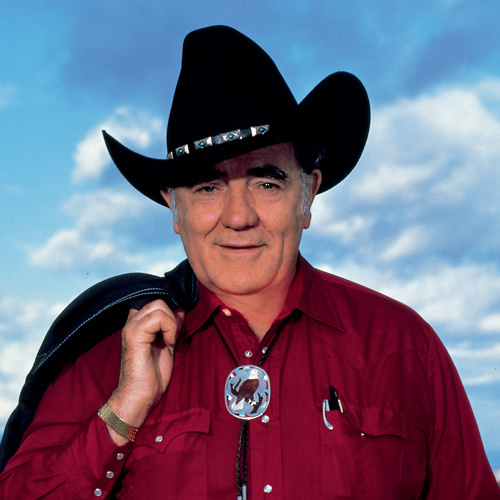 Writer Louis L'Amour
There were reports that she had, at various times, been romantically linked to Yul Brynner, John Wayne, Burt Lancaster, Alan Ladd and director Sam Peckinpah, but there does not seem to be any solid proof to back up these rumours. She openly spoke of Frank Sinatra's desire to know her more intimately, but she told him that friendship was the most he could ever hope to expect from her. According to Katy herself, however, the 'love of her life' was legendary Western writer, Louis L'Amour, and she should have, (in her opinion), married him. He wed another, however, in 1956 and remained married to the same woman until his death in 1988. 'I have love letters', said Katy, 'that he wrote me until the last day of his life.' The L'Amour family may very well dispute her claims. Katy Jurado died in 2002 at the age of seventy-eight.
DIANE KEATON (1946 – )
Diane Keaton has never married, although she has been romantically involved with some high profile screen stars, among them Warren Beatty, Woody Allen and Al Pacino. She confessed she developed a huge crush on Pacino when they made The Godfather (1972). They dated off and on for a couple of decades after making the picture but finally parted company when Diane wanted a serious long-term relationship and he did not. They met again on the set of The Godfather Part III (1990) and, although a little frosty at first, they soon overcame their differences. The final straw that ended their relationship came when Diane found out Al had fathered another woman's child. Interestingly, it appears that Diane and Tuesday Weld were 'sharing' Pacino without either being aware of the other. He was intermittently involved with Miss Weld from (roughly) 1972 to 1982; and with Miss Keaton from 1971 to 1991.
With Al Pacino in The Godfather (1972)
'I was mad for him', Diane readily admitted. 'Charming, hilarious, a non-stop talker. 'There was an aspect of him that was like a lost orphan, like this kind of crazy idiot savant. And oh, gorgeous!' His refusal to commit to marriage saw her issue him with an ultimatum and the relationship promptly foundered. 'I worked hard on that one', she pondered, before conceding, 'I went about it in not a perfect way.'
Diane & Warren Beatty at the height of their romance
The ever-eager Warren Beatty spotted her in Looking for Mr. Goodbar (1977) and (as was often his way) became instantly smitten. Her Oscar for Annie Hall in April 1978 was the icing on the cake in his eyes. He had to have her. She was thirty-two, he was forty-one. Producer Robert Evans summed up Beatty's approach when it came to pursuing a new potential conquest: He recalled the over-sexed star phoning him early in the romance with Keaton, requesting Evans' blessing to pursue another actress, Ali MacGraw, the producer's ex-wife. She had broken up with Steve McQueen just an hour before. 'His [Beatty's] obsession in life was to be first', Evans wrote in his memoir, 'first with the new hot girl in town, preferably model or starlet…'
Warren and Diane were together for two years (from 1978-80) in a supposedly monogamous relationship, not that he could remain monogamous for even two weeks, much less two years. After they broke up they continued to see each other for some time but on a non-exclusive basis. When Beatty started romancing Mary Tyler Moore who lived in the tower opposite Diane's at Manhattan's famous San Remo high-rise, Diane would use binoculars to spy on them. Beatty never had a place of his own in New York City so he would shuttle between the two women. Today, Diane appears not to hold any grudges against the man who directed (and co-starred with her) in Reds in 1981, even though she had, by her own admission, fallen hard for him. 'He is just a brilliant character', she says. 'So complex and charming. He should have made more movies.'
Diane & Woody Allen in Annie Hall (1977)
It has been one of her earliest romances, the one with Woody Allen, which seems to have best stood the test of time. She and Allen became involved in the early seventies and remain firm friends to this day, almost a half-century later. 'He is so hilarious and I just adored him, I really did', she says. It is common knowledge that he drew on their relationship when he wrote Annie Hall (1977). The picture won him two Oscars and resulted in a Best Actress Academy Award for Diane. Her real name is actually Diane Hall, by the way, and her nickname has always been Annie. 'It's just another sitcom', Woody would tell her, but she knew this was a great script. Two decades down the track she commented on their years together: 'I think Woody said that living with me was like walking on egg-shells. To be with me was just too hard.'
Allen has been through enormous turmoil in his private life, but Diane has steadfastly supported him throughout his trials and tribulations. 'I have dinner with Woody and Soon-Yi (his wife) whenever I go to New York', she happily admits. When allegations surfaced that he had sexually abused his daughter Dylan Farrow, accusations he has continually denied, Diane has stood by her friend and former lover. 'I believe him', she admits.
Finally, it is worth clearing up a misconception regarding the relationship between Diane and her co-star in Something's Gotta Give (2003), Jack Nicholson. Despite tabloid rumours to the contrary, they were never in a relationship at any time. However, Jack endeared himself to her for life when, two years after completing that movie, he sent Diane a large cheque, one 'with a lot of zeroes in it'. It represented one half of the 'back-end deal' payments he received for the film. She had no such deal in her contract and Jack felt she deserved the money since she was the star of the film. A pretty classy gesture on Mr. Nicholson's part.
In 2001, Diane said of being older and unmarried: 'I don't think that because I'm not married it's made my life any less. That old maid myth is garbage.' She has adopted two children, a daughter named Dexter (in 1996) and her son Duke in 2001. 'Motherhood has completely changed me', she later said. 'It's just about the most completely humbling experience that I've ever had.'