AN OFFICER AND A GENTLEMAN (1982)                               
Oscar-winner Lou Gossett Jr.
This movie proved to be a box-office hit in 1982. Leading man Richard Gere plays Zack Mayo, a navy brat with a bad attitude, who signs up for Navy Aviation Officer Candidate School and is put through the mill by Gunnery Sergeant Emil Foley (Louis Gossett Jr.), whose job it is to train and evaluate candidates. Debra Winger meets and falls in love with Mayo and their relationship provides much of the substance for the other half of the picture's focus. This film, the third highest grossing movie of 1982, would give Gere his biggest box-office success until Pretty Woman was to come along in 1990. Both Winger and Gossett Jr. were Oscar-nominated for their performances, the latter becoming the first African-American to win a Best Supporting Actor Academy Award. In fact, his statuette was the first awarded to an African-American in any category since Sidney Poitier had won Best Actor for Lillies of the Field (1963). Debra, as was universally predicted, proved to be no match for Meryl Streep who picked up the Best Actress Oscar for Sophie's Choice.
Gere & Winger in the scene that earned the initial X-rating
The Motion Picture Association of America (MPAA) initially lumbered the picture with an X-rating because of the sex scene between Gere and Winger, in which Debra is lying on top of him and moving her hips in a way that the censors felt was simulating sexual intercourse. Director Taylor Hackford and Paramount Pictures considered appealing the rating, but ultimately opted to 'adjust' the scene by moving in from the wide shot to a much closer one. This had the desired effect and seemed to offset the censors' concerns. The X- rating (box-office certain death) was changed to 'R'. Prior to the commencement of the shoot, Debra had negotiated her own contract (no agent involved), before she had laid eyes on the revised script; a script that now required her participation in a nude scene. Because she had not thought to ask for a 'no nudity' clause in her contract, she was required to do the scene as written. And she was far from happy about it.
Producer Don Simpson
According to Charles Fleming, in his biography of producer Don Simpson titled 'High Concept', the notoriously crass producer had allegedly told Debra at her audition that 'there may be somebody else for this part. I need somebody fuckable. You're not fuckable enough.' Despite being Oscar-nominated for her performance, Debra has made no secret of the fact that she despises this movie. Indeed, she often likes to deny that she ever had any involvement in it to begin with. 'I did not have a great time on that set', she has since revealed. 'I was being really jerked. And most of those guys are dead now. So I don't feel bad. People like Don Simpson – they were pigs! I'm sorry, may he rest in peace, but he'd go to dailies and bring me a water pill. They treated girls very badly. I was trying to stand up to it. And it was hard. I was really young. 'Is she fuckable? Do I want to fuck her? Will I get to fuck her?' That's all it's about in that world. And I don't go to the movies for that. It wasn't about finding a guy I wanted to fuck. It was about dreaming about life.'
In his book, 'An Actor and a Gentleman', Lou Gossett Jr. wrote that Gere and Winger did not get along during the making of this movie, often significantly distancing themselves from each other when the cameras were not rolling. Publicly, Debra referred to Gere as 'a brick wall'. He resented her obvious ability to steal scene after scene from him, for she was clearly the more accomplished thespian; a fact demonstrated by her Academy Award nomination. Thirty years later Gere admitted that she was much more open to the camera than he had been. Happily, the hatchet was buried between the two stars when Debra later presented him with an award at the Rome Film Festival, a gesture he genuinely appreciated.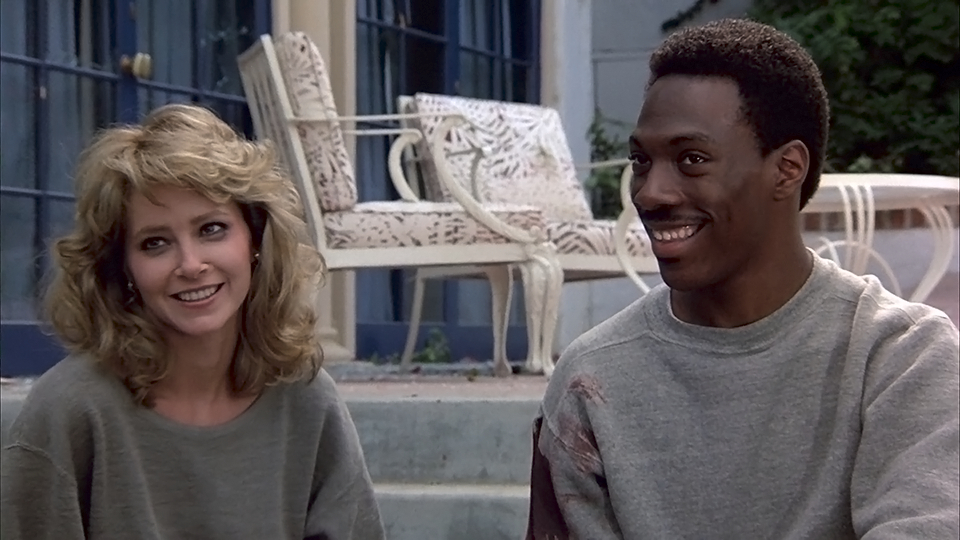 Lisa Eilbacher & Eddie Murphy in Beverly Hills Cop (1984)
An Officer and a Gentleman was one of three early to mid-eighties movies, (each of them directed by Taylor Hackford), that resulted in the emergence of a hit theme song. 'Up Where We Belong', sung here by Joe Cocker & Jennifer Warnes, won the Oscar for Best Song and topped the Billboard charts for a couple of weeks in 1982. Producer Don Simpson tried unsuccessfully to have it cut from the film altogether. 'The song is no good', he said. 'It isn't a hit.' In 1984, Phil Collins sang, 'Against All Odds – Take a Look at Me Now' for the movie Against All Odds, and a year later he recorded 'Separate Lives' with Marilyn Martin for the film White Nights. Both songs were unsuccessfully nominated for Best Song. Lionel Ritchie wrote and performed 'Say You, Say Me' (also for White Nights) – and it won.
An interesting member of the cast is an actress named Lisa Eilbacher. She played Cadet Casey Seeger, the sailor who had difficulty scaling the wall when she tackled the obstacle course. In real life Lisa, who was an avid body builder and probably the fittest member of the cast, admitted later that the most difficult aspect of playing Cadet Seeger was pretending that she was out of shape. Born in Saudi Arabia (her father was an oil executive there), she spent her childhood in Paris and, consequently, spoke fluent French. The family moved to California when she was seven years old. She quickly learned English there and soon landed acting jobs as a child in several TV series. In 1976, she unsuccessfully tested for the role of Princess Leia in Star Wars: Episode IV – A New Hope (1977), losing the role to Carrie Fisher. After impressing in An Officer and a Gentleman, however, she was cast as Eddie Murphy's childhood friend, Jenny Summers, in 1984's smash comedy hit Beverly Hills Cop. In 1988 she wed director Bradford May and appears to have retired from movie acting in 1995.
Lisa Blount with husband Ray McKinnon
Debra & Lisa in a scene from An Officer and a Gentleman
Lisa Blount was memorable as Lynette Pomeroy, Debra Winger's character's friend, a young woman bent on marrying a pilot and enjoying life as a naval aviator's wife. A native of Fayetteville, Arkansas, Lisa gained a reputation as the 'scream queen' star of several 80s horror movies before landing a role here. In 1998, she wed actor/director/writer Ray McKinnon. Fans of O Brother, Where Art Thou? (2000), might not recall his name but he will doubtless be instantly recognizeable as the actor who portrayed Vernon T. Waldrip, the man George Clooney's wife (Holly Hunter) plans to marry in the film. McKinnon was away on location in 2010 when Lisa's mother, concerned about her daughter not answering her phone for two days, went to check on her and discovered Lisa's body. The fifty-three year old actress had died from a blood disorder called idiopathic thrombocytopenic purpura (ITP).