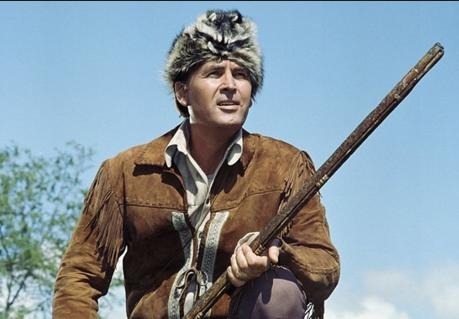 DANIEL BOONE (1964-70) 165 EPISODES        
The television series entitled Daniel Boone, starring Fess Parker in the title role, was so popular it continued on for six seasons on NBC, and ran for 165 episodes. The only place it was not popular was at the Kentucky Legislature, the members of which complained about the show's many historical inaccuracies. One of those inaccuracies might surprise some readers; for history tells us that the real Daniel Boone did not wear a coonskin hat at all! He wore a beaver hat with a flat brim. Fess Parker had portrayed America's other legendary frontiersman Davy Crocket and sported his coonskin hat, so someone suggested he do likewise when playing Boone. 20th Century Fox Television had endeavoured to secure the rights to Davy Crockett, but Walt Disney refused to sell, so they went with Boone instead. The coonskin hat may have come with Parker or was possibly utilised to simply annoy Disney. The coonskin was even incorporated into the theme song: 'From the coonskin cap on the top of ol' Dan…'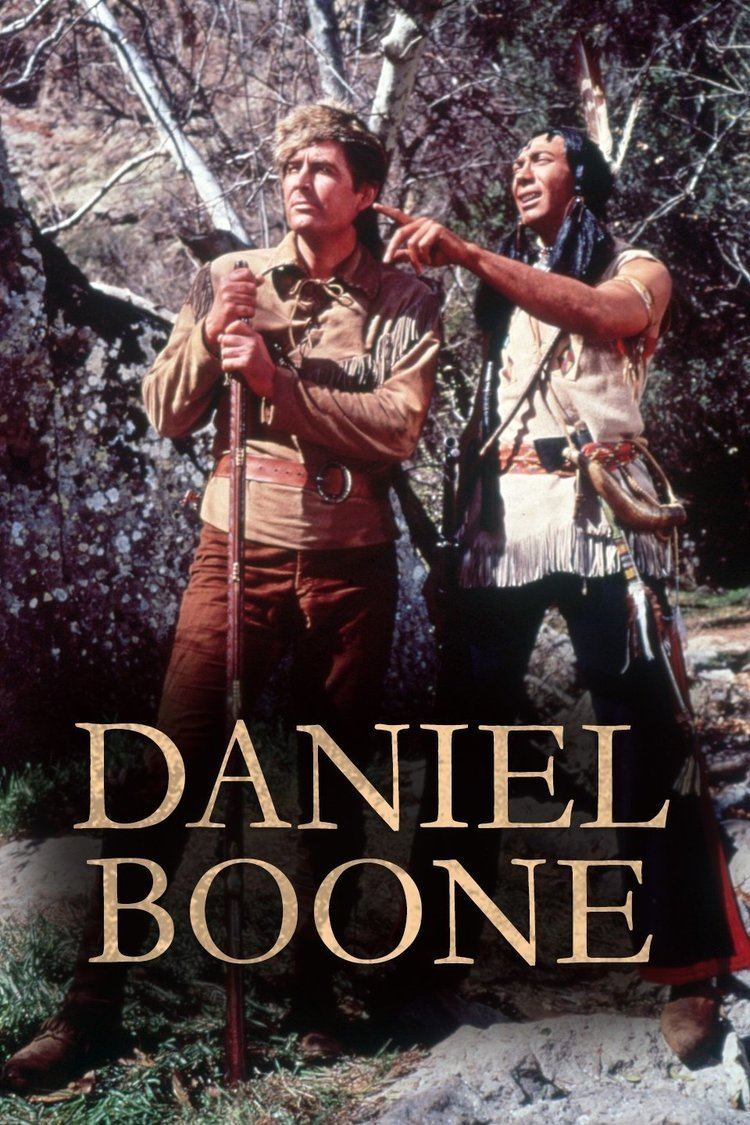 Fess Parker & Ed Ames (Mingo)
Parker stood 6'5" tall, while the real Boone was only 5'8". That did not bother the writers either. As for the introduction of            Daniel's best friend Mingo, an Oxford-educated, half British/ half Cherokee, the word 'ludicrous' springs readily to mind. Mingo was portrayed by Ed Ames, the former lead singer for the wonderful Ames Brothers vocal group who gave the world some superb hit records – 'If You Wanna See Mamie Tonight', 'The Naughty Lady of Shady Lane', 'You, You, You', 'The Man with the Banjo', Melody D'Amour', and many more. The group disbanded in the early sixties but Ed carried on as a solo singer and actor. As of early 2020 he is the sole surviving brother, now in his 92nd year.
(L to R) Patricia Blair, Darby Hinton, Parker & Veronica Cartwright
Boone's wife Rebecca was played by Patricia Blair, their son Israel by Darby Hinton and daughter Jemima by Veronica Cartwright. Jemima disappeared from the show at the end of season two, without explanation. Veronica revealed later that she was dropped from the series when it was decided that Jemima would begin having a few romantic entanglements. Patricia Blair, concerned that such entanglements would make her character appear older, threatened to walk off the show if this happened. The producers bowed to her ultimatum and dismissed Veronica instead. It was a couple of years before she started getting roles again.
The real Daniel Boone (1734-1820)
The real Daniel's family were Quakers in William Penn's community of dissenters in Pennsylvania. He was born in Exeter near present day Reading in 1734. Daniel was still a boy when controversy engulfed his family after two of the oldest children married outside the endogamous community. The boy's father stood by his 'disgraced' children and was expelled from the Quakers. His wife continued to attend church meetings with the younger children. In 1750, Squire Boone took his family to North Carolina. Daniel never again attended church. He eventually found his way to Kentucky but spent the final two decades of his life in Missouri.
 DAVY CROCKETT (1955) 3 PART MINI-SERIES       
In 1955, Disney aired a three-part episode of Disneyland that focused on American frontiersman Davy Crockett of Tennessee. No-one, least of all Walt Disney, was prepared for the worldwide phenomenon it engendered. Davy Crockett and his coonskin cap struck a chord with children everywhere, even as far away as my home state of Western Australia. I was just eight years old in 1955 and television would not begin in my state until October 1959. Consequently, my first introduction to the Crockett phenomenon was via the movies Davy Crockett: King of the Wild Frontier (1955) and Davy Crockett and the River Pirates (1956), when they hit Australian cinemas.
Buddy Ebsen (George Russell & Fess Parker as Davy
Walt Disney said that if he had known the success that Davy Crockett was going to have he wouldn't have killed him off in the third TV episode. Much of that success was attributable to the endearing performance from Texan actor Fess Parker in the title role. He was so likeable. Unfortunately for him, however, he became identifiable with the Crockett role so other acting jobs were suddenly hard to come by. Not surprisingly, when presented with the opportunity to play Daniel Boone in the 1964 TV series, he accepted at once. He had little choice if he wished to keep on as a screen actor.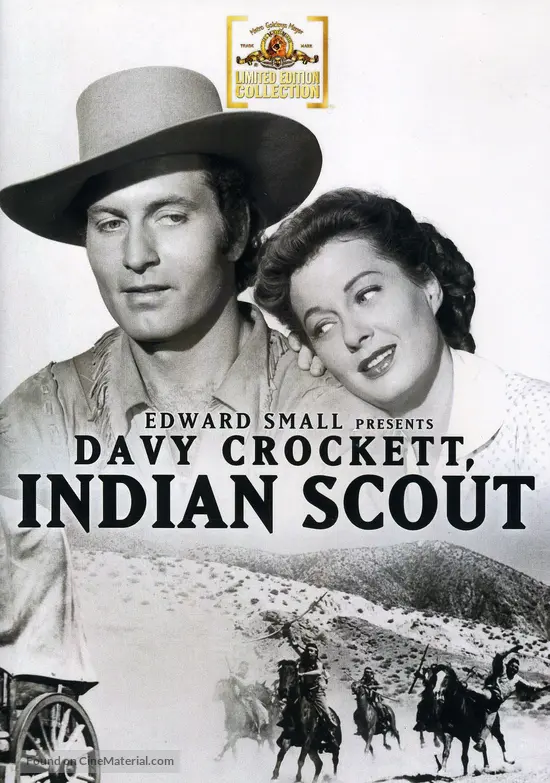 Former dancer Buddy Ebsen was Disney's first choice to play Davy, but then Walt spotted Parker in the B-feature Them! (1954) 'That's my Davy Crockett!' he exclaimed and Ebsen found himself relegated to the role of Davy's off-sider George Russell. The show premiered in three parts over several weeks on Disneyland. Each segment was given its own title: 'Davy Crockett, Indian Fighter', 'Davy Crockett Goes to Congress', and 'Davy Crockett at the Alamo'. The first film comprised two of the three segments and raked in a million dollars, despite most cinema-goers having already seen its contents on television. The only difference was that the movie was in colour whilst television was still a black and white medium. A second theatrical release, Davy Crockett and the River Pirates, also did well. Aiming to cash in on Crockett-mania, the 1950 B- feature entitled Davy Crockett, Indian Scout, and starring George Montgomery, was re-released in 1955, even though it was about Davy's nephew with the same name! (I went to see it as a boy and never trusted Hollywood again).
Such was the extraordinary popularity of anything to do with Davy Crockett in 1955, veteran singer/actor Bill Hayes even managed to record a single, 'The Ballad of Davy Crockett', which rocketed to #1 on the Billboard charts. In fact, it was the only song ever to chart on the Top Ten Popular Songs at the same time by three different artists! While Hayes' version resided at the top of the charts, versions by Fess Parker and Tennessee Ernie Ford were also in the Top Ten. In 1970, Hayes would join the cast of the TV soap opera Days of Our Lives in the role of Doug Williams and would keep the role for the next forty-two years (1970-2012).