THE COWBOYS (1974) 12 EPISODES                 
The success of the John Wayne feature film The Cowboys (1972) encouraged Warner Bros. to develop the story into a television series in 1974 for ABC. Unfortunately it was cancelled after a single season. Jim Davis played Marshal Bill Winter; Diana Douglas, (a former wife of Kirk Douglas), portrayed Annie Anderson and Moses Gunn filled the role of Jebediah Nightlinger. Reprising their characters from the 1972 movie were A Martinez (as Cimarron) and Robert Carradine (as Slim). Sean Kelly and Clay O'Brien were also in the movie but played newly created characters for the series. For some reason, ABC made a last minute decision to alter the show's format by reducing its running time from one hour per episode to a half hour. It was a killer blow that made it difficult to flesh out stories effectively because of the show's large cast. Only thirteen episodes were filmed, twelve of which comprised the first (and only) season.
Kirk & Diana Douglas with their second son Joel
Four years later, Jim Davis was cast as Jock Ewing in the smash hit series Dallas. The seventy-one year old actor was still playing Jock when he passed away from multiple myeloma in April 1981. It was decided to keep the character of Jock going in the series until early 1982, and then reveal he had perished in a plane crash in South America. Diana Douglas continued to act until 2008, having acquired a new daughter-in-law in 2000 when her son, actor Michael Douglas, married the British beauty Catherine Zeta-Jones. Back in May 1943, Diana had appeared on the cover of Life Magazine as a 20 year-old Powers agency model named Diana Dill. Five months later she found herself married to Kirk Douglas. After parenting two children they divorced in February 1951. Her long life ended in 2015 at the age of ninety-two. Kirk, of course, lived on until February 2020 before passing away at the age of 103!
Jim Davis
Moses Gunn was one of very few African-American actors able to gain regular employment in Hollywood in the sixties and seventies, albeit almost always as a character actor. As far as black actors filling leading roles, that corner of the market belonged exclusively to Sidney Poitier at the time. Nevertheless, Moses appeared regularly in TV series and movies before and after the brief life of The Cowboys. One of his better known movie roles was as Staff Sgt Webster in Clint Eastwood's Heartbreak Ridge (1986), possibly the only film that will ever be made about the October 1983 US invasion (albeit a fictional account) of the Caribbean island of Grenada. Gunn passed away at sixty-four, of complications from asthma, in 1993.
A. Martinez as Cimarron
The actor A Martinez (the 'A' stands for Adolph) has enjoyed a successful screen career for several decades. He was Tranquilino Marquez in the 1979 mini-series Centennial, Benny Silva in Cassie & Co (1982), Lt. Neal Quinn in Whiz Kids (1983-4), and Cruz Castillo in Santa Barbara (1984-92), to name but four of the series in which he was a regular cast member. There were several more – The Bold and the Beautiful, Days of Our Lives and Longmire also spring to mind – as well as guest appearances in numerous series. Robert Carradine would go on to star as Lewis Skolnick in the four 'Nerds' films, shot between 1984 and 1994, that somehow acquired a kind of cult following. The Cowboys was a fine movie and could have made a fine series, if it had been handled better.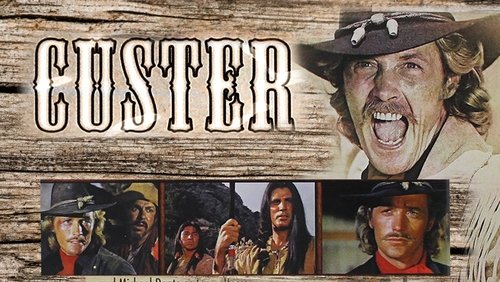 CUSTER (1967) 17 EPISODES                  
George Armstrong Custer has always been a most interesting figure in American military history, hence the scores of books written about him, plus the clutch of movies that followed his rise and inevitable fall at the Battle of the Little Big Horn in June 1876. Unfortunately, this television series does not do the man or his story any justice, whatsoever. It is poorly written and, despite numerous talented guest stars, poorly acted. Wayne Maunder was approaching thirty when he met Hollywood agent Jane Oliver in 1966. The lady who would later 'discover' Sylvester Stallone, landed him a screen test at 20th Century Fox and his brief movie career was on its way. In 1967, he was cast in the lead for this series.
Wayne Maunder as Cavanagh in Porky's (1981)
Custer covers the years between 1868 and 1875 in seventeen episodes. Along with poor reviews and an almost complete lack of attention to historical accuracy, the series also found itself behind the eight ball from the start. It had replaced The Monroes in its ABC time slot, but was soundly trounced by The Virginian and Lost in Space on CBS and was dropped after a single season, a full year before the script timeline could even get to the Little Big Horn battle. There were complaints from Amerindian protesters and concerns about the level of violence in the show as well. In 1968, Fox released it as a feature film under the title The Legend of Custer (1968), but it fared no better at the box-office than did the series in the ratings. Maunder's movie and TV career spanned just thirteen screen credits and ended with his convincing portrayal of Cavanagh, the leather-clad, biker father who systematically beat his son, in the 1981 hit comedy Porky's. After that he turned to producing until a heart attack took him in November 2018 at eighty.
THE DAKOTAS (1962-3) 20 EPISODES                         
This was an ABC/Warner Bros series that replaced Cheyenne in its time slot in 1962. It starred Larry Ward as US Marshal Frank Ragan and followed him and his three deputies (played by Jack Elam, Chad Everett and Michael Greene), as they strove to bring law and order to the Dakota Territory prior to the establishment of statehood in 1889. In all, twenty-one episodes were filmed, but the final one entitled 'Black Gold' never made it to the screen before the series was suddenly cancelled. The eighteenth episode, 'Sanctuary at Crystal Springs', shocked viewers to such an extent that they called for The Dakotas to end its run. And they were heeded virtually overnight. The offending episode contained a scene in which the lawmen killed two outlaws – in a church. Evidently, even though the outlaws had caused injury to the pastor of the church, viewers across America took a particularly dim view of them getting their comeuppance in a house of God. After just one more episode the series was pulled.
Jack Elam in The Dakotas
By many accounts, the most popular performer in The Dakotas was Jack Elam and not the star Larry Ward. Larry lacked screen presence and Jack was a noted scene stealer throughout his career. If readers are struggling to recall what Larry looked like, you might take a look at the great Paul Newman western Hombre (1967). He plays a Union soldier returning home from the war, who is confronted and intimidated into surrendering his stagecoach ticket to a most convincing bad man portrayed superbly by Richard Boone. The scene at the stage depot is one of the many highlights in this terrific western. Larry only chalked up 42 screen credits (mostly in TV shows) in his mediocre career.
Larry Ward in Hombre (1967)
Michael Greene's career has been longer and is still in progress as he enters his eighty-eighth year. Chad Everett passed away in 2012, aged seventy-five, and is probably best remembered for his seven-year run as Doctor Joe Gannon on Medical Centre (1969), for which he was twice nominated (unsuccessfully) for a Golden Globe in the early seventies. He eventually became the last contract player at MGM. By far the most accomplished in the cast of The Dakotas was the inimitable Jack Elam, with over 200 screen credits in a career that lasted more than fifty years. He was an absolute delight as Jim Garner's reluctant deputy in the hilarious Support Your Local Sheriff! (1969).