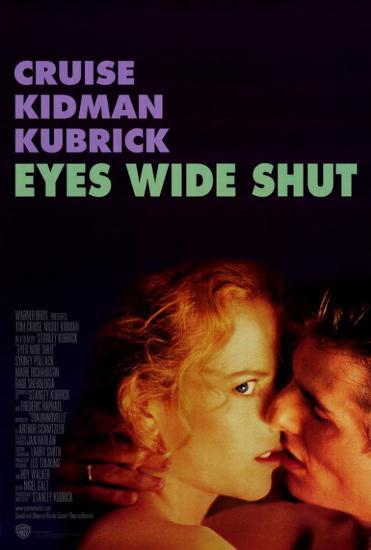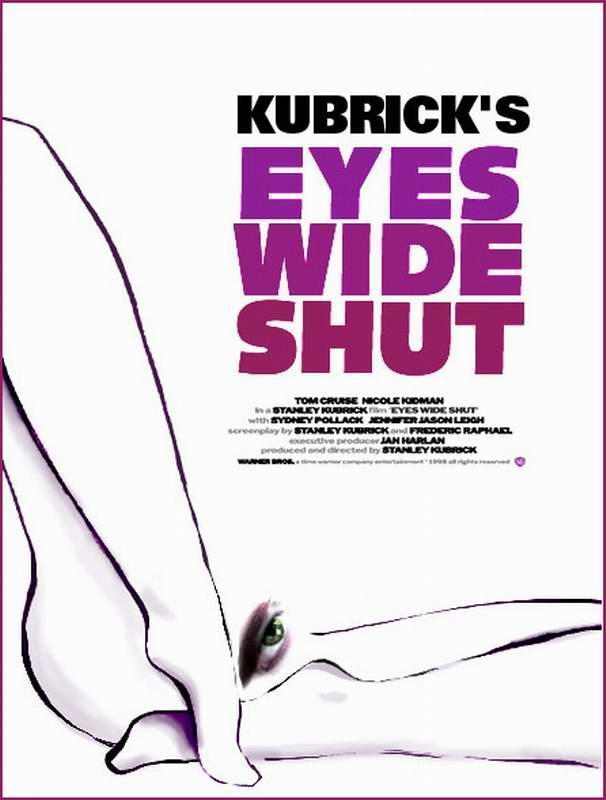 Nicole Kidman and Tom Cruise landed in England in the fall of 1996 to make Stanley Kubrick's film Eyes Wide Shut. They expected to be stuck in the UK for several months, fully aware that Kubrick notoriously took forever to shoot his films. Instead, they stayed on through the summer, the fall and another Christmas, until the picture wrapped in January 1998! And that was not the end of it. In May they were summoned back for more months of reshoots. All in all, they spent fifteen months on Eyes Wide Shut, the picture not being released until 1999.
Kubrick, Cruise & Kidman circa 1996
Kubrick insisted that his female star, Nicole, shoot six days of naked sex scenes with a male model. The result from all that naked and semi-naked frolicking was one minute of actual screen footage! Not only did the director insist that the pair pose in over fifty erotic positions, he also banned her husband (and co-star) from the set and forbade her to discuss with him what had taken place during those six days! Both Nicole and Tom were decidedly uncomfortable around naked people and wanted to both be present whenever either partner was required in such scenes. But Kubrick would not allow it. Fans of his would, no doubt, wax lyrical at the man's genius for doing this. Six days shooting for one minute of screen time may seem like genius to some. Others, less discernible or enamoured of his talents, may be forgiven for deeming it the machinations of a dirty old man.
Nicole's solo bedroom scene
His disciples, and there are droves of them, have labelled the picture 'Kubrick's unfinished masterpiece'. According to them, his untimely death, prevented him from editing his movie as he would have liked to. Admittedly, the score and other aspects were not quite finished, but what he submitted to Warner Bros, just days before his death, was purported to be his final edit anyway. He, reportedly, watched Fatal Attraction (1987), Basic Instinct (1992) and Showgirls (1995) during the editing phase, simply to get an idea of how explicit the sex scenes in his movie could be for it to retain an R-rating. He must have overdone it because 24 minutes were cut by the censors anyway.
Tom Cruise & Leelee Sobieski
Having said that, it is worth noting that Nicole classed making Eyes Wide Shut as one of her personal favourite experiences, film-making wise. She considered working with Kubrick akin to 'attending film school.' 'I didn't care what the story was', she said later. 'I wanted to work with Stanley.' Her husband has been quoted as saying that he did not like playing Dr Harford, but 'I would have absolutely kicked myself if I hadn't done this', he was quick to add. His apparent fascination with Kubrick went way back to 1968 when he first saw 2001: A Space Odyssey. According to Cruise, he found himself lying in the snow in his parents' back yard afterward seeing the film, staring at the heavens and contemplating what he had watched. 'I couldn't stop thinking about it,' he said. 'What is life? What is space? What is existence?' He was six years old! Yeah, right. (And the band played, 'believe it if you like…')
Julienne Davis as Mandy Curran
To prepare his two married stars for their roles, Kubrick had joined psycho-analysis sessions with them, where he had them confess their fears about relations and their real-life marriage. Nicole said it was brutally honest, blurring the lines between themselves and their fictional characters. That, presumably, was what Kubrick was after; an exaggeration of the distrust between the fictional husband and wife. Had Alfred Hitchcock been alive and on hand, he might have posed the inevitable question – 'Why don't you just act?' Both Nicole and Tom vowed never to reveal what was discussed during those sessions. Was that, too, on instruction from Kubrick? Probably, given his obsession with secrecy.
Eva Herzigova turned Kubrick down
Czech actress and costume designer Eva Herzigova was offered the role of Mandy Curran but she turned it down. She felt there were too many nude scenes, all of which Kubrick flatly refused to modify. Julienne Davis was less fussy. She had been cast as a bit player in the orgy scenes and was happy to get the opportunity to replace her. On the film's release Julienne's life changed drastically. She became an 'It' girl in London, leading the celebrity lifestyle, with parties, press and paparazzi. She soon found herself guesting on British television; recording and appearing live with her band 'Sophisticated Savage'.
Filming for this picture took a total of 400 days to complete! Kubrick then spent around two more years editing and fiddling with his three-hour 'masterpiece' before letting Tom and Nicole watch the completed article. In March 1999, they viewed it in a private screening room at Warner Bros Manhattan headquarters. The director was in England but left strict instructions that the projectionist was to turn his head away from the screen during the entire showing. The screening finished after midnight and the besotted stars promptly watched it again! 'The first time, we were in shock', said Nicole. 'The second time, I thought, 'Wow! It's going to be controversial.' Tom's assessment: 'It's a movie you can't just see once', he suggested. 'To try to review it after one sitting? My hat is off to you. I do not know how an individual can do that.' Uh-huh.
Expectancy was high by the time of the picture's release. Kubrick died four days after presenting Warner Bros with his final edit of the film, so by then the focus was on Nicole and Tom. It was generally thought the famous couple would be seen having sex on-screen. That was not to be, however, although the ratings board encountered enough sex scenes involving others to necessitate the digital insertion of black-robed individuals to obscure some of the action. The final words uttered in the picture between Alice (Nicole) and Bill (Tom) are anything but profound but they do capture the spirit of Kubrick's film:
ALICE: 'I do love you. And you know, there is something very important that we need to do, as soon as possible.'
BILL: 'What's that?'
ALICE: 'Fuck.'
Martin Scorsese later named Eyes Wide Shut as one of the best films of the decade – and that the film's last line was 'a beauty.' So, there you go. One question remains in my mind: What happened to the six days of footage of naked Nicole and the fifty erotic positions? No doubt Kubrick destroyed it all. After all, he was an artist and a genius. Ask anybody.