Marilyn Monroe
Sir Laurence Olivier once gave his opinion to Michael Parkinson on Marilyn Monroe, his co-star in The Prince and the Showgirl (1957). Olivier said she was unhappy throughout the shoot and very difficult to work with, discomforted and forlorn in front of a movie camera. But then the two stars flew to America to promote the picture. Their plane touched down in the US, they were greeted by a phalanx of photographers and her demeanour immediately changed. Olivier watched with fascination as she posed, teased and flirted with the stills cameras. She was completely in her element, exuding confidence from every pore. In his opinion, Marilyn considered herself to be first and foremost a model. Not an actress.
Sir Cedric Hardwicke in The Ten Commandments (1956)
British actor Cedric Hardwicke was created a Knight Bachelor for his services to drama in the 1934 New Year Honours List. At the knighthood ceremony the hard-of-hearing King George V, after being prompted by a courtier, announced, as he dubbed the kneeling actor, 'Rise, Sir Cedric Pickwick.' Sadly, by the time Sir Cedric passed away in 1964, hospital expenses had eaten up all his money and there was nothing left to pay for his funeral. Several actors' funds (in honour of his long and distinguished career), donated the money to enable him to be put to rest.
C Aubrey Smith (L) & Boris Karloff circa 1933
A photograph of the British-born Hollywood actor C Aubrey Smith in his cricket whites, bat in hand, was included in a display in the Long Room at Lord's Cricket Ground, London in 2004. The display was to celebrate England's oldest county side (Sussex) winning the County Championship that year for the first time, and Smith had been a former captain of the Sussex County Cricket Club. In the photograph, the gentleman keeping wickets behind him is an even more famous British-born movie star, none other than Boris Karloff, the star who became known around the world for portraying Frankenstein's monster in several films.
Lillian (L) & Dorothy Gish
In the early days of the cinema, sisters Lillian and Dorothy Gish began their screen careers working for the legendary D.W. Griffith. He quickly became infatuated with Lillian even though, in their first film, An Unseen Enemy (1912), he thought the girls were twins. He even resorted to tying different coloured hair ribbons on them to tell them apart when he was giving direction: 'Red, you hear a strange noise. Run to your sister. Blue, you're scared too. Look toward me, where the camera is.' And so on. Despite his infatuation with Lillian she never returned his affections and remained a spinster her entire, long life.
Steve McQueen & Oliver Reed having a drink
Steve McQueen flew to England to meet with Oliver Reed for discussions about a possible film collaboration. He wanted Reed to play Rudy Butler in The Getaway (1972). Oliver showed him around his country mansion and the two men got on well. 'He then suggested he take me to his favourite London nightclub', said McQueen. The drinking continued into the night until Reed could hardly stand. Suddenly, without warning, he vomited over the American actor's shirt and trousers. 'The staff rushed around and found me some new clothes', McQueen recalled, 'but they couldn't get me any shoes. I had to spend the rest of the night smelling of Oliver Reed's sick.' McQueen made The Getaway without him.
Robert Newton in Around the World in 80 Days (1956)
Sixty-one year-old Reed died in 1999 of a heart attack in a bar in Valletta, Malta, soon after downing three bottles of Captain Morgan's Jamaica Rum, eight bottles of German beer, numerous doubles of Famous Grouse whiskey and Hennessy cognac, and beating five much younger Royal Navy sailors at arm-wrestling. The public house in Valletta at that time was called simply 'The Pub', but the name has since been changed. It is now called 'Ollie's Last Pub'. The similarities between the deaths of notorious drinkers Robert Newton and Reed are evident. Fifty year-old Newton stayed sober throughout the shooting of Around the World in 80 Days (1956), then allowed himself a final celebratory binge. And it killed him. Reed stuck to his promise to remain booze-free whilst making Gladiator (2000). But his final binge also proved fatal.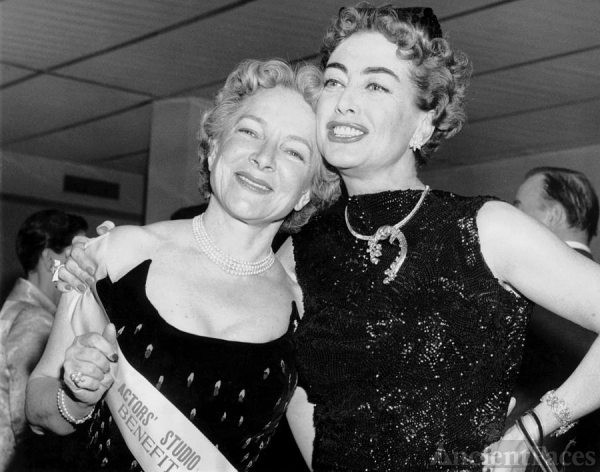 Helen Hayes (L) & Joan Crawford
Screen icon Helen Hayes lived for many years in an historic house in Nyack, New York called 'Pretty Penny'. The house was purchased by TV personality and actress Rosie O'Donnell a few years after her death, from Helen's surviving son, actor James MacArthur (of Hawaii Five-O fame). James was Ms. Hayes' adopted son. Her only biological child, a daughter named Mary, passed away at nineteen in 1949. Helen was friends with Joan Crawford, but wrote disparagingly in her 1990 memoir of the lady's methods as a mother. 'Joan was not quite rational in her raising of children. You might say she was strict or stern. But cruel is probably the right word. It would have been futile for me or anyone else to protest. Joan would only get angry and probably vent her rage on the kids.'
Ruby Keeler & husband Al Jolson
Ruby Keeler was born in Halifax, Nova Scotia, Canada in 1909. By the age of fourteen she was singing and dancing in nightclubs and speak-easies in New York City; establishments owned and run by gangsters. Forty year-old Al Jolson met her at Texas Guinan's El Fey Club one night in 1926 when she was barely sixteen. He married her as soon as she turned eighteen. Ruby was working at two or three clubs a night, making a minimum of $150 a week, a sizeable sum in the 1920s.
As a chorus girl in NYC, she was looked after and protected by a gangster named Johnny Irish. He was an associate of bootlegger and speak-easy owner Owney Madden who owned the world-famous Cotton Club in Harlem. Irish ran the nightspots owned by vicious mobster Dutch Schultz. When Jolson decided to marry Ruby, he went to tell Irish of his intentions. The mobster made it very clear that if Al mistreated the girl it would cost him his life.
Keith Urban & wife Nicole Kidman
Nicole Kidman's prenuptial agreement with her current husband Keith Urban contains the following stipulations: 1. Urban will receive $640,000 for every year they remain married. 2. Should he relapse into drug use, the contract will become null and void and he will get nothing. The couple married in June 2006 and have two children.