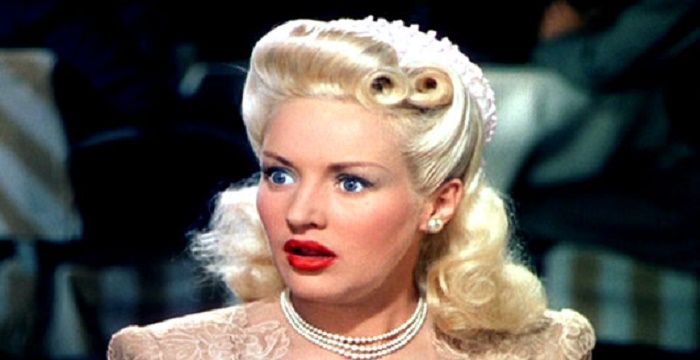 BETTY GRABLE (1916-73)                                              
Ascertaining the level of intimacy in many of Betty Grable's relationships is not easy. Most people who knew her during her time at the top were impressed by her morality, convinced she was 'more show than go' in most of her romances. Of course, times and people were generally different back then. Not every relationship ended up in bed. For one thing there was the very real risk of an unwanted pregnancy that might lead to bad publicity and the curtailment of one's career. Needless to say, there were still plenty of abortions performed secretly in the movie colony, but not every actress was willing to go down that thorny path. Having said that, it is no secret that Betty aborted Artie Shaw's baby when he dumped her for Lana Turner, but Betty and the ever-busy Shaw were engaged to be married at the time and she probably, understandably felt that intimacy with the man she was about to wed was acceptable. Or maybe the perpetually randy Artie simply would not take no for an answer.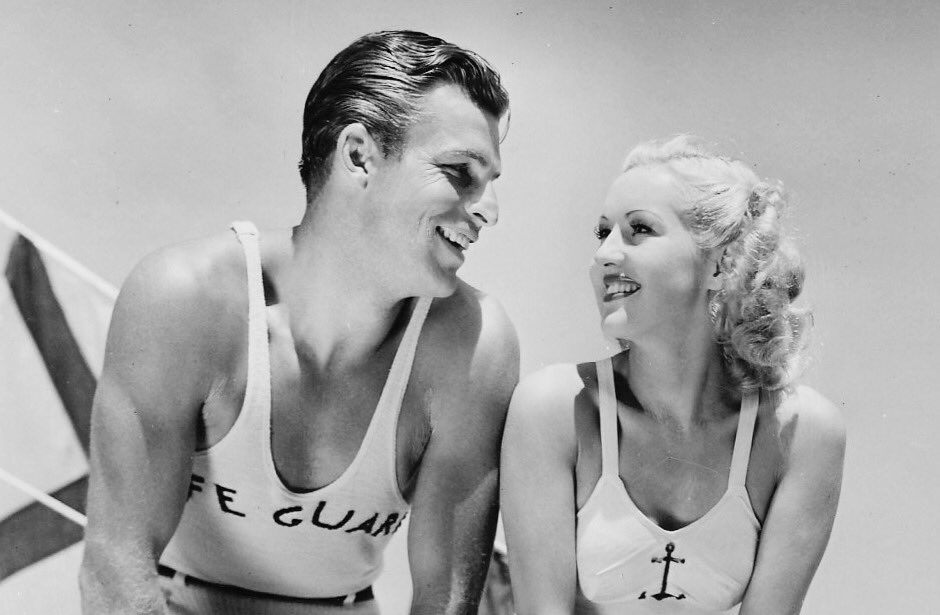 Betty & Buster Crabbe
The general consensus, however, is that Betty distributed her sexual favours with a certain discretion, giving them to men she truly cared about and whom she believed cared about her. The problem lies in the type of men she chose to date. Being seen around town with known Lotharios was bound to have the press and public jumping to inevitable conclusions. Several of the stars she dated enjoyed heavy reputations, so the reader can draw his or her own conclusions regarding their success rate with her. Betty was anything but naïve, even in the early days, but she was driven by ambition and an obsessively ambitious mother. Career came first.
One of her first beaus was 29 year-old actor Buster Crabbe, one of the screen's original Tarzans. They briefly dated in 1937. Newcomer Ronald Reagan arrived in Hollywood that year and, according to singer Joy Hodges (an old friend of his), was involved with three actresses simultaneously, Susan Hayward, Jane Wyman – and Betty. The future President of the United States would acquire a reputation as a 'swordsman' at Warner Bros, a reputation that would be air-brushed into oblivion during his presidency. We are left to ponder if Betty was one of his early conquests. If she was bent on moving up the Hollywood pecking order (and she was), bedding a B-grade actor like Ronnie would do little to help her cause. Then again, the ever eager Ronnie did not often miss out.
Betty marries Jackie Coogan 1937
By the end of 1937, Betty would be married to former child star Jackie Coogan anyway, a man she first met back in May. She was 21, still struggling to gain recognition, and his fame considerably aided her rise in the industry. They wed in November '37, co-starred in Million Dollar Legs (1939), and divorced in October '40. Her comments on their marriage were enlightening: 'Coogan taught me more tricks than a whore learns in a whorehouse', she said. Decades later his career would be kick-started and he would acquire a second legion of fans playing Uncle Fester in TV's sixties series The Addams Family.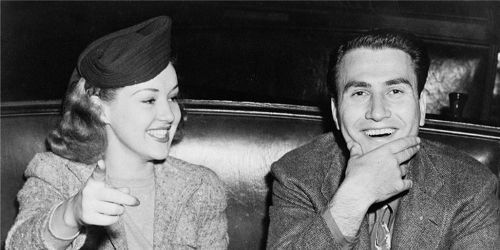 On the town with Artie Shaw
Back to the late thirties and enter clarinet-player Artie Shaw. Towards the end of 1939 the newly divorced Betty began seeing him. Unknown to her, Artie was also dating Judy Garland and Lana Turner at the same time. Judy was completely smitten with him. So was Betty. Unbeknown to Judy, she accepted his marriage proposal and started sleeping with him. When he impregnated her, Shaw did the less than noble thing and eloped with Lana! Betty aborted their baby. Miss Turner confessed years later that she only agreed to the elopement to make her regular boyfriend, attorney playboy Greg Bautzer, jealous! Around town another story began to circulate. It suggested that Shaw had walked in on Betty having intercourse with Dan Dailey on the floor of her dressing-room! Dailey had bolted out the door, so the story went, and Artie beat up Betty instead, then eloped with Lana to spite her! Meanwhile, back at home, poor love-struck Judy had just read of the elopement and was heartbroken. If all this actually happened it was one hell of a story.
Betty dating Desi Arnaz
Date-wise, 1940 turned out to be an active year for Betty. She was photographed on the town with actor Don 'Red' Barry and also with 19 year-old Mickey Rooney. She also dated Desi Arnaz who would marry Lucille Ball at the end of November. Years later, Lucy still firmly believed that her rooster of a husband had slept with Betty. Who knows? From December 1940 until February 1941, Robert Stack and Betty were an item but that did not last either. She made four movies with Victor Mature and they too dated for a few months in '41. Bisexual Ty Power was at his peak when he and Betty made A Yank in the RAF (1941), and the couple dated for four months.
Dating George Raft
George Raft was deeply involved with her for two and a half years prior to her marriage to bandleader Harry James in 1943. She told Louella Parsons of her strong feelings for the much older Raft. 'I would have married George a week after I met him', she said. 'I was so deeply in love with him. But when you wait two and a half years, there doesn't seem a future in a romance with a married man.' George was 15 years older than her and had been married since 1923. He spent upwards of $50,000 on Betty, a huge amount of money in the early forties, and sources close to him said he did not get much for his money. Maybe not even sex. Could Betty and George have been together for over two years without getting intimate? It seems highly unlikely.
Mr. & Mrs. Harry James
Harry James married her in July 1943. They had been dating since January. The famous pin-up of her clad in a bathing suit, looking over her shoulder, was shot that way because she was pregnant with his child and the bump was clearly visible. Harry was jealous of his wife's fame throughout their marriage of 22 years, and the union was rife with alcoholism, gambling and infidelity, problems that worsened as they got older. He also beat her. Betty eventually called a halt and they went their separate ways in 1965. Between them they had managed to squander $5 million and produce two daughters – Victoria and Jessica. The final eight years of Betty's life were spent with dancer Bob Remick who was several years her junior. She was only 56 when lung cancer claimed her in 1973.