GREENE, Lorne: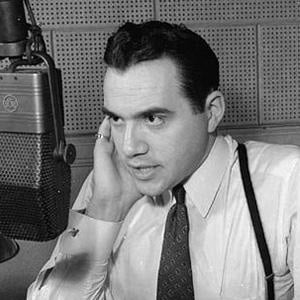 The 'Voice of Canada'                                              
Recognized around the globe as Ben Cartwright of the Ponderosa Ranch in the long-running TV series Bonanza, Lorne Greene was yet another Hollywood actor who hailed from Canada. Born in Ottawa, Ontario in 1915, he served in the Royal Canadian Air Force during WW2, before being assigned as principal newsreader on the CBC National News, where he was known as 'The Voice of Canada'. Among his duties, however, was the daily reading of casualty lists and his sonorous tones quickly earned him a new nickname from the public – 'The Voice of Doom'. He also narrated documentary films such as the National Film Board of Canada's Fighting Norway (1943). In September 1987, the 72 year-old actor underwent heart surgery but contracted pneumonia afterwards and passed away.
GREENE, Richard:                                                            
English actor Richard Greene abandoned his 20th Century Fox contract in 1940 and tried to enlist in the Seaforth Highlanders in Vancouver after his nation went to war against Germany. Refused a commission, he returned home to England and enlisted in the Royal Armored Corps of the 27th Lancers where, after three months, he was sent to Sandhurst and later commissioned. In 1941, he wed English beauty Patricia Medina before going off to war. He distinguished himself throughout the conflict, attaining the rank of captain before being discharged in December 1944. During his enlistment he was granted special furloughs, enabling him to appear in three British propaganda features.
Captain Greene of the Lancers 1941
Television fans from the early days will no doubt remember Greene in the title role of the 1955-59 series The Adventures of Robin Hood. The Devon-born actor had to overcome a unique problem career-wise in his younger days. The young man was considered 'too good-looking' to be taken seriously in dramatic roles! He clearly missed the fame boat in 1940 when he chose to set aside his promising film career and head back home to England to fight for his country in her hour of need. Greene died of a cardiac arrest at 66, having never fully recovered from a fall three years earlier.
GUINNESS, Alec:   
Lt. Guinness RNVR                                                       
Alec Guinness was in the Royal Navy Volunteer Reserve during the war and took part in the allied amphibious landings on Sicily and Elba, commanding a landing craft in the Sicily campaign as a temporary lieutenant. In the latter stages of the war he was also involved in ferrying supplies to partisan forces in Yugoslavia. Although the outbreak of hostilities seriously interrupted his acting training, (he was 25 when Britain declared war on Germany in September 1939), he was granted leave to appear in a Broadway play, Terence Rattigan's Flare Path, about RAF Bomber Command. Despite a wonderful career in both stage and film, he is mostly remembered (by the modern generation anyway) for portraying Obi-Wan Kenobi in the original Star Wars trilogy. This enormously gifted thespian passed away in 2000 at the age of 86.
GWENN, Edmund:                                                             
The name Edmund Gwenn probably conjures up images of his most famous character, Kris Kringle, in Miracle on 34th Street (1947), for most movie fans old enough to remember him. Personally, I preferred him as Mr. Bennett in the 1940 version of Pride and Prejudice that starred Greer Garson. After the Luftwaffe reduced his London home to rubble during 'the Blitz', he moved to Hollywood and lived at the Beverly Wilshire Hotel in Beverly Hills. The air raid on London destroyed all but his fireplace, but it was the destruction of his collection of memorabilia on the life of famous actor Henry Irving that Gwenn regretted most. He was in his sixties then and would live on until 1959 when pneumonia and a stroke ended his life at 81.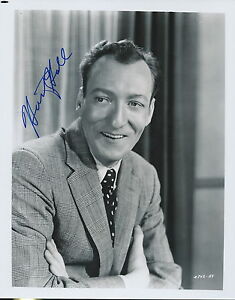 HALL, Huntz:                                                                      
Huntz Hall was noted primarily for his roles in the Dead End Kids movies of the 1930s that originated on Broadway in 1935 when he was a fifteen year-old. Angels with Dirty Faces (1938) set the ball rolling, ultimately leading to the Bowery Boys franchise. During the war he served in the United States Army mostly as an entertainer or actor. In 1943, he appeared in the USN training film titled 'Don't Kill Your Friends', as the moronic 'Ensign Dilbert the Pilot' who, because of his carelessness and cavalier attitude, manages to kill a civilian and three servicemen. Later in the war and after peace was declared, Hall performed alongside Leo Gorcey in a string of Bowery Boys films. He passed away from congestive heart failure at 78 in 1999.
HARDWICKE, Cedric:                                                                                                      
During the First World War, Cedric Hardwicke was in the Judge Advocate's branch of the British Army and was one of the last members of the British Expeditionary Force to leave France. He futilely attempted to revive his WW1 captain's commission in 1939, but was told: 'Your reserve status has been cancelled by the War Office for reasons of your age.' Along with Laurence Olivier, Herbert Wilcox and Cary Grant, he then flew to London to speak directly to the British Ambassador, Lord Lothian. He informed the four stars that his instructions were for them to do all in their power to ensure that Hollywood continued to turn out pro-British films. 'What would Germany give', he added, 'to have such a corner as you actors have in the making of American pictures for the world market?' It was a sound argument. Knighted in 1934 by King George V, Sir Cedric lived until 1964 before emphysema took him at 71.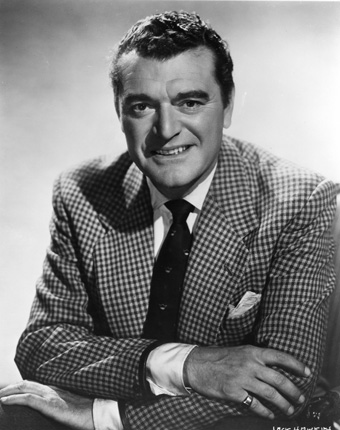 HAWKINS, Jack                                                                                                                             
Jack Hawkins joined the Royal Welsh Fusiliers in 1940, was given a commission, and served with the 2nd British Division in India. In 1942, time was found to enable him to make The Next of Kin for Ealing Studios, a propaganda piece giving the 'loose talk' warning, 'Be Like Dad, Keep Mum'. In 1944, he was seconded to GHQ India and soon afterwards, after his promotion to colonel, was placed in command of ENSA administration in India and South-East Asia. He was demobilized in 1946 and was able to pick up the threads of his screen career. Surgery for throat cancer in 1966 resulted in the removal of his larynx, but he continued to make films, miming his lines which were then delivered by either Charles Gray or Robert Rietty. Hawkins died from post-operative complications in 1973 at the age of 62.