HELEN GILBERT (1915-95)
Helen came out of Warren, Ohio and made quite a splash in Hollywood for a brief time, more through her appearances in the gossip columns than for her acting on the silver screen, however, for her talent as a thespian was minimal at best. She did have musical talent, however, and it was her ability to play several instruments, coupled with her obvious beauty, that first got her noticed by composer/conductor Herbert Stothart. He placed her in his MGM orchestra and LB Mayer signed her to a contract with the studio. In 1935, she met the first of her six husbands, an assistant musical director at Columbia named Mischa Bakeleinikoff, whom she wed in Tijuana, Mexico in November the following year. He was 46. She was 21.
Helen & Mickey Rooney in Andy Hardy Gets Spring Fever (1939)
In 1939, she landed her first acting role playing Miss Rose Meredith, Andy Hardy's high school 'crush' and drama teacher in Andy Hardy Gets Spring Fever. In October, she announced she was separating from her husband and, a few days later, she was spotted out on the town with actor Lew Ayres. 'We're just good pals working on the same picture', she told gossip columnists. They were indeed making The Secret of Dr Kildare (1939) together, but few were buying her story. By November she had won an uncontested divorce from Bakeleinikoff after accusing him of 'being rude to her and her friends'. Uh-huh. Within days she was being seen around town with billionaire Howard Hughes, the owner of RKO studios, and MGM boss Mayer was anything but amused. In his opinion, any contracted player willing to be one of Hughes' squeezes was not deserving of receiving star treatment at MGM, and it is generally conceded that any tilt Helen may have had at stardom ended there and then. Around that time she was every chance to play Glinda, the Good Witch in The Wizard of Oz (1939), but her affair with Hughes resulted in Mayer giving the part to Billie Burke instead.
Helen with Lew Ayres as Dr Kildare
Between Helen's first divorce and her second marriage (to wealthy attorney Seymour Chotiner in March '42 in Vegas), she was regularly being squired around town by prominent executives and handsome actors. In 1940, she dated producer Victor M. Orsatti. Up and coming actor William Marshall was on her arm for nine months in 1940 and into 1941, before she moved on to others. It was rumoured that they secretly married but that was not so. Richard Denning was one of her lovers that year. In 1954, he would star in the cult classic Creature from the Black Lagoon. Another lover in the early forties was actor Tom Harmon, the future father of TV superstar Mark Harmon. Singer Dennis Day was a regular suitor through November '41 but nothing permanent came of their relationship. Her marriage to Chotiner ended in divorce in February 1945 but they had first separated after the first five months back in '42. Chotiner claimed she only had one meal at home in the entire five months. The couple tried reconciliation but split again two years later.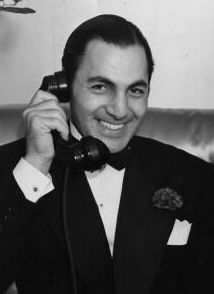 Victor M. Orsatti
Husband # 3 was Victor Makzoume, the Syrian-born owner of Victor's Café on Sunset Strip, whom she wed in 1945 after a whirlwind romance. He was 12 years her senior. In 1946, she landed two roles (God's Country and Death Valley), but neither impressed the public or the critics, so she decided to take some time off from her faltering career. In 1948, she chose to accompany her husband on a trip to Lebanon to visit his family. Unfortunately, Makzoume had a heart attack along the way, at the Grand Hotel in Rome, and passed away with Helen at his bedside. He was 45. His widow would receive half his estate; the other half going to his mother and sister.
Helen & husband Johnny Stompanato
In June 1948, gossip columnist Dorothy Manners reported that Helen was 'grief stricken' over the loss of her husband, yet less than two months later, the grieving widow was seen at the Band Box, a jazz and comedy club, in the company of Jimmy Valentine, a famous one-legged dancer. Grief stricken or not, by February '49, she was again a bride, this time having been joined in secret to one of mobster Mickey Cohen's bag-men, none other than stand-over man Johnny Stompanato! This time Helen was the older party at 33 and her new spouse just 23. By July the marriage had already ended in divorce. 'Johnny had no means', Helen testified at the divorce hearing. 'I did what I could to support him.' But only for five months it would seem. As we know, Johnny later latched on to Lana Turner and was, stabbed to death in her home in 1958 by her daughter Cheryl. His death was recorded as 'justifiable homicide', Cheryl having killed him in the act of defending her mother from his attacks.
Howard Hughes – Helen Gilbert
Charles A. Hubbard, the heir to a Bahamas plantation fortune, later claimed that Helen had accepted a $17,000 engagement ring from him on Christmas Day 1949, with the understanding they would wed. But she then terminated the romance a month later without returning the ring. Two months after discarding Stompanato, she married husband #5, James E. Durant, manager of the Flamingo Hotel/Casino. Then, for some obscure reason, the couple re-married each other in February 1950. It was not a happy union. Not by a long shot. She filed for divorce four months later – then they reconciled – then they split again – then they reconciled again. Ultimately, the happy couple called it a day in March '52, when Helen testified that hubby had tried to fling her out of their 11th floor apartment! True to form, she did not remain single for long. Two months after her divorce she married her sixth (and last) husband, a man named H. O. Bryant, about whom very little is known. Shortly after the wedding, the bride inherited $161,000 from the late Mr. Makzoume. His will also put the restaurant under her control. She was now 35 years old and still a very desirable, beautiful woman. Seemingly, happily married at last, Helen appeared in a few pot-boilers and a little TV until, in 1958, she suddenly called her acting career quits and disappeared from the Hollywood scene. Bryant died in 1987 and she followed him into the hereafter eight years later at the age of 80. Her ashes were scattered at sea.