DAVIS Jr, Sammy:                                                                                                  
Sammy was called up in 1943 when he was eighteen and his experiences in the services were typical of many African-American servicemen during World War Two. He had his nose broken twice in barrack-room fights following racist remarks and persecution from white soldiers. To say, therefore, that he was in uniform but did not see any action is not entirely accurate, figuratively speaking. Sammy soon discovered that his talent was the only real weapon he possessed, so he transferred to Special Services and was sent off to perform in shows around the army camps of America. A chain smoker, he would die from throat cancer at 64. Bankrupt at the time of his death, most of his memorabilia had to be sold to pay for his funeral, a sorry ending for such a great talent.
DE CARLO, Yvonne:                                                                                             
TV's future Lily Munster was a Paramount starlet in her twenties throughout the war, spending most of the conflict striking cheesecake poses for sex-starved GI's. Indeed, she never made her first movie until 1945, and that was a considerable time after she had been voted 'Sweetheart of the U.S. Mechanized Forces' There was a 'no dating servicemen' rule at the Hollywood Canteen during its existence, but it was not strictly enforced. Yvonne was a regular there. 'I was forbidden to make dates after performing at the Canteen', she said, 'but most of us did anyway. My pal Pat Starling and I quickly accumulated a sizeable collection of pilot's wings and other military insignia which were given to us as remembrances. I often wondered who among the many time-blurred faces made it through the war – but, more poignantly, who did not.' Yvonne survived a stroke but died of heart failure in 2007 in her 84th year.
DE HAVILLAND, Olivia: 
Doing her bit for the war effort                     
Olivia became a naturalized citizen of the United States (she and her sister Joan Fontaine were born in Tokyo) on November 28, 1941, just ten days before America entered the war. During WW2, she actively sought out ways to express her patriotism and contribute to the war effort. In May '42, she joined the Hollywood Victory Caravan, a three-week train tour of the nation that raised money through the sale of war bonds. She also attended the Hollywood Canteen, meeting and dancing with troops whenever Bette Davis called upon her to attend. In December '43, as part of a USO tour of the US, Alaska and the South Pacific, she visited numerous wounded soldiers in military hospitals. As she moved around isolated islands and battlefronts in the South Pacific, Olivia survived flights in damaged aircraft, as well as a bout with viral pneumonia that landed her in hospital for several days. As of this writing (September 2019), she is still going strongly in her 103rd year of life. A remarkable woman.
DEREK, John:                                                                     
The future husband of Hollywood beauties Bo Derek, Linda Evans and Ursula Andress, was born as Derek Harris to movie parents in August 1926. In 1943, he was spotted by agent Henry Willson who, (typically), gave him the weird screen name of Dare Harris, under which he landed a tiny role in I'll Be Seeing You (1944). That same year there was another name change and, as John Derek, he scored an equally minor role in Since You Went Away before being drafted into the US Army. The war was drawing to a close when he was sent off to The Philippines for the final days of the conflict. It is doubtful he saw any action before the end of hostilities in August '45. Cardio-vascular disease claimed him at 71 in 1998.
DIETRICH, Marlene:                                                                                             
By the time Marlene turned 42 in December 1943, she was no longer getting the quality screen roles she was used to getting, so she decided to join the USO and do her bit. In 1944, she travelled for a while with the US Army after D-Day and is known to have been intimate with both General George S. Patton and Lt-General James Gavin of the 88th Airborne Division. Gavin was known as a womanizer and his wife, fully aware of his affair with the German-born beauty, divorced him at war's end.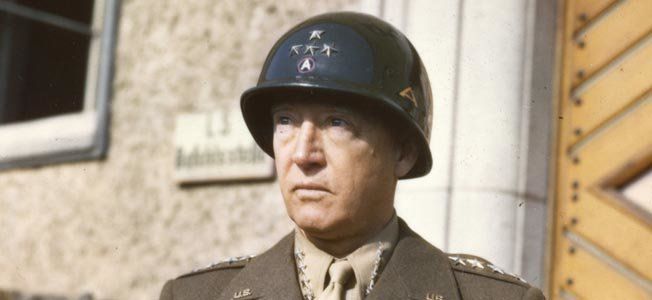 General George S. Patton
As strange as it might seem, even German troops had pin-ups of Marlene, despite knowing that her hatred of the Nazis caused her name to be placed on Hitler's death list as early as 1933! In fact, while she was in England prior to war breaking out, Nazi propaganda chief Joseph Goebbels sent Ambassador Joachim von Ribbentrop to try to persuade her to return to Germany and make movies. She said 'no', and even refused von Ribbentrop's invitation to dinner. She once said, 'Hitler wanted me to be his mistress. I turned him down. Maybe I should have gone to him'. Then, in one of the most egotistical statements of all time, she added, in all seriousness. 'I might have saved the lives of six million Jews.'
General James Gavin
After making The Blue Angel (1930) in Germany, she went to the United States and took out US citizenship. The Nazis were far from impressed and a Berlin party paper published a photograph of her taking her citizenship oath before a judge. The caption read (in part) that she was 'betraying her Fatherland' with the aid of a Jewish judge and her hatred of the Nazis was subsequently intensified. Producer Joe Pasternak made no secret of his obsession about getting Marlene into bed and pestered her endlessly about it. Broderick Crawford was her co-star in the Pasternak produced film Seven Sinners (1940), and he recalled her weakening and making the producer a solemn promise. 'I'll go to bed with you', she told him, 'when Hitler is dead.' On V-E Day, Pasternak immediately rang to remind her of her promise. 'Hitler is alive and well', she replied, 'and living in Argentina.' Joe never did get to bed her.
Patton & Marlene
'All generals are lonely', Marlene explained, when questioned over her affairs with Patton and Gavin. 'The GI can disappear in the bushes with a local girl. Not so the generals. They are protected day and night, eyes follow every one of their movements…They are hopelessly alone.' Both men invited her into their sleeping quarters and she readily accepted. Not that she was ever short of intimate partners of either sex for long. By late 1943, her favorite male lover, actor Jean Gabin, had returned to France to fight for his country and her current female lover, screenwriter Mercedes de Acosta, had also gone back to Europe.
Entertaining the troops WW2
Throughout her first ten-week USO tour in Europe, Marlene always insisted on eating with the enlisted men and not the generals. The generals were for sleeping with. It was on her second tour that she nailed Patton. He would summon her to his quarters, although on one memorable occasion, she fell asleep and he carried her home and spent the night with her. Presumably, as a souvenir of their trysting, he presented her with two pearl-handled revolvers as she accompanied him across Europe during that cold winter of 1944-45. In the spring of '45, during Patton's final push to Berlin, she stayed behind to meet General Gavin. Evidently, he wanted to marry her, but she had no intention of becoming an Army wife. Their affair ended soon after the war. 'I could compete with ordinary women', said his wife, 'but when the competition is Marlene Dietrich, what's the use?' Marlene lived to reach 90 before dying from kidney failure in Paris in 1992.