LAUREN CHAPIN (1945 – )                                                  
Californian Lauren Chapin became known in households around the world when, as an 8 year-old, she was cast to play Kathy Anderson (nickname 'Kitten') in the new TV family sitcom Father Knows Best (1954-60). The cast featured Robert Young and Jane Wyatt as her parents, supported by Elinor Donahue and Billy Gray as her siblings. The series was a most successful one, but when it wound up in 1960 the 15 year-old Lauren was already having very serious problems.
Father Knows Best cast members (Lauren in centre)
For years her father (and a male friend of his) had been sexually abusing her, both before and during the series. Her mother had a serious drinking problem that got worse when Lauren found it difficult to land acting jobs after Father Knows Best. The girl regularly ran away from home. 'I became an incorrigible child', she later admitted. Who could blame her? Lauren's mother was a vicious harpy and impossible to live with. Consequently, Lauren chose what she considered to be the lesser of two evils by running off to live with her remarried father following her parents' divorce. She was eleven years old and a TV star. Before long her father was up to his old tricks again, sexually abusing her whenever the inclination seized him.
Disgusted by the things he made her do, 16 year-old Lauren ran off and married a young guy she did not love. The couple parted company after two years and Lauren fell in with a super-charming pimp/hairdresser/drug dealer named Eddie. This low-life soon had her hooked on heroin. To pay for her habit he had her turning tricks at $1,000 a time. He often beat the girl badly if he felt she was not earning enough as a prostitute. She landed in jail several times, followed by stints in rehab. Then she found God.
Lauren as an adult
Befriended by a priest in jail, Lauren became a born-again Christian in 1979. By then she had a five year-old son. In time she would become an ordained evangelist, convinced that God had answered her prayers (and the prayers of others), rescuing her from that private hell she had inhabited for nearly twenty years. Evidently, she does not ponder all that much on where God was during those twenty years. Today she remains in contact with her TV siblings, Elinor Donahue and Billy Gray. Robert Young passed away in 1998 and Jane Wyatt died at 96 in 2006. It is ironic that little Lauren was part of the perfect family on television, yet subjected to the family from hell in real life. Now in her seventies, she has at last found peace and happiness.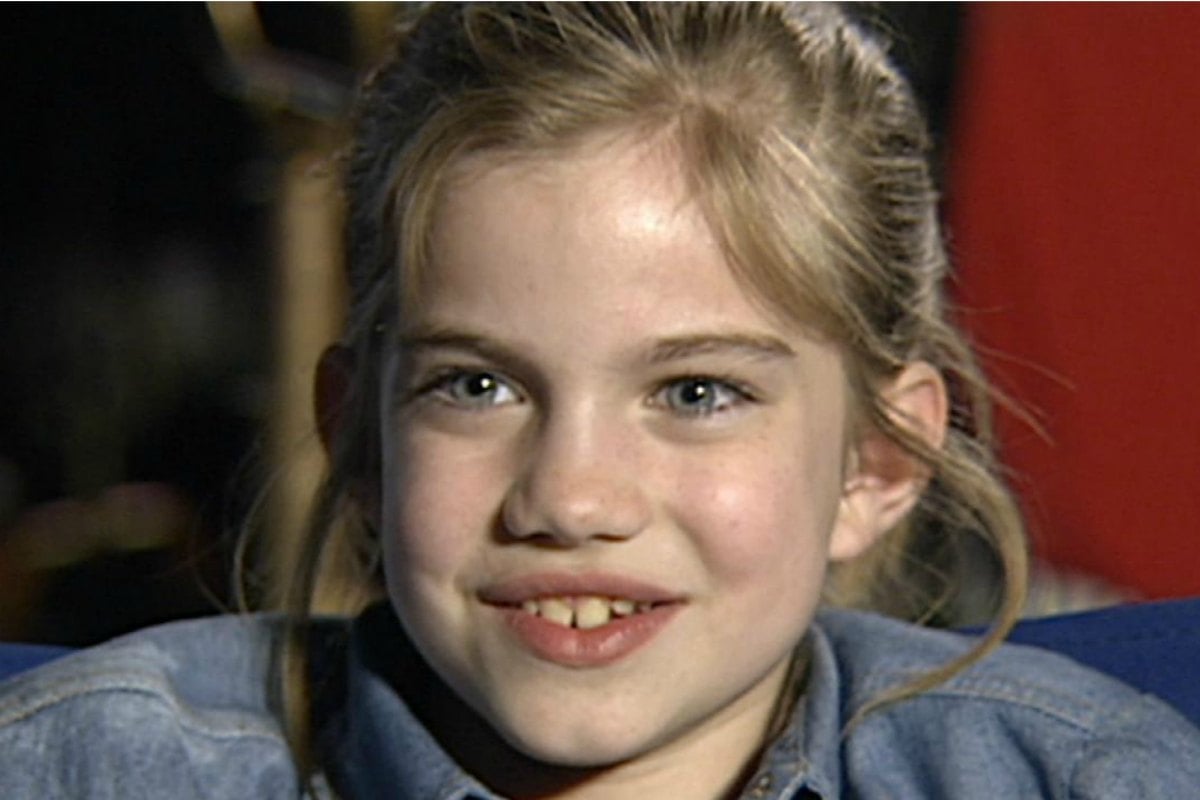 ANNA CHLUMSKY (1980 – )
Chicago-born Anna Chlumsky leapt into screen prominence as a 10 year-old, playing Vada Sultenfuss in the 1991 Macaulay Culkin film My Girl and its sequel. She is of seven eighths Czech and one eighth Croatian descent. Her father is a saxophone player and restaurateur; her mother is both her coach and manager. Anna entered show business at a very early age when she and her mother modelled for an advertising campaign. My Girl made her famous back in 1991 and fans still recognize her as she commutes to work each day on the New York City subway. 'It creeped me out at first', she says, 'but I guess it's nice to know I still resonate in people's minds.'
Anna & her husband Shaun So
From 1999 until 2005, Anna took a break from acting and enrolled in the University of Chicago. In 2002 she graduated with a BA in International Studies, but a chance meeting with singer Roberta Flack reignited her interest in acting and she promptly enrolled in the Atlantic Acting School in Manhattan to be formally trained. In 2000, whilst at university, she met Chinese-American Army Reserve member Shaun Sho and they fell in love. He was deployed to Afghanistan from 2004 to 2006, after which they married in March 2008. They have two daughters and Anna revealed, in an interview in 2017, that she has lived in Brazil long enough to speak fluent Brazilian Portuguese. Refreshingly, Anna's story is not a tragic one at all.
JEFF COHEN (1974 – )
The name Jeff Cohen probably does not mean much to most movie buffs, but if the name 'Chunk' was mentioned, chances are that fans of The Goonies (1985) would instantly recall the chubby boy who, in my opinion, was the best thing in the movie. Young Jeff won the role because of his weight problem and the 'fat' jokes in the screenplay, but he certainly gave the role an extra dimension that proved to be very funny indeed. According to the commentary track on The Goonies DVD, he contracted chicken pox just prior to the commencement of filming and, fearful of losing the part if it was learned he was contagious, kept the information to himself. In the famous 'Truffle Shuffle' sequence the chicken pox can be clearly seen on his chest.
Entertainment lawyer Jeff today
Puberty hit Jeff early and he retired from acting in 1991. At the University of California, Berkeley, he earned a BS in Business Administration in 1996. In time he would become an entertainment lawyer in Los Angeles, co-founding the Cohen & Gardner law firm in Beverly Hills. His screen career (mostly television) totalled just 16 credits before he called it a day. 'It was fun being an actor', he recalled, 'but by the time college rolled around, I was ready to try some new things. By the time I graduated, I realized I enjoyed having a normal life and I never went back.'
The part of 'Chunk' called for continual mockery of his weight, so Jeff took up high school football to shed his extra pounds. He became President of the Associated Students, however, and unashamedly utilised posters of himself from The Goonies days, bearing the slogan 'Chunk for President'. At football games he was known as the 'Mic-Man', performing his now famous 'Truffle Shuffle' on the sidelines in order to generate applause from the crowd. Today, he is a trim, adult lawyer who has long since discarded the 'Chunk' image.