Henry Fonda & his wife Margaret Sullavan 
Tallulah Bankhead in Lifeboat (1944)
Tallulah Bankhead was dismissive about her only sexual encounter with legendary screen star Henry Fonda. 'Oh, please, dah-ling, don't mention Hank to me', she laughed. 'I went to bed with him only one time. He failed to produce an erection. Now I know why that magnolia Southern bitch, Margaret Sullavan, dropped him.' Fonda and Sullavan were married for just fourteen months, from December 1931 until March 1933. In a letter to his sister, Hank described Margaret as, 'cream and sugar on a dish of hot ashes.' She was just 50 years old when, on New Year's Day 1960, she died from an overdose of barbiturates.
Sean Connery & F Murray Abraham in The Name of the Rose (1986)
F Murray Abraham was 45 years old when he won the Best Actor Oscar for his portrayal of Salieri in Amadeus (1984). Two years later he acted alongside Sean Connery in the 14th century murder/mystery feature titled The Name of the Rose (1986). Connery was the star of the film but, according to director Jean-Jacques Annaud, Abraham was an 'egomaniac' on the set who considered himself far more important than Connery because the Scottish actor was yet to win an Oscar. In fairness to Abraham, he has since been quoted more than once, expressing great admiration for Connery as a movie actor.
Jodi Benson in Enchanted (2007)
Enchanted (2007) is a delightful movie in every way, much of that appeal resting squarely with Amy Adams' exquisite performance as Princess Giselle. And she does all her own singing, too. The Disney decision-makers had a little fun with the casting. Three of the studio's former princesses made on-screen cameos in the picture. Paige O'Hara, who voiced Belle in Beauty and the Beast (1991), plays a soap opera actress on Prince Edward's TV set in his hotel room. Judy Kuhn, who supplied the singing voice for Pocahontas in the 1995 animated feature of the same name, is briefly seen as Robert's (Patrick Dempsey) pregnant neighbour when Edward starts door-knocking in search of Giselle. And Jodi Benson, who played Ariel in The Little Mermaid way back in 1989, portrays Robert's assistant at the office.
Charlie Chaplin c 1918
Many Charlie Chaplin fans still consider him to have been treated harshly by the US government when he was forbidden permission to re-enter the United States because of his leftist politics. Biographers also estimate he slept with over 2,000 women in his lifetime, a lot of them under the legal age for consensual sex, not that this minor problem bothered him in the slightest. Sixteen year-old Mildred Harris, for example, may have tricked him into marrying her by stating she was pregnant by him, but pregnant or not, she was still sleeping with him whilst under-age.
Mildred Harris
In 1920, the year in which he divorced Mildred, Chaplin became infatuated with twelve-year-old Lillita MacMurray, (soon to act under the name of Lita Grey), and he impregnated her sometime around her 16th birthday. She later accused him of having sex with her when she was 15, and of forcing her to commit indecent acts. We have only his word that he had held off sleeping with the girl for four years. Given the man's track record that seems highly unlikely. Anyway, he panicked when she declared her pregnancy and secretly wed the girl in November 1924. She bore him two children before he divorced her in 1927.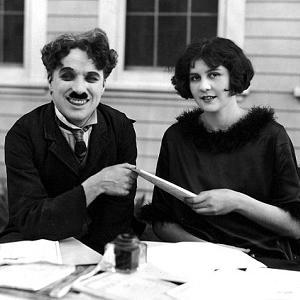 Chaplin & wife Lita Grey
He took up with 22 year-old actress Paulette Goddard in 1932 and they probably married in 1942, although no-one seems entirely sure about that. At least Paulette was an adult. In 1943, the 54 year-old Chaplin married another much younger woman – 18 year-old Oona O'Neill, daughter of Irish playwright Eugene, who was himself a 54 year-old. He was furious about the marriage and disinherited Oona on the spot. Chaplin's penchant for seducing young girls is well known. In fact, it was well known at the time he was engaging in the practice, but the man was perhaps the most famous individual on the planet, so his inappropriate behaviour was more or less swept under the carpet. Only when his popularity began to wane did the government move against him, albeit for the wrong reasons.
John Qualen
The wonderful character actor John Qualen was born in Vancouver, British Columbia, Canada in 1899. His parents were Norwegian so he was able to develop an exaggerated Scandinavian accent for his roles. Qualen's 87 years on this planet and his 218 screen credits saw him grace a swag of fine films, popping up in several classic productions including, The Grapes of Wrath (1940), Casablanca (1942), The Searchers (1956), Anatomy of a Murder (1959), Elmer Gantry (1960), North to Alaska (1960), The Man Who Shot Liberty Valance (1962) and A Patch of Blue (1965). He became a member of the John Ford Stock Company of actors and played in no fewer than nine John Wayne films. The Man Who Shot Liberty Valance marked the last time he played a Scandinavian character alongside a John Wayne lead.
Paulette Goddard flanked by two 'college students', Fred Astaire & Burgess Meredith
Fred Astaire would later say that Second Chorus (1940) was the worst film he made in his entire career. It was scarcely helped by the casting of Fred (41) and Burgess Meredith (33) as college students! His leading lady (and dancing partner) Paulette Goddard was in the throes of divorcing her real-life husband Charlie Chaplin during filming and would later bed and wed her co-star Meredith. Artie Shaw also featured here and later said the picture turned him off acting altogether. It was that bad.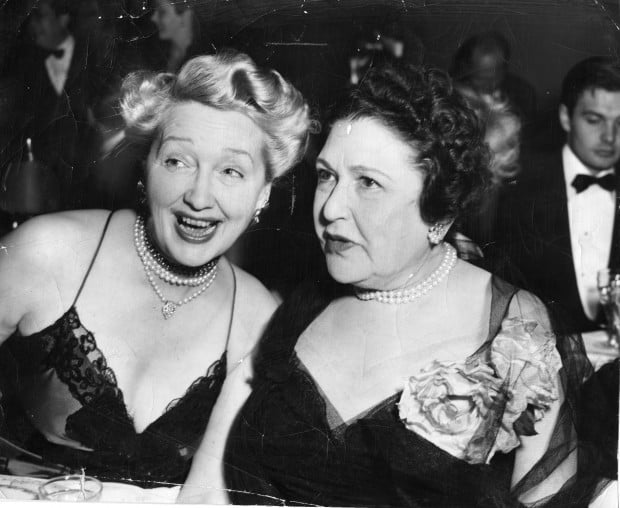 Hedda Hopper (L) & Louella Parsons c 1948
Hedda Hopper started as a serious Hollywood columnist in 1938 with the Esquire Syndicate. She was sold to 13 papers at once, including the Los Angeles Times. By 1942 she had moved to the Chicago Tribune and the New York News Syndicate. Her readership reached 35 million. Former reporter Mark Hellinger, by then a producer at Warner Bros and Universal studios, provided her with inside scoops about both studios for years. Louella Parsons once had a monopoly on any breaking studio news, but soon found serious competition from Hedda. The running feud between these harridans would become the stuff of legend. It would be fair to say that Hedda did not take herself quite as seriously as Louella did, but both were acutely aware of the power they wielded.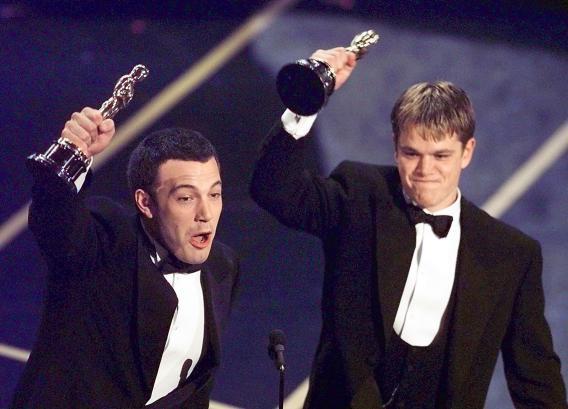 Affleck & Damon with their Oscars for Good Will Hunting (1997)
Matt Damon and Ben Affleck wrote the screenplay for Good Will Hunting (1997) and then hawked it around to every major studio. They secretly agreed to include a bogus sex scene between the two (both straight men) and inserted it into page 60 of the script, the idea being to ferret out those studios who did not bother to read the entire screenplay before making their decision. When they met with Harvey Weinstein at Miramax he praised the screenplay but brought up the completely out of character sex scene. 'What the hell is that?' he asked. The two actor/writers explained the reason for the scene's inclusion and, since Weinstein was the only recipient to query it, they chose to have Miramax produce the film.