102 & 8 MONTHS*              KIRK DOUGLAS (Dec 9, 1916 – )                         
Kirk Douglas was born in New York over 100 years ago to Jewish immigrant parents from what is now Belarus. Despite several close shaves, he is still going strong as of April 2019 and heading towards his 103rd birthday. Had he not taken the advice of his then wife, Anne, he would have accompanied his friend Mike Todd aboard his private aircraft in 1958 and been killed along with his pal when it crashed en route to New York City. In August 1986 he had a pacemaker inserted in his heart after he collapsed in a restaurant. Kirk was 74 years old when he survived a helicopter crash in 1991 that killed two fellow occupants and left him with a debilitating back injury. Five years later he suffered a stroke that severely hampered his ability to speak. Against the advice of his doctors, in 2005, the 89 year-old actor underwent an operation that successfully replaced both his knee-caps. The man is a survivor.
102 & 9 MONTHS*              OLIVIA DE HAVILLAND (July 1, 1916 – )         
Like her sister, actress Joan Fontaine, Olivia de Havilland entered this world via Tokyo, Japan in the middle of World War One over a century ago. Joan shuffled off this mortal coil in 2013, aged 96, but Olivia just keeps keeping on as she charges towards her 103rd birthday in July 2019. Her most memorable role, despite having won two Oscars for others, has to be her portrayal of Melanie in 1939's Gone with the Wind. Of the picture's four principles, (Clark Gable, Vivien Leigh and Leslie Howard being the other three), she is the only survivor and has outlived her colleagues by over 50 years! After her Oscar-nominated performance in Hold Back the Dawn (1941), she demanded stronger roles from her studio, Warner Brothers, who responded by hitting her with a 6-month suspension. Worse still, when her contract ran out, she was informed by the studio that the suspension had been added to her contract. Olivia sued the studio and won. The 'de Havilland' decision changed the lives of all actors in the business. Olivia returned to acting in 1946. The second of her marriages, to Pierre Galante, ended in divorce in 1979 after 24 years, but on learning he had been stricken with cancer, she took it upon herself to nurse him until his death in 1998. She has been residing in Paris, France for decades.
 103 & 2 MONTHS                PATRICIA MORISON (1915 – 2018)                   
Patricia Morison hailed from New York City. Her father was an actor and her mother worked for British Intelligence during WW1. At 19, Patricia made her Broadway debut and was understudy to the legendary Helen Hayes in her classic role of 'Victoria Regina'. Paramount came calling and signed her (she was a Dorothy Lamour lookalike), but never gave her any decent roles and she eventually left the studio to freelance. During the war years Patricia trained her fine singing voice and entertained on USO tours. Cole Porter saw her perform and personally picked her to play Lilli Vanessi in his new musical, 'Kiss Me Kate'. Leads in other musicals followed. Her best chance at movie stardom might have come as Victor Mature's despairing wife in Kiss of Death (1947), particularly her suicide scene (which was to be shown on the screen), but the censors decided that audiences were not ready to watch her put her head in the oven, so her character was removed from the story altogether. Patricia's big cinematic moment never eventuated. Pity.
104 & 4 MONTHS*              NORMAN LLOYD (November 8, 1914 – )           
Norman Lloyd was born to Hungarian – Russian – Jewish parents in Jersey City in the early months of WW1. He began his acting days with the Eva le Gallienne Civic Repertory in New York and by the 1930s, had joined the Orson Welles – John Houseman Mercury Theatre, before heading to Hollywood to play in Alfred Hitchcock's Saboteur (1942). By the mid-fifties he was executive producer/director on the long-running Alfred Hitchcock Presents series on TV. His one and only marriage lasted an astonishing 75 years, (possibly the longest in Hollywood history), until his wife's death in 2011. They had two children. Norman attributes his health and longevity to his life-long love of playing tennis.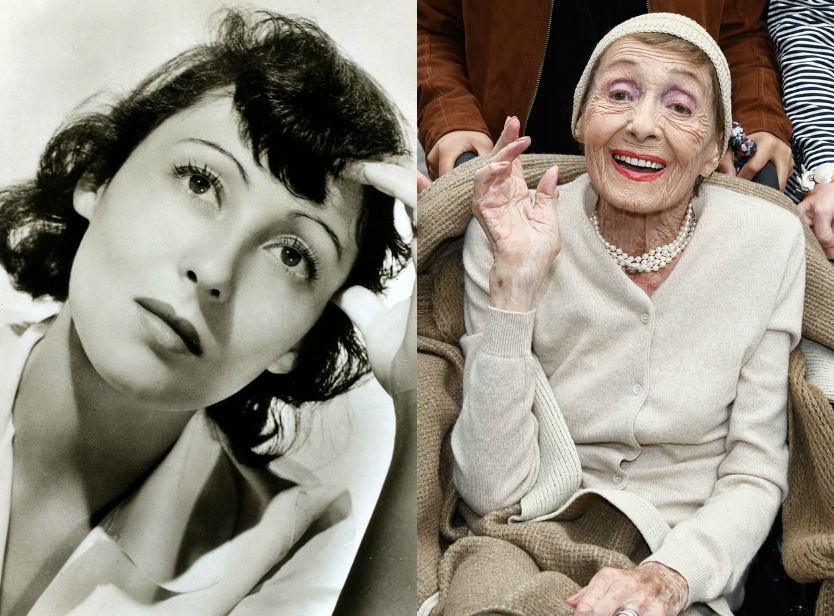 104 & 11 MONTHS              LUISE RAINER (1910 – 2014)                              
Luise Rainer was born in Dusseldorf, Germany in 1910. Legendary theatre director Max Reinhardt took her under his wing in Vienna and she ultimately found her way to Hollywood and MGM. The studio would later describe her as Austrian, not German. Of all the actors to have reached 100 years of age, accomplishments of Luise and Olivia de Havilland stand out above the others. Like Olivia, Luise earned two Best Actress Oscars, (for The Great Ziegfeld (1936) and The Good Earth the following year). And like Olivia, she alienated her employer. MGM forced her to attend the Oscars to receive her first statuette, but her non-conformist attitude towards the studio's star system brought her into direct conflict with her boss LB Mayer. She usually sported no make-up away from the screen, dressed untidily and often wore pants. In short, she simply would not play the star game and Mayer was not about to stand for it. 'We made you and we're going to destroy you', he told her after one of their more acrimonious confrontations. He then proceeded to end his strong-willed star's career. Her luminous beauty, dissimilar to the run-of-the-mill Hollywood glamour girl of the day, was something Mayer was prepared to dispense with. 'I was very thin, like a boy', she described herself. 'I was very un-sexy.' Mayer decided his studio was better off without her and after The Good Earth she made just another six films, the last of them in 1943. She popped up on television fourteen times over the next sixty years until 2003, but her movie career was nipped in the bud in the forties and cinema audiences were the losers because of it.
105 & 2 MONTHS                CONNIE SAWYER (1912 – 2018)
Rosie Cohen was born in Colorado in the same year (1912) as the sinking of RMS Titanic. The girl's parents were Jewish-Romanian immigrants. Her career as a stage, television and movie actress (under the name of Connie Sawyer), produced over 140 screen credits. It was not a career that reached any great heights, even though she became affectionately known in the business as, 'The Clown Princess of Comedy', but it spanned an impressive 85 years, nevertheless. Connie's mother was one of those 'show-biz moms' who pushed her daughter into singing and dancing lessons from an early age. The girl learned comedy by working in nightclubs and vaudeville throughout the late twenties and early the thirties. She was pretty and reliable, so work was usually available in one entertainment medium or another. By the time television arrived, she was being picked up to perform in The Milton Berle Show and The Jackie Gleason Show, among many, many others. In 2013, at the age of 100, she even appeared in an episode of NCIS: Los Angeles. A few months prior to her death, Connie self-published her autobiography, titled, I Never Wanted to be a Star – And I Wasn't. An apt title.
HEADED FOR THEIR 100TH BIRTHDAYS IN 2019
NEHEMIAH PERSOFF (August 2, 1919 – )
Nehemiah Persoff was born in Jerusalem in 1919, when it was still part of Palestine. His family moved to the USA in 1929 and by 1947 he had enrolled into the first class of The Actors Studio in New York City, to be taught by Elia Kazan. One of his first major roles was as the mob boss 'Little Bonaparte' in the Billy Wilder comedy Some Like it Hot (1959). He retired from acting in 1999 to devote his time to painting watercolours.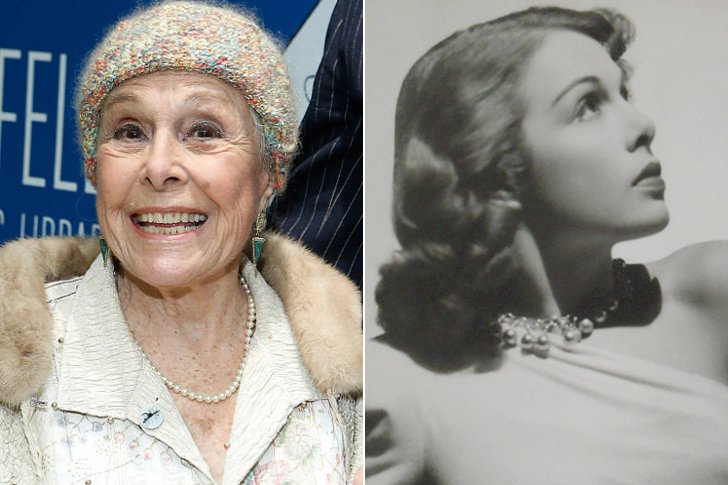 MARGE CHAMPION (September 2, 1919 – )
The unfortunately named Marjorie Belcher is a native of Los Angeles, California. She married dancer Gower Champion in 1947 and has henceforth been known as Marge Champion. Marge and Gower Champion are forever immortalised in celluloid, (in this writer's eyes, certainly), for their delightful singing and dancing in the 1951 version of Showboat, in particular their rendition of the catchy, 'Life upon the Wicked Stage'. Marge only racked up 26 screen credits, but not everything is measured by quantity alone. She has always been a class act. The Champions remained husband and wife until they divorced in 1973, 26 years and two children later. In 1977, she wed 44 year-old director Boris Sagal. Tragically, four years later he walked into the prop of a helicopter and was killed. After her retirement from movies Marge has worked as a dance teacher and choreographer in New York City.