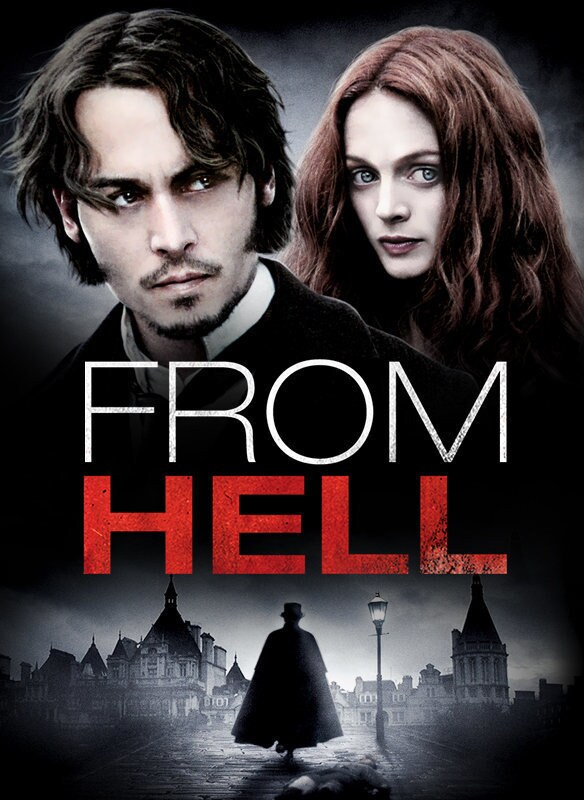 FROM HELL (2001)             
This 'Jack the Ripper' Victorian England drama was filmed in Prague, capital of the Czech Republic, not in London's prohibitively expensive East End. The Czech capital provided a convincing impression of 1880s London at a far cheaper cost. Great care was taken to re-create the sites of the actual 'Ripper' murders, copied from illustrations and actual photographs from 1888. The crew meticulously built four blocks of 1880s Whitechapel in Prague.
Many of the so called 'facts' revealed in this film have no real evidence to support them. The victims of Jack the Ripper, for instance, were not known to each other, nor were they the victims of a conspiracy linked to London's high society. Prince Albert Victor actually died from influenza, and there is no evidence, whatsoever, that he ever even suffered from syphilis, much less died from it! Most criminal profilers today agree that the murderer was almost certainly a disorganised, paranoid personality, not a calculating killer as shown in this picture.
Depp & Graham in From Hell (2001)
The storyline, although focusing on the real life Ripper murders, is a fictional concoction. Inspector Frederick Abberline (Johnny Depp) did not begin to fall in love with the Ripper's final victim Mary Kelly (portrayed here by Heather Graham). In real life, Abberline never even met Mary Kelly, and he was neither a heroin addict nor a clairvoyant. In fact, he lived to be eighty-six years of age before dying in 1929. In this film he is found dead from a heroin overdose in 1888!
Heather Graham & Heath Ledger
Incidentally, Ms Graham and Australian actor Heath Ledger became romantically involved during the shoot. He was working on adjacent sound stages in Prague, making A Knight's Tale (2001) at that time. The picture was released by 20th Century Fox in 2001 and grossed almost $75 million worldwide despite the mixed critical and public responses it gathered. Sadly, two months after its release, Nigel Hawthorne passed away from cancer. He had been initially slated to portray Sir William Gull in the movie but had to withdraw when he became too ill to fulfil his obligations.
THE STORY OF ROBIN HOOD & HIS MERRIE MEN (1952)
Following the success of Treasure Island (1950), Walt Disney embarked upon his second live action feature, The Story of Robin Hood and his Merrie Men (1952). British actor Richard Todd was selected to play Robin and Walt personally chose another Brit, the lovely Joan Rice, to portray Maid Marian. Apparently, Todd was never overly convinced of her credentials, feeling that a more experienced actress would have been better in the role. Whether or not he expressed his reservations to his leading lady is not known. Her role was not a very taxing one anyway and she coped adequately enough, certainly no worse than several of the male supporting actors (including Todd himself). There is one ludicrous scene in which the townspeople, Alan-A-Dale and others, mistake her for a boy, presumably because she is wearing trousers and her hair is covered by a hood. The lady was far too pretty and shapely to be mistaken in broad daylight for a member of the opposite sex.
RICHARD TODD as Robin Hood
Up and coming actor Peter Finch landed the role of the evil Sheriff of Nottingham, which he performed manfully if somewhat one-dimensionally. The project was directed by Ken Annakin, whose only real claim to directorial minor fame would be his helming of the 1965 lightweight comedy Those Magnificent Men in Their Flying Machines. Evidently, the director was not much interested in the editing because there is a scene in which Maid Marian's dress clearly has a zipper in the back. This was about seven centuries before the things were even thought of.
PETER FINCH as The Sheriff of Nottingham
Being a Disney production helps to explain why the story follows the traditional Robin Hood tale right down the line: King Richard the Lionheart is the perfect King of England, loved by all, who gives up his throne (temporarily) to his nasty brother, Prince John, so that he can gallantly ride off to the Holy Lands and slaughter 'infidels' in the name of Christianity. John is a conniving bastard who taxes the peasantry to the hilt (with the help of the equally nasty Sheriff); Robin is a fun-loving, jovial soul who gets along with everybody, is loyal to Richard and has the hots for Marian. Little John has his good-natured quarter-staves bout with Robin; Friar Tuck engages in an equally good-natured swordfight with our hero; Will Scarlet is Robin's good buddy, who seems to be a part of every Robin Hood film, simply for decoration; and Alan –A–Dale wanders about with his silly little guitar warbling woefully tuneless ditties!
JOAN RICE as Maid Marian
James Hayter (the name is probably unfamiliar but the face, almost certainly, is not) portrayed Friar Tuck in a 'cutesy' fashion that I found rather aggravating. Fans of the popular British TV series Are You Being Served? (1972) might recall him playing the unpleasant Mr. Tebbs in season one. Hayter was also doing the voice-overs for 'Mr. Kipling's Cakes' commercials at that time and Kipling, fearing the Tebbs character might harm his product's image, requested that he quit the show altogether. At first Hayter defied Kipling's request, but when he was offered three times his 'Are You Being Served?' salary not to play Tebbs, he changed his mind.
JAMES HAYTER as Friar Tuck
The role of Prince John was played by Hubert Gregg. During World War Two, after first serving as an officer in the 60th Rifles, his command of the German language soon saw him posted to the Political Warfare Executive, where he was called upon to broadcast propaganda messages to enemy-occupied territories. It was said that Nazi Propaganda Minister Joseph Goebbels was convinced Gregg must have been a German traitor because his German was flawless. He sounded like a native.
ANTHONY FORWOOD as Will Scarlet
Anthony Forwood had the uneventful and unrewarding task of portraying Will Scarlet in this picture. His entire film career lasted just fifteen screen appearances and was done and dusted by 1975. From 1942 until 1948 he had been married to the effervescent South African-born actress Glynis Johns who bore him a son before they divorced. Glynis played the children's mother in Mary Poppins (1964). In later years Anthony would become the long-term partner (and manager) of British actor Dirk Bogarde, a union that would last until Anthony's death in 1988.FROM