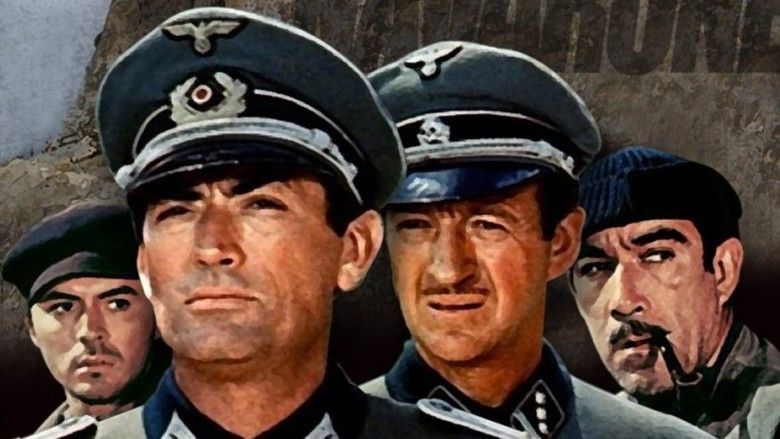 L to R – James Darren, Greg Peck, David Niven & Anthony Quinn in The Guns of Navarone (1961)
The problem with the WW2 action flick The Guns of Navarone (1961) should be immediately apparent to just about everyone. Of the six commandos sent to disable the mighty guns of the fictional town of Navarone, four were simply too bloody old! James Darren (24) and Stanley Baker (32) passed muster, but Gregory Peck 44, Anthony Quinn 45, Anthony Quayle 47 and David Niven (a whopping 50), were all far too ancient to be scaling a vertical cliff-face and taking on battle-hardened Germans in hand to hand conflict. Admittedly, Kenneth More was set for Niven's role before he abused and swore at Rank chief John Davis at a BAFTA dinner and was 'released' from both the film and his contract, but he was 46 years old anyway. Forty-two year old William Holden wanted too much money (plus 10% of the gross) for the Peck role, while 50 year-old Jack Hawkins was being treated for throat cancer when he was approached. Incredibly, Cary Grant (56) and Gary Cooper (59) were also contenders at one stage! Hollywood, yet again, when faced with the age-old problem of getting as much mileage (romance-wise or action-wise) out of its proven money-earners, cast elderly actors in roles they should no longer have been playing.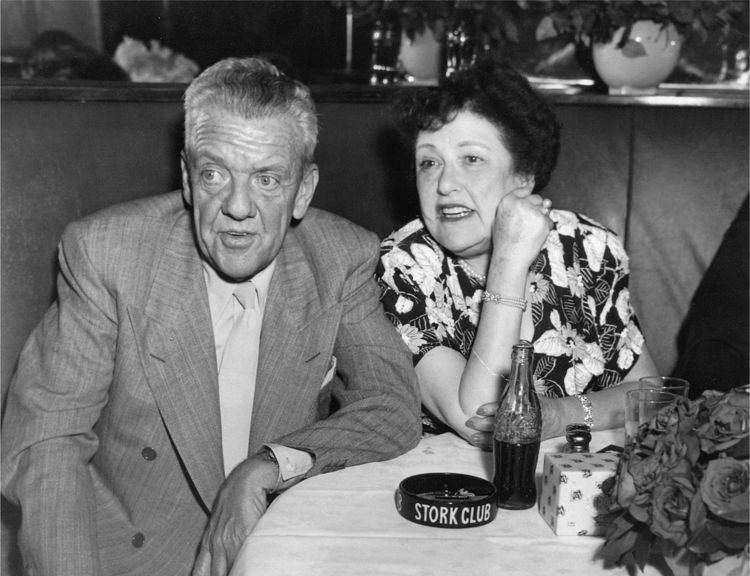 Harry 'Docky' Martin & wife Louella Parsons
Hearst columnist Louella Parsons married Dr Harry 'Docky' Martin in 1929. His special field had been venereal disease and urology when he was head of the medical department at 20th Century Fox, so for a gossip columnist like Louella it was a union made in newspaper heaven. Once retired from Fox, 'Docky' was still able to use his tie-in with the testing laboratories to learn of stars and starlets with venereal diseases, unwanted pregnancies, loss of virginity etc. He would, of course, hand on such information to his wife. Consequently, Louella would often learn of pregnancies before the actress herself, or her studio, were told the news.
Gwynne 'Big Boy'Williams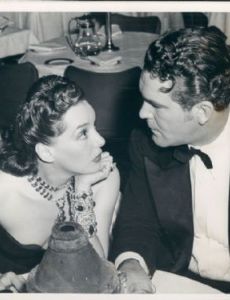 Gwynne & Lupe Velez dining out
Gwynne 'Big Boy' Williams was a character actor who made a lot of movies, mostly westerns, in the forties and fifties. For a while he was intimately involved with 'The Mexican Spitfire', Lupe Velez. It was an unusual match-up that could never hope to last. During one of their numerous arguments, this time at Errol Flynn's home, Lupe picked up a framed photo of 'Big Boy' and broke it over his head. Not quite content with that, she then took the picture out of the frame, tore it in two, and urinated on it, all over Errol's carpet! Ah yes, say what you will, Lupe was a class act.
Greta Garbo
Greta Garbo was never late. Not professionally, anyway. She always arrived punctually on the set at 9am and was patience personified, especially with elderly actors who struggled with their lines. She was firm when it came to accepting producers, directors, co-stars and scripts, but had a soft spot for those people whose careers had seen better times. When she turned down a particularly poor story that Metro wanted her to do, the studio reacted petulantly by casting her opposite B-Grader Tim McCoy in a western of all things! Lionel Barrymore summed it up best when he drily remarked: 'That's like cutting Tolstoy's beard so he wouldn't write any revolutionary novels.'
Lucille Ricksen early in her career
Lucille Ricksen was born in Chicago in 1910 (we think). She was a child model at three and in movies in Hollywood by the age of five, thanks to being the progeny of one of the earliest 'show biz mothers', a species Tinsel Town has never been short of. Lucille's popularity was such that Sam Goldwyn threw her into a series of shorts from 1920 to 21, which made her even more popular. It was around the age of twelve that she suddenly found herself being cast as jealous wives or sweethearts, young women with drug issues, and other roles that were simply too old for a 12 year-old. So, the studio spokespersons lied and spread it about that she was, in fact, sixteen years old.  Then they dressed and presented her as a young woman. In 1923 Billboard ran a story saying she had just married 38 year-old actor Sydney Chaplin. She was thirteen. No-one knows if she secretly married him or not, but few seemed overly surprised by the story either.
Lucille at 15, shortly before her death
In the space of just seven months in 1924, she starred in no fewer than ten movies! The girl was developing crushes on her older leading men, some of whom may well have been reciprocating. Her massive workload soon proved too much for one so young. In 1924 she collapsed and was put to bed at home. Her condition began to deteriorate. In February 1925 her mother suddenly collapsed in Lucille's bedroom and died right in front of her. The shock sent the fifteen year-old into a coma from which she never recovered. The official cause of her death in 1925 read 'pulmonary tuberculosis', but there were rumours that she may have been the victim of a botched abortion. This was never verified. Lucille and her mother were cremated together and their ashes interred at Forest Lawn Memorial Park. The gentle-hearted MGM executive Paul Bern is said to have paid all Lucille's medical bills and funeral expenses.
Red Skelton
Red-haired comedian Red Skelton started out, as his father had, as a part-time circus clown before the movies beckoned. At the height of his considerable success he befriended mobster Mickey Cohen, took him into his home, and even lent him money. Red was known around town as a soft touch. When his only son, Richard, was diagnosed with leukaemia, Red and his wife Gloria decided to take the doomed boy on a world trip. The British press venomously accused them of 'publicity-seeking' when they took Richard to meet the Pope. Tragically, the boy learned from the newspaper articles that he was dying. His distraught parents returned home with him to await the inevitable. He passed away in 1958 aged ten. Mickey Cohen attended the funeral. Neither Red nor Gloria ever recovered from the boy's death. Their 28-year marriage ended in divorce in 1973, but more tragedy was to come. Three years after the divorce, on the 18th anniversary of young Richard's death, Gloria took her own life with a firearm. She was 54.
Marilyn Monroe & George Sanders in All about Eve (1950)
We read so much about Marilyn Monroe's flaws, so it is nice to read of George Sanders' opinion of her when they worked on All about Eve (1950). She was only just starting out and unsure of herself: 'Even then she struck me as a character in search of an author', wrote Sanders. 'She was very beautiful and very inquiring and very unsure. As far as I can recall, she was humble, punctual and un-temperamental. She wanted people to like her. I lunched with her once or twice during the making of the film and found her conversation had unexpected depths. She showed an interest in intellectual subjects. To a girl with Marilyn's background, to be a film star meant to be universally loved.'