Laird Cregar                 
The story of Laird Cregar was another of Hollywood's tragic tales. Because of his enormous, bulky figure and somewhat sinister-looking eyes, he was forever being cast as the villain in his films, and it began to get to him. Always on the look-out for an opportunity to play a good guy, a hero or a leading man, he spotted a story called Hangover Square, purchased the rights and presented it to his studio on the understanding that he would play the lead. The hero of the piece was a rather gentle soul with a few psychological issues. Not content with this, the studio transformed the character into an arsonist and rapist murderer, then ordered Laird to portray him.  He reluctantly agreed, but on completion of the picture he booked himself into a hospital, determined to shed weight and become as slender as a sapling. Reducing his bulk from 300 to 200 lbs unsupervised, placed enormous strain on his system, resulting in him undergoing surgery for a severe stomach disorder. Only days after the operation, on December 9, 1944, his heart gave out and he died. He was 30. Hangover Square was released after his death.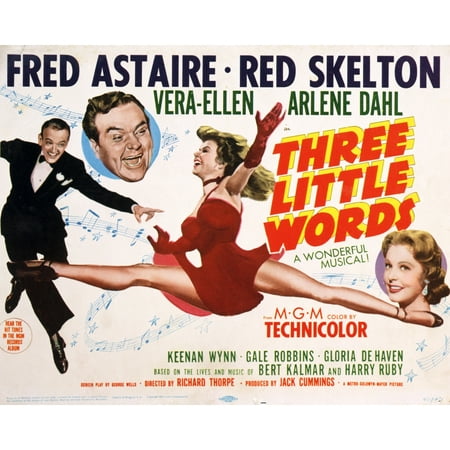 Three Little Words (1950) is the story of the successful Tin Pan Alley song-writing team of Bert Kalmar and Harry Ruby. The two men were lifelong friends who never had a cross word, so the screenwriters found it necessary to create phony conflicts to maintain interest. Ruby never ruined Kalmar's magic act and Kalmar never wrote a stage play, so Ruby could not possibly have sabotaged it. These scenarios were invented for the movie. The two men did not discover singer Helen Kane (Debbie Reynolds) on the sidewalk either, as depicted in the picture. They never had the clashes shown in the film and they did not take years to write 'Three Little Words'. They quickly penned the song for a movie. In short, the story is fiction from beginning to end.
Bronson Pinchot in Courage Under Fire (1996)
According to supporting player Bronson Pinchot (in a 2009 interview), Denzel Washington's conduct on the set of Courage under Fire (1996) was unacceptable. 'He was really abusive to me and everybody on that movie', said Pinchot, 'and his official explanation was his character didn't like me, but it was a dreadful experience. Denzel Washington cured me forever of thinking that there is any amount of money or anything that could ever, ever make it okay to be abused. The script supervisor on that movie said it was like watching somebody kick a puppy. He was so vile.' By the way, who was responsible for the ludicrous casting of Meg Ryan as a chopper pilot? Sheesh!
In this day and age, the whole theme of Gentleman's Agreement (1947), the exposure of anti-Semitism in the United States, seems a little 'dated'. Much bigger issues tend to occupy peoples' thoughts these days. Besides, as deplorable as it is, anti-Semitism has almost become 'par for the course' in a world that still bears some inexplicable hatred for those of the Jewish faith. Gregory Peck played the gentile, posing as a Jew to find out the extent of anti-Semitism prevalent in society. He was not the studio's first choice, however. Cary Grant was. But he turned the role down because he was Jewish and (he thought) he looked Jewish. No-one, he said, would believe for one moment that he was a gentile trying to pass himself off as a Jew. Really? I mean, what is a Jewish person supposed to look like?
MacDonald & Chevalier in The Merry Widow (1934)
Censors viewing The Merry Widow (1934) were horrified by the suggestion that Maxim's was little more than a glorified brothel, and they reached the brilliant conclusion that this harmless operetta was riddled with filth. In a scene where Danilo carries Sofia to a couch, drops her there, and then sits beside her, these guardians of society's morality only passed the scene after both stars had somehow contorted their bodies enough to get both their feet planted firmly on the floor! The two stars, by the way, did not get along at all. Maurice Chevalier called Jeanette MacDonald 'a prude' and she referred to him as 'a bottom pincher'. Which he was.
Caesar & Cleopatra (1945) was a British production directed by a Frenchman and it was a box-office disaster. Filmed during the Second World War, production was halted several times because of German air-raids. Vivien Leigh played Cleopatra while she was pregnant with Laurence Olivier's child. In one particularly energetic scene she was required to slide across the floor prior to running up some stairs. While doing so she slipped and suffered a miscarriage. This, in turn, triggered a mental breakdown. In 1955 she would miscarry his child again and be diagnosed as a manic depressive as well, but it was tuberculosis that would ultimately kill her at 53.
Charles 'Kid McCoy' (Norman Selby)
The name Norman Selby is probably unknown to most movie fans. He was a silent movie actor whose screen career only lasted from 1916 to 1924, a total of just 16 credits, and most of those were insignificant bits. In five of these he played 'Kid McCoy', the name he boxed under before moving to Hollywood. His career in the ring was outstanding, registering 81 victories, 55 by KO. In 1896 he was crowned Middleweight Champion of the World. Fifty years after his death he was inducted into the International Boxing Hall of Fame. His film career was nowhere near as noteworthy as his time in the ring, but his private life, for all the wrong reasons, was even more so. In all Selby would be married ten times, a record even for Hollywood. He was about to hit double figures for the first time when his married fiancée, Theresa Mors, a wealthy antiques shop owner, was found dead from a gunshot wound to the head in the flat she and Selby shared.
Selby in the Los Angeles County jail 1924
The next morning (August 13, 1924), a dishevelled Selby robbed and held captive a dozen people at the dead woman's antiques shop. When one man attempted to flee, the clearly distressed actor shot him in the leg. Later in the day he was arrested and his subsequent trial in downtown Los Angeles was the media event of the day. His attorney claimed Theresa had committed suicide; the prosecution argued that Selby had murdered her for financial gain. The accused man testified in his own defence and even wrestled with his attorney on the courtroom floor, to demonstrate how he and Theresa had struggled for possession of the gun. Half the jury thought he was guilty and half felt he should go free. In what was believed by many to have been a compromise verdict, he was convicted of manslaughter and sentenced to 10 years in San Quentin. Paroled in 1932, Selby married his tenth wife, and began work at the Ford Motor Company. In 1940, he wrote a note, leaving everything he owned to 'my dear wife Sue. E. Selby'. Then he took his life with sleeping pills.