Robert Duvall & Tommy Lee Jones as Gus & Woodrow
There have been a number of very good mini-series on television over the years. Band of Brothers (2001) was one of the better ones, albeit a bit too violent for my taste. Sort of like Saving Private Ryan (1998), quite brilliant, but difficult to watch because of the gut-wrenching realism. The Pacific (2010) is pretty much in the same boat. Gritty realism appeals to a lot of people – just not to me.
Pride and Prejudice (1995), the version that starred Colin Firth and Jennifer Ehle, is a delight, although I have to admit I tend to compare every new edition of this Jane Austen classic with the 1940 version starring Greer Garson and Laurence Olivier. And I love the black and white version so much. I was a huge fan of the original, British series House of Cards (1990) starring Ian Richardson, although I think he virtually carried the entire show.
There was, however, one mini-series that did not rely on an individual, not even on two individual performances. My favourite mini-series of all time was positively permeated with star turns. Everybody was good. Better than good, in fact. I am referring to 1989's Lonesome Dove. Superb characterizations and fine acting, not to mention a screenplay to die for. Television simply does not come any better. One of the great miscarriages of justice (as far as Emmy Awards go, that is), saw the very ordinary War and Remembrance chosen over Lonesome Dove as the 'Outstanding Mini-Series' of 1988. An absolutely abominable result if there ever was one. I can only surmise that the 'westerns are rubbish' syndrome must have reared its ugly head.
Robert Duvall as Augustus 'Gus' McCrae is outstanding in a cast that has to be one of the best ever assembled for a TV series. Lynne Kressel deservedly won a Primetime Emmy for 'Outstanding Achievement in Casting for a Mini-series or a Special'. Duvall is a seasoned professional and is always good, but in this production he is exceptional. As a gritty old ex-Texas Ranger he is completely believable, so much so that I found myself continually forgetting he was acting a role.
Not far behind him is Tommy Lee Jones as Woodrow F. Call, another old Ranger, but a man of opposite temperament to Gus. Woodrow never lets his feelings show, never lets down his guard for a moment. He's as tough as Gus, but he does not have his friend's kind heart. Watching Duvall and Jones interacting is a joy to behold from beginning to end.' Two pros demonstrating what the art of acting is all about.
Diane Lane (Lorena Wood) & Robert Urich (Jake Spoon)
Anjelica Huston (Clara Allen) and Diane Lane
Placing the rest of the cast into some kind of order of merit is an almost impossible task because they are all so impressive. I must start somewhere, so why not with the gorgeous Diane Lane? I think I first fell madly in love with her while watching this series. She plays Lorena Wood, the prostitute at Lonesome Dove. Her face is scarred and she has had a tough life. Of course, Miss Lane is far too beautiful to be cast as a whore in a one-horse town in the back of nowhere. Actually, Lonesome Dove is not even a town, just the name of the drinking house where Lorena plies her trade. No doubt, the producers decided they had to reduce her looks somehow, so they gave her a slashed face, but you can't really make a sour's ear out of a silk purse any more than can the reverse. Any cowboy within a hundred miles would have crawled over broken glass to help her earn her living, slashed face or not.
Barry Corbin (Roscoe Brown) & Chris Cooper (Sheriff July Johnson)
Frederic Forrest as Blue Duck
Chris Cooper has always been an actor with prodigious talent. He plays Sheriff July Johnson, a man in search of his wife who has run off and left him and his little boy. It came as no surprise to me when he won a Best Supporting Actor Academy Award for Adaption (2002). On a par with Cooper's turn in Lonesome Dove is Frederic Forrest's memorable portrayal of the murderous renegade Indian Blue Duck. This performance is as far removed from his Oscar-nominated role in The Rose (1979) as it is possible to be. And he was great in both roles. America is blessed with so many brilliant character actors (and actresses) who will never become mega-stars, but who elevate features merely with their presence and expertise.
Danny Glover as Joshua Deets
D. B. Sweeney as Dish Boggett
Danny Glover and Robert Urich are another two fine actors who absolutely nail their parts as Joshua Deets and Jake Spoon respectively. I think what stands out most in this series is the rich range of characters. Each is so believable, so carefully crafted. Anjelica Huston is wonderful as Clara Allen, Gus's long ago love; D.B. Sweeney is terrific as the love-struck Dish Boggett; Steve Buscemi first came to prominence as a buffalo-hunter in this; Ricky Schroder impressed as Newt Dobbs; Glenne Headly as July's runaway wife, obsessed with finding her lover Dee Boot, gives an exceptional performance; the under-rated Barry Corbin excels as July's deputy Roscoe Brown, and last but not least, Gavan O'Herlihy is downright scary as the evil, cold-blooded killer Dan Suggs.
Rick Schroder as Newt Dobbs
Glenne Headly as Elmira Johnson
When Larry McMurtry wrote Lonesome Dove as a movie script in 1971, he wanted John Wayne to play Woodrow, James Stewart to portray Gus, and Henry Fonda to be Jake Spoon. Wayne turned the project down and it was shelved for ten years. Peter Bogdanovich was supposed to direct and he had already decided that his then girlfriend, Cybill Shepherd, would play Lorena. Over a decade later she was too old for the part and we got Miss Lane instead. Thanks, Duke! Much appreciated.
Gavan O'Herlihy (R) as Dan Suggs
McMurtry always claimed that his story had no basis in historical fact, but any student of western folklore would surely dispute that. Oliver Loving and Charles Goodnight were a couple of pals, ranchers and cattle drivers, who developed the Goodnight-Loving Trail in 1866 to take a herd from the Pecos River in Texas to Fort Sumner, New Mexico and then north to Colorado. Their scout, an escaped slave named Bose Ikard, died on one trip and Charles carved a sign for him, just as Woodrow Call does for Deets in Lonesome Dove. In 1867 Loving was mortally wounded by Native Americans whilst on a drive. He managed to reach Fort Sumner but passed away there from gangrene.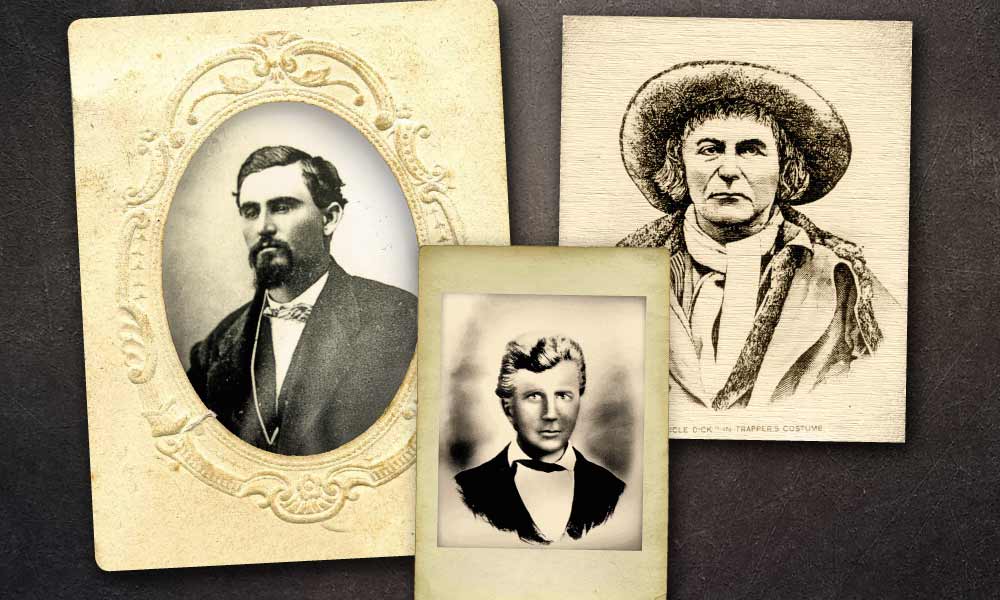 Charles Goodnight (L) & Oliver Loving (below)
Before he died, Loving made Goodnight promise to take his body back to his beloved Texas and bury it there. Oliver was temporarily buried at the fort while Charles took the herd north to Colorado. He returned to Sumner a few months later and arranged for his friend's body to be exhumed and returned to his home town of Weatherford. He was finally laid to rest there on March 4, 1868. It has never been definitively ascertained if Goodnight personally accompanied the corpse all the way back to Texas or not. The romantic in all of us would like to think he did. But who knows?