10        THE WOMEN – Norma Shearer, Joan Crawford, Rosalind Russell, Paulette Goddard,
                                         Mary Boland, Joan Fontaine, Virginia Weidler, Marjorie Main,
Virginia Grey, Ruth Hussey, Lucille Watson, Hedda Hopper
There are a number of things wrong with The Women, not the least of which is the appallingly hammy performance by Norma Shearer who had the lead and headed the cast list. I have not seen it for several years, but I recall that her final piece of dialogue made me grind my teeth. It is delivered that badly. I find the picture appealing, nevertheless, because it gives us the opportunity to watch MGM's top female stars of the 1930s interacting and playing off one another.
There are more than 130 roles in this movie, all of them played by women. Not a man in sight throughout. In fact, every animal in it (mostly dogs and horses) is a female as well. It almost goes without saying that a movie chock full of women could only be safely directed by one man – George Cukor. The openly gay George was also the ladies director of Hollywood history. Yet even he had his hands full controlling the egos gathered together for this picture. Every top tier female star at MGM, with the exception of Greta Garbo and Myrna Loy, got a guernsey.
When Norma and Joan Crawford were required to pose for publicity stills at the studio neither woman would condescend to arrive first. Each wanted the other to have to wait for her, so they had their drivers circle the block until, eventually, Cukor had to personally summon them. They then walked onto the studio floor and instantly behaved like best friends. In truth, Joan loathed Norma because she was handed all the best roles by her husband Irving Thalberg, the 2IC at MGM until he died. 'How can I compete with her when she's sleeping with the boss?' was Joan's standard complaint. When Norma refused to share top billing, Rosalind Russell booked off 'sick' and remained 'unavailable' until Norma finally relented. Generally speaking, however, the remainder of the cast got along well together and it was mostly a happy, professional set, all thanks to Cukor's legendary ability to direct women with kindness and understanding.
9          MR. SMITH GOES TO WASHINGTON – James Stewart, Jean Arthur, Claude Rains, Thomas Mitchell
                                                                                   Edward Arnold, Guy Kibbee, Beulah Bondi,                                                                            
This entertaining Frank Capra film upset just about everyone when it first hit screens in 1939. American politicians were incensed at the depiction of senators and congressmen involved in corruption and self-serving. The Press Corps were also disillusioned by the picture's intimation that they imbibed too much. Capra and Columbia head Harry Cohn received cablegrams from the US Ambassador to Great Britain, Joseph Kennedy, urging them to reconsider releasing the film in Europe, arguing that it would damage American prestige in the region. He need not have bothered because it was banned in Nazi Germany, Fascist Italy, the Soviet Union and in Falangist Spain. Opinion remained divided, however, regarding the picture's political impact outside the United States. Certainly it revealed corruption in American politics, but it also showed that in a democratic country such things could be exposed without fear of persecution.
Jean Arthur resented playing opposite James Stewart in Mr. Smith Goes to Washington. She had wanted her leading man from Mr. Deeds Goes to Town, Gary Cooper, to co-star here as well, but it was not to be. The movie is a little bit dated, but it is a fine example of Capra's ability to light up a screen.
8          DESTRY RIDES AGAIN – James Stewart, Marlene Dietrich, Mischa Auer,
                                                     Una Merkel, Brian Donlevy, Allen Jenkins
Jimmy Stewart's first western, but he only got it because Gary Cooper had demanded too much money. It also saw a revival in Marlene's career as she played the bar singer Frenchy. Off-screen she and Jimmy embarked upon a passionate affair that lasted for the duration of the shoot. Her character and singing style would be hilariously parodied by Madeline Kahn in Blazing Saddles (1974). Production of Destry Rides Again was postponed until Stewart had completed Mr. Smith Goes to Washington.
7          YOUNG MR. LINCOLN- Henry Fonda, Alice Brady, Marjorie Weaver, Donald Meek,
                                                    Arleen Whelan, Ward Bond
Fonda had to be persuaded by director John Ford to play Lincoln because he did not believe he could convincingly portray so grandiose a figure. Henry auditioned a couple of scenes in full make-up, watched them and changed his mind. At that time the only photographs in existence showed Abe at the age of 45, so Henry was given a fake nose and platform shoes to enhance his appearance. The nose, in my opinion, detracted from it. Years later, a photograph emerged of Abe when he was about 25 and he appeared much sturdier and more handsome. Fonda always placed his performance in this picture high on his list of personal achievements in front of the camera.
6          THE PRIVATE LIVES OF ELIZABETH & ESSEX– Errol Flynn, Bette Davis, Olivia de Havilland, Alan Hale,
                                                                                        Donald Crisp, Vincent Price, Henry Daniell
Bette and Errol never worked again together after making this picture. She had wanted Laurence Olivier to play Essex because she felt that Errol was incapable of speaking blank verse well and, consequently, the two leads did not get along at all. She was 31 when she portrayed the 63 year-old Elizabeth. Errol was 30 when portraying Essex who was about that age in 1596, the time in which the movie is set.
5          DRUMS ALONG THE MOHAWK- Henry Fonda, Claudette Colbert, Edna May Oliver,
                                                                   John Carradine, Arthur Shields, Ward Bond
Another John Ford feature, Drums Along the Mohawk was his first color picture and it looks terrific. It has dated a little, but Fonda and Colbert are very good, while Edna May Oliver was nominated for a Best Supporting Actress Oscar, and rightly so. The film is set during the Revolutionary War of 1777, specifically in the Mohawk Valley. Interestingly, Fonda's fifth great, great grandfather, Douw Jellis Fonda, was killed and scalped in the area in 1780.
4          THE WIZARD OF OZ – Judy Garland, Frank Morgan, Ray Bolger, Bert Lahr,
                                                 Jack Haley, Margaret Hamilton, Billie Burke, Clara Blandick
There is little left to be said about this outstanding children's fantasy that is still enjoyed by kids today, more than 75 years later! Judy is positively enchanting and Margaret Hamilton will live forever as the Wicked Witch of the West. The songs are great, too. What's not to like?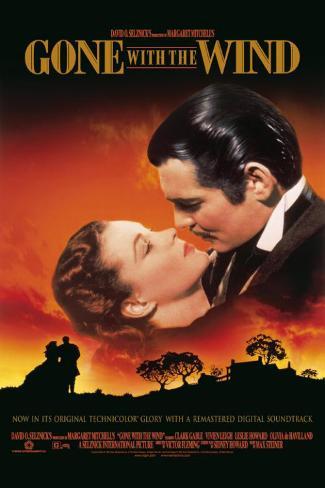 3          GONE WITH THE WIND – Clark Gable, Vivien Leigh, Olivia de Havilland,
                                                        Leslie Howard, Hattie McDaniel, Ward Bond, Victor Jory,
Thomas Mitchell, Butterfly McQueen, Ona Munson
I can imagine you asking, 'Why is GWTW not at the top of the list? The answer is a simple one. I do not happen to rate the picture as highly as some do. For starters it is far too long. Second, Leslie Howard is woefully cast as Ashley Wilkes. Too old by far. Seriously, is there a woman in the world who would choose him over Gable? Third, it waffles on about the 'chivalrous Deep South and its halcyon days, now gone with the wind'. Well, we know just how halcyon those days were for the slave population. Although I think Gable and Leigh are wonderful in this movie, Howard and Olivia are almost unwatchable. Every time Olivia appears on the screen as Melanie, her unbearable sweetness gives me toothache!
2          GOODBYE, MR. CHIPS – Robert Donat, Greer Garson, Terry Kilburn, John Mills, Paul Henreid                                                   
I wouldn't mind betting that, until his dying day, Clark Gable cursed his luck to have been up against Robert Donat for the Best Actor Academy Award. In any other year 'the King' would have had it sewn up, but nobody was going to hold a candle to Donat as Mr. Chips in this delightful movie. A special mention should be made of Terry Kilburn who played four generations of Colleys. He was the partner of actor Charles Nolte for over 50 years until Nolte passed away in 2010. Kilburn is now 92 and living in Minneapolis.
 1      BEAU GESTE – Gary Cooper, Ray Milland, Robert Preston, Susan Hayward,
Brian Donlevy, Donald O'Connor, J. Carrol Naish, Albert Dekker,
Broderick Crawford Heather Thatcher, James Stephenson
Beau Geste was the first book I ever read, the first one my mother ever bought me. Since then I have read it another half dozen times. The 1939 film version I have watched, perhaps, 40 times! It is the ultimate boy's hero flick. Admittedly, I am no longer a boy, but the story of three brothers nobly risking their lives for an honorable cause still appeals to me enormously. Gary Cooper was my first boyhood hero because of his portrayal of Beau. No wonder women world-wide swooned over him back then. He was really something else.
Ray Milland, Gary Cooper & Robert Preston
There is something utterly romantic and inspiring about the uniform of a legionnaire. Maybe it is the long boots, the cutaway coat and the kepi, but no battle scene in any movie has ever been so wonderful to watch, (and I abhor warfare), than the siege at Fort Zinderneuf in Beau Geste. The casting of Milland and Preston as John and Digby Geste was perfect and both went on to illustrious careers. The only sour note, in my opinion, was Donlevy's 'over the top' portrayal of Sergeant Markoff, yet he was actually nominated for an Oscar while William Wellman's direction was ignored! Susan Hayward was just starting her rise to the top and 13 year-old Donald O'Connor, of future Singin' in the Rain fame, played Beau as a boy.
As far as writers of adventure tales go, I must admit that I have always had a penchant for two writers in particular. One was Rafael Sabatini who penned classics (all made into movies) such as Scaramouche, Captain Blood, The Sea Hawk and The Black Swan. The other was P.C. Wren who wrote the three French Foreign Legion novels Beau Geste, Beau Sabreur and Beau Ideal.