When lists of Hollywood's most beautiful actresses are drawn up the name of Lauren Bacall is often left out. There is no denying the fact that her beauty was even more transitory than most; her features seemingly hardening quite early in life, but in her prime 'Betty' Bacall was a sultry, sexy, green-eyed knockout.
She began life in 1924 in The Bronx as Betty Joan Perske. Her alcoholic father walked out on his family when she was only six, forcing her mother to work long hours to make ends meet. This meant that Betty spent much of her childhood in the company of her grandma whose surname happened to be Bacal. Years later, Betty would add another 'L' to it and become Lauren Bacall.
By 1942 Betty was working part-time as a showroom model to pay for her acting lessons, but when the modelling work fell through she became a Broadway theatre usher, a job that enabled her to study actors' techniques as they performed on stage. Around that time the 17 year-old met Gregory Peck and they developed a friendship that would last until his death. On the nights when the theatre was closed she would volunteer as a hostess at the New York chapter of the Stagedoor Canteen. Meanwhile, Esquire magazine voted her 'the prettiest usher of the 1942 season. When her picture appeared on the cover of Harper's Bazaar in March 1943 it came to the attention of Nancy 'Slim' Hawks, the wife of Hollywood director Howard Hawks.
as 'Slim' in To Have And Have Not (1944)
He was busy casting his lecherous eye about for a 'new face', a leading lady to play opposite Humphrey Bogart in his upcoming movie To Have and Have Not. His wife insisted he check Lauren out, so he tested her. Not only did he like what he saw screen-wise, he also envisioned a more intimate association with the 19 year-old beauty, but it was not to be. Nancy took the girl under her wing, groomed her, dressed her, fixed her hair and taught her how to walk seductively. It was Nancy who suggested the name 'Slim' for Betty's character in Howard's film.
               Bogie & Betty newlyweds
By the time she was ready to make her screen debut in To Have and Have Not, Lauren Bacall was set to knock the movie world (and Humphrey Bogart) on its ear. Howard realized at once that Bogie, although 25 years her senior, was smitten with his new co-star and the situation made for some tense moments on the set between the two men until the ever vigilant Nancy told her husband to 'cool it'. His roving eye was scarcely news to her. 'I think we're going to have a lot of fun together', Bogie said to Betty after they were introduced on the set. In her autobiography she stated she lost her virginity to him in 1943 and eighteen months later they became husband and wife. It was obvious to all who knew them that they were madly in love. Betty described herself as, 'this flat-chested, big-footed, lanky thing', but in her husband's eyes she was perfection and few would disagree with him.
                     Howard & Nancy 'Slim' Hawks
In the beginning she was hopelessly nervous before the cameras, shaking uncontrollably, especially when required to light a cigarette. Once she and Bogie became lovers, however, it was evident to Hawks and others that she had acquired an air of confidence that had been missing up to that point. Indeed, her performance in this picture completely belied her tender age of 19. She had discovered that it was possible to considerably reduce her shaking by simply keeping her chin tucked down and looking up with her eyes without moving her head. The effect was both effective and alluring and 'The Look' was born.
                              'The Look'
Betty and Bogie would co-star in three more pictures – The Big Sleep (1946), Dark Passage (1947) and Key Largo (1948). Their marriage was a happy one despite the ever present problem of their age difference and Bogie's drinking. All his pals were much older than hers and Betty was a non-drinker. His 60 cigarettes a day habit was another issue, one that would end in his death at 57 in 1957. Betty nursed him through his final years and it devastated her. She seemed to lose any real interest in her career after he was gone.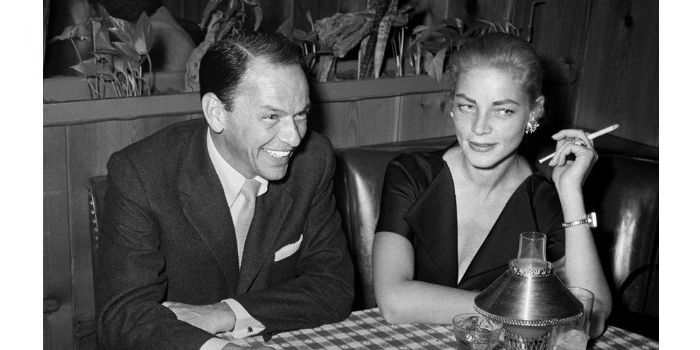 Sinatra & Betty on the town
Frank Sinatra had been a regular visitor to the Bogarts' home during his long illness and Bogie was under no illusions about the reason for his visits. 'You don't really think he's coming to see me, do you?' he would say. Soon after his death someone let it slip to the press that Frank had proposed marriage to Betty and that she had accepted. He ended their relationship at once, refusing to believe she was not responsible for the leak. His closest friends felt he had simply gotten cold feet at the last minute and they were probably right. In 1961 she surprised many people when she married actor Jason Robards. Not only was he an alcoholic, he also bore a striking physical resemblance to a slightly younger version of Bogie. They divorced eight years later.
with husband #2 Jason Robards
As the sixties rolled around Betty acquired a reputation for being 'difficult'. It was an unfair accusation, one whose basis lay in the fact that she was especially choosy about accepting scripts offered to her. She was comfortable financially and not about to take sub-standard roles simply for the money. After appearing as a kind of 'guest star' in a few films, she returned to her first love, the theatre, and was quickly successful. She picked up a Tony Award in 1970 for Applause, a musical based on All about Eve in which she played Margo Channing. In 1981 she gathered a second Tony for Woman of the Year.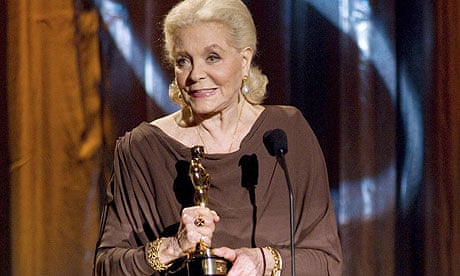 Betty accepting her Honorary Oscar
After her divorce from Robards, Betty was occasionally linked to other actors. In 1979 it has been said that her affair with James Garner threatened to destroy his marriage. Other relationships were rumored with the likes of actors Anthony Franciosa, Harry Guardino and Burgess Meredith. Outside the acting fraternity she was very close to politician Adlai Stevenson and may even have had a fling with the ever-available Spanish bullfighter Luis Miguel Dominguin. Lauren Bacall was five weeks shy of her 90th birthday when a stroke claimed her in August 2014.