Here is part one of my list of the 30 performances by movie villains I have enjoyed the most down the decades. That does not mean I have chosen the scariest or even the best-acted roles; just the ones I have enjoyed watching the most. I have seen every one of these performances more than once (a few of them as many as 40 times). Villains, such as all the action hero nasties, do not get a mention because I cannot abide the movies they adorn. The same applies to the 'slasher' pictures. I refuse to watch them, much less write about them.
A few of my choices were played primarily for laughs, but that's OK. I like fun performances as much as the next fan, so the occasional entry here is tongue in cheek or just downright hilarious. I suppose, if I am entirely honest, I am a sucker for a villain who has snappy dialogue to deliver and does so with panache. As always with my lists of personal favorites, readers will probably concur with only a few of my choices, but I will say one more thing about them. These people contributed enormously to the movies for which they have been chosen. Hence the 30 pictures mentioned here are, in my opinion, well worth watching if you have not done so already. So, here we go:
30        LAURENCE OLIVIER as Crassus in SPARTACUS (1960)
I have never been an Olivier fan. Too theatrical (and spud ugly to boot). Having said that, my friend Elaine Hollingsworth (formerly fifties actress Sara Shane) once met him in London and told me he was, 'the most gorgeous looking man I have ever seen. I mostly sat there with my mouth hanging open.' In Spartacus he is perfect as the ruthless, ambitious Crassus, and gets to deliver some absolutely fabulous lines courtesy of screenwriter Dalton Trumbo. Mind you, everybody and his dog is rewarded with dialogue to die for in this terrific motion picture. Only Tony Curtis lets us down. Not really his fault, just lousy casting. That Bronx accent of his stuck to him like superglue throughout his career.
29        MARGARET HAMILTON as The Wicked Witch of the West/ Miss Gulch in THE WIZARD OF OZ (1939)
I just love Margaret Hamilton. As long as movies are in existence her performance as the wicked witch of the west will live on. Incredibly, the former kindergarten teacher was only 36 years old when she made The Wizard of Oz. Her portrayal has been scaring the knickers off little kids ever since. She was well aware of her place in Hollywood history. When asked for her autograph she usually added a (WWW) after her signature. Is there a movie fan anywhere on the planet who does not recognize the warning: 'I'll get you my pretty – and your little dawg too!'?
28        JACK NICHOLSON as The Joker in BATMAN (1989)
No doubt Nicholson fans would totally disagree with me placing his 'Joker' portrayal so far down the list, but the truth is – I don't think much of the movie. In fact, I don't think much of the entire franchise, not that this has stopped me from including two of them in my list. Reluctantly. Still, Jack is the best thing in the picture by a country mile and you can almost see he is having a great time with the character. I liked his death scene, too. What a way to go.
27        BILL MCKINNEY as a mountain man in DELIVERANCE (1972)
By most accounts McKinney was considered to be a bit of an oddball by most of his contemporaries. Not by all of them I hasten to add, for some people thought a great deal of him. Burt Reynolds, one of the stars of Deliverance (1972), however, was definitely not one of those admirers. He wrote about McKinney getting carried away with the rape scene, so much so that he had to be physically dragged off a very frightened Ned Beatty. Other reports state that McKinney was simply acting as he always acted, with total commitment, the same commitment that made him a favorite villain of several A-list directors, among them Clint Eastwood who used him regularly. America has always been able to draw on a marvellous stock-pile of character actors who seem to be as nasty as the characters they portray. Bill McKinney was one such actor.
26        STEPHEN LANG as Colonel Miles Quaritch in AVATAR (2009)
Stephen Lang has acquired a first-class reputation as a truly superb stage actor, having been nominated or won numerous awards in America and overseas. Because of the world-wide popularity of Avatar (2009) he will probably be best-remembered at the end of his career for his role as the ruthless Colonel Quaritch. Personally, I thought he was terrific as Major-General George Pickett in 1993's Gettysburg, and even better as Ike Clanton in Tombstone that same year. In Avatar he is a most powerful, resolute, heavy; a totally believable nasty son of a bitch.
25        JEFFREY JONES as Principal Ed Rooney in FERRIS BUELLER'S DAY OFF (1986)
Not all villains are serial killers or murderers or whatever. Jeffrey Jones' character was nothing more dangerous than a school principal bent on catching Ferris ditching his classes. And he was hilarious. The movie overall is a delight, but Principal Ed Rooney was a stand-out in a fine cast at the top of their game. Like many fans, I have watched this picture many times and it is Jones' performance that excels.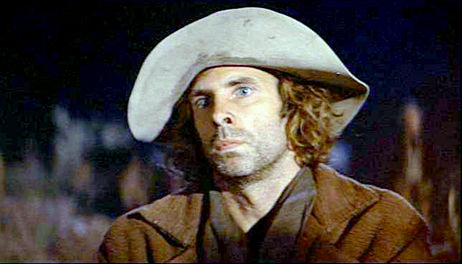 24        BRUCE DERN as Long Hair in THE COWBOYS (1972)
I think the thing that stands out with Bruce Dern's acting is that he often sounds like the bullies we have all ran into at some time or another in our childhood. He is usually sneering, quite inarticulate and always backed up by a bunch of equally nasty and stupid cronies. In The Cowboys he terrorizes one of the boys, threatening to visit him with a bowie knife in the dead of night, and then takes on John Wayne's character who is unarmed and out-numbered. Bruce always makes a terrifically convincing cowardly cur. Good actor.
23        ROBERT PATRICK as T-1000 in TERMINATOR 2: JUDGMENT DAY (1991)
In 1990, Patrick was compelled to work as a bartender to supplement his acting career that had been going nowhere for some time. Then along came the role that changed his life forever; that of the T-1000 terminator sent from the future as an assassin in Terminator 2: Judgment Day (1991). He was so memorable in the role that it kind of typecast him. But it also made him famous. An excellent screen villain.
22        ANTHONY HOPKINS as Hannibal Lecter in THE SILENCE OF THE LAMBS (1991)
Hopkins is a class act. He has produced scores of outstanding acting performances in many fine movies and been nominated four times for Oscars. His turn as Hannibal Lecter is his only win so far and it is certainly a memorable portrayal. After all, how often does an actor get to play a serial cannibal in a major movie?
21        JUDITH ANDERSON as Mrs. Danvers in REBECCA (1940)
Alfred Hitchcock's villains (even Norman Bates in Psycho) have always been pretty lack-luster, possibly because he always focused on the innocent characters caught up in his plots rather than on the perpetrators. Mrs. Danvers is the exception. Judith Anderson, an Australian-born actress, played her with sinister perfection, aided by one of Hitch's better ideas. He made sure she was never seen actually entering a room. She was just suddenly there and the effect was quite chilling.