Olivia de Havilland                              with Errol Flynn in The Adventures of Robin Hood
While making The Adventures of Robin Hood (1938), Errol Flynn told his co-star Olivia de Havilland that his marriage to Lili Damita was over and he would soon be free to marry her. When she learned he was lying and that the marriage was alive and well, she decided to tease him by deliberately ruining their kissing scene over and over again. 'I remember I'd ruin every take', Olivia recalled with glee. 'At least six in a row, maybe seven, maybe eight – and we had to kiss all over again. And Errol got really rather uncomfortable and he had, if I may say so, a little trouble with his tights.' Were Errol and Olivia ever lovers? Opinion is split evenly, I feel.
Olivia & Jimmy Stewart
Despite her 'goody-two-shoes' roles (such as Melanie in Gone with the Wind), Olivia was no shrinking violet off-screen. Her open romance with the married John Huston is proof of that, but she often told interviewers that any serious romance with her lusty Australian co-star would have been asking for trouble. Did they have a little fling, however? She has hinted that they did – but only hinted at it. Olivia was less circumspect about her romance with Jimmy Stewart in the late thirties. They were together for several months and photographed when out on the town. In fact, Jimmy escorted her to the premiere of Gone with the Wind in 1939, but their promising romance ended when he suddenly enlisted in the USAAF about nine months before America's entry into the Second World War. After the war Olivia was asked to co-star with Stewart in It's a Wonderful Life (1946), but she did not relish working with her former lover and declined the role.
George Cukor
There has always been a lot of conjecture over the reason for director George Cukor being fired from Gone with the Wind in 1939. One popular opinion is that Clark Gable had the man dismissed because 'the King' loathed Cukor's homosexuality. Another suggested that Gable was uncomfortable knowing that Cukor was aware of an intimate indiscretion Clark once had with gay actor William Haines back in the days when the future 'King of Hollywood' was desperately trying to get a toe in the door. Whereas, there was some truth in both rumours, the real reason Cukor was axed was because of his repeated clashes with producer David O. Selznick. Gable was paid the princely sum (for then) of $120,000. Vivien Leigh, whom many would agree stole the film from under him, received about $100,000 less than that.
   Dudley Nichols
Most fans probably think that George C. Scott was the first person to refuse an Oscar, but that is not the case. Back in 1935 screenwriter Dudley Nichols did just that when he won for The Informer. Screenwriters were on strike at the time and he felt he owed it to his colleagues to demonstrate his support for their protest over their mistreatment by the studios.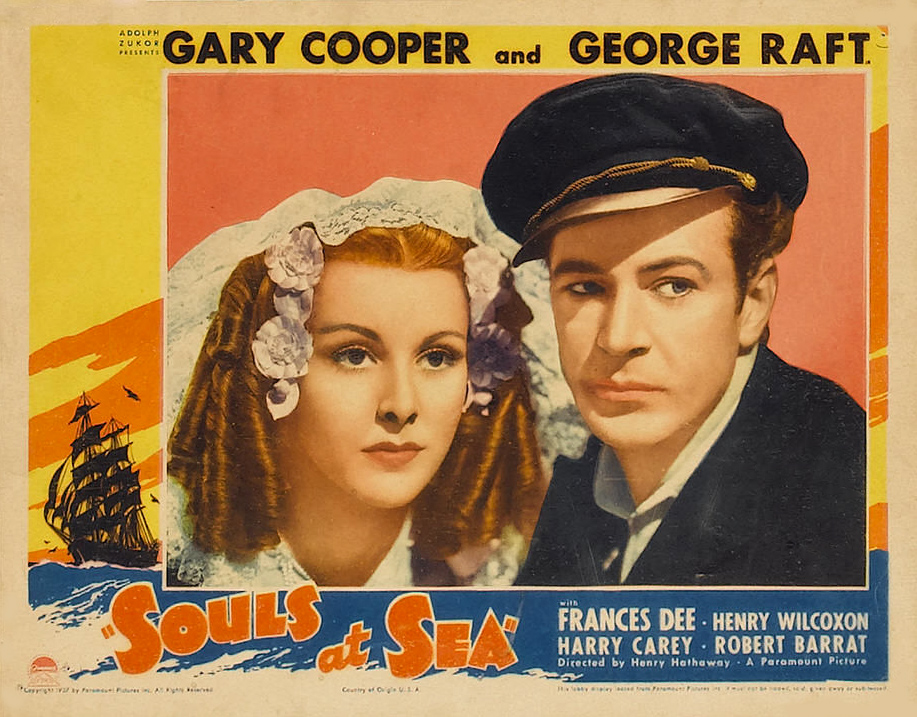 The 1937 drama Souls at Sea was based on a real life tragedy. In 1841 a vessel called the William Brown struck an iceberg and capsized. The crew and some passengers got into the two available lifeboats, leaving 33 passengers still on board to drown. Seaman Alexander William Holmes assumed command of the lifeboats and dumped excess passengers overboard! A grand jury refused to return a murder indictment against him, but he was convicted of manslaughter and sentenced to 6 months in prison and fined $20!
     Judy Garland 'Dear Mr. Gable'
The old song 'You Made Me Love You' was adapted as a 36th birthday present for Clark Gable and sung to him by young Judy Garland at his studio birthday party. LB Mayer was so impressed with her rendition that he ordered her to sing it as 'Dear Mr. Gable' in the next MGM musical, which happened to be the 1937 feature Broadway Melody of 1938.
    Joan Crawford & Norma Shearer
In the 1939 film The Women there were 130 roles and not one male among them. In fact, every animal in the picture was a female also. There was not even a male to be seen in any portrait on any wall! The complete lack of men in the production prevented the MGM publicity machine from serving up any on-set scandal and affairs to the ever eager public, so it was decided instead to concoct a few on-set feuds between various members of the cast. The fact was, however, that director George Cukor ran a happy ship. Besides, these ladies were big stars, professionals, well aware that being troublesome on the set could only end in suspensions or pay cuts. Even Norma Shearer and Joan Crawford got along and they were never friends, before or after shooting concluded.
Constance Bennett                          Joe Kennedy                     Gloria swanson
Topper (1937) was probably Constance Bennett's best film. Little remembered today, it should be noted that she drew $150,000 for just five weeks' work. She was model-slender with beautiful blue eyes and was considered the best dressed actress in Hollywood. Both Constance and Gloria Swanson had vied for the affections of JFK's father, Joe Kennedy when they were at the peak of their considerable beauty. He was an ordinary-looking guy but he was loaded. Consequently, he ended up landing both of them.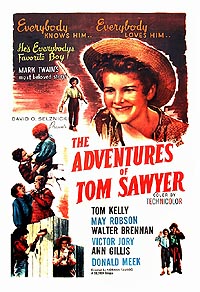 Tommy Kelly landed the plum role of Tom in the 1938 version of The Adventures of Tom Sawyer and he did a pretty good job, too. Good job or not, his film career consisted of just 19 movie roles, ten of which were 'uncredited' bits. Maybe, it was the war that got in the way. He served in the US Army in World War Two and, after the war ended, became a schoolteacher in Washington DC for most of his adult life. Tommy passed away in 2016 aged 90.
British star Robert Donat won the Best Actor Oscar for Goodbye, Mr. Chips (1939). His character was supposed to be 25 years older than Greer Garson's character Katherine, but in real life Donat was actually five months younger than Miss Garson. His extraordinary performance spelt bad luck for Clark Gable whose own excellent portrayal of Rhett Butler in Gone with the Wind had to settle for 'also-ran' status at the Academy Awards. And therein lies one of the weaknesses in the Academy Awards system. Great performances (and movies) miss out in strong years; then spud ordinary performances (and movies) achieve immortality in weak years. Hardly an equitable system.