BERGMAN, Ingrid  (1915-82)                                                            
Joseph Mankiewicz had this to say about Ingrid Bergman. 'Even when she learned about Spencer Tracy's involvement with Kate Hepburn, she was still crazy about him. Don't forget, she was there before Kate came onto the scene. Bergman was a stunningly beautiful creature. I hear she was also the greatest lay in Hollywood this side of Joan Crawford. Bergman was also smart. Kate hated her like a natural enemy.' According to Darwin Porter, (and you can believe him or not), Ingrid also conducted a secret affair with Humphrey Bogart during the making of Casablanca in 1942. Bergman denied this throughout her entire life.
CLOONEY, Rosemary    (1928 – 2002)                          
Rosemary was actually campaigning for Senator Bobby Kennedy in Los Angeles the night he was assassinated on June 5, 1968. His death had a profound effect on her psychologically. She had already started mixing cocktails and tranquillizers, her answer to the break-up of her 13-year marriage to actor Jose Ferrer two years earlier, coupled with the decline of her own popularity as a singer.
Mr. & Mrs. Jose Ferrer
The death of the man she admired so thoroughly seemed to tip her over the edge. Addicted to prescription drugs, her behavior became more and more bizarre, culminating in her interrupting her singing during a Nevada performance and launching into a tirade about CIA conspiracies against the Kennedy family. At last acknowledging that she needed professional help, she checked herself into the psychiatric wing of the Cedars-Sinai Hospital in Los Angeles. Her recovery would take nearly a decade. Lung cancer ultimately claimed her at the age of 74.
COLBERT, Claudette (1903 – 96)                          
Beautiful French-born Emilie Chauchoin achieved Hollywood fame as Claudette Colbert. In 1928, to camouflage her bisexuality, she married Norman Foster. When columnist Louella Parsons asked her why she and her husband occupied separate residences, Claudette told her that they lived apart 'so love would never die'. Louella bought her explanation and so did her fans. Claudette and Norman divorced in 1935 anyway. According to several sources, Claudette enjoyed a lengthy, intimate relationship with Katharine Hepburn among others. There was also a brief affair with James Stewart. She wed her second husband, a doctor, soon after her divorce from Foster was finalized and they remained married until his death in 1968.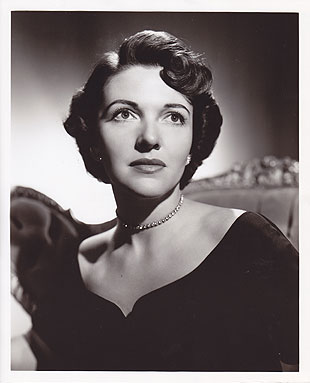 DAVIS, Nancy (1921-2016)                                      
When we consider that Nancy Davis would one day become the First Lady in America, the wife of the 40th President of the United States from 1981 until 1989, it is somewhat revealing to learn that she had few admirers during her acting days. Few indeed. Of her affair with the married Spencer Tracy, director George Cukor had this to say: 'Spence is a big name and Nancy will date anybody with a big name in Hollywood. She likes to associate with important people. She's practically worked her magic skill on every executive at MGM, most of them Jewish. In fact, if I had a nickel for every Jew Nancy was under, I'd be rich.' Tracy handed her on to his pal Clark Gable who dated her twice. 'I scored a home run on each date', he bragged.
Robert Walker (L) & Peter Lawford
Tracy had been a friend of the Davis family ever since he had appeared with her mother, Edith Luckett Davis, in the 1927 hit stage play, The Baby Cyclone, with George M. Cohan. He often used the family home to 'dry out' following some of his long boozing binges. Nancy's mother had designated Alla Nazimova, the one-time queen of MGM, as her daughter's godmother. Alla was a notorious lesbian and strident egomaniac. As his star rose, Tracy tried hard to pay back the Davis family's hospitality by advancing Nancy's career if he could. He introduced her to Benny Thau, vice-president of Loew's and head of casting for MGM. Soon the entire studio was abuzz with tales of 52 year-old Benny servicing 28 year-old Nancy on a weekly basis, usually in his office. For a while she acted as surrogate mother for Robert Walker when his children by Jennifer Jones came to visit. One day, Peter Lawford and Joe Naar visited Walker's Pacific Palisades home uninvited and walked in on Nancy stark naked in the lounge-room. 'She seemed terribly embarrassed', said Lawford, 'but not that embarrassed.' He then added, 'She started dating Bob and me, sometimes at the same time.' Lawford also claimed that Nancy invited both Walker and him to drive with her to visit her folks in Arizona. 'Nancy kept both of us orally entertained during the trip there', he said. 'First, Bob drove and I got into the back seat with Nancy. Then I drove and Bob got into the back seat. We were two exhausted men by the time we reached the Arizona state line.'
Benny Thau with Kathryn Grayson 1954
Thau's receptionist told author Laurence Leamer of her 'standing orders', to usher Nancy into his office first thing every Saturday morning. 'After every Nancy visit', she said, 'I found used rubbers in the wastebasket.' Thau himself claimed that Nancy 'became known around town for performing oral sex. She would even perform it in the offices of MGM executives, particularly the married ones. That's why she got a contract at MGM', he added. 'Not because of her looks or talent.' Tracy used his clout to get her the very best for her screen test – the best cameraman, best drama coach, best makeup and wardrobe. The result, however, was only mediocre. Studio boss Dore Schary judged her suitable for 'those girl-next-door parts in some B-releases.' Pandro S. Berman was equally blunt. 'Nancy's only hope is to marry well. She doesn't have the looks or talent to make it as a star.'
Thau recalled her compiling a list of potential husbands during the forties. 'She went only for the big ones', he recalled. 'No struggling out-of-work actor for her.' Tracy was never on the list because he was married and heavily involved with Kate Hepburn anyway. Besides, Nancy had no intention of settling for an alcoholic as a husband. 'She admitted to me one night that Ronald Reagan was at the top of her potential partner list', said Thau. At that time, Ronnie was breaking down and weeping openly in the wake of his divorce from Jane Wyman. He was President of the Screen Actors Guild, although only a B picture star at Warner Bros.' Nancy's biggest stumbling block, she once confided to Tracy, was Reagan's current involvement with Doris Day. Spencer told Cukor, 'Miss Nancy is laying a trap for Ronnie boy. Who cares? Those two deserve each other.' As it happened, when she became Mrs. Ronald Reagan on 4 March, 1952, she was already three months pregnant, so perhaps she did set a trap for him.
Engagement photo for Ronnie & Nancy 1952