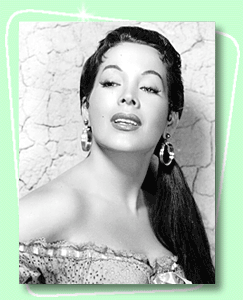 LITA BARON (1923 – 2015)                          The Broken Star (1956) opposite Howard Duff
Tiny Lita Baron (she was just 4'11") was a fiery Andalusion-born singer/dancer from Almeria, Spain who performed up front with Xavier Cugat's Orchestra at the Mocambo and at Ciro's on the Sunset Strip. It was while she was working there that she encountered notorious 6'4" skirt-chaser Rory Calhoun in 1948. They eventually married and she began landing parts at the smaller studios such as Republic, Monogram and RKO. She was more or less typecast as a dance hall singer in westerns, occasionally alongside her husband. She was unimpressed when Rory agreed to have Corinne Calvet as his co-star in Powder River (1952). He and Corinne had once had a hot romance, one that ended (according to Corinne's autobiography) when she learned of his long-term affair with Guy Madison.
Rory Calhoun & Lita Baron in happier times                                Rory & Corinne in Powder River (1952)
Lita's marriage to Rory lasted 22 years and produced three children. The highly public divorce case hit the headlines when he brazenly sued her for adultery, claiming she slept with James Trudeau, the host of a children's program called 'Mr. Wishbones'. Lita filed her own suit citing Betty Grable, eight other specifically named women and 70 'Jane Does', a total of 79 women as co-respondents. One imagines she did not know about Madison. Rory responded by telling reporters that she did not even name half of his lovers. They officially divorced in 1969. She was 39 and he 46. From January 1972 until November 1974, Lita caused tongues to wag by being escorted around town by the 76 year-old comic George Burns! The next year mobster Mickey Cohen publicly bragged that he had been dating her for some time.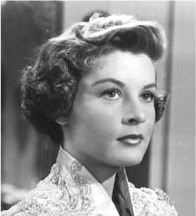 BARBARA BATES (1925-69)                                Barbara and Rory Calhoun in Apache Territory (1958)
Fans of fifties movies might be forgiven for thinking that pretty Barbara Bates made her silver screen debut as the star-struck go-getter Phoebe, the girl  found sound asleep in Eve Harrington's apartment at the end of All about Eve (1950). But that was not so. All about Eve was actually her twentieth screen appearance, but it did bring her to the attention of movie-goers everywhere.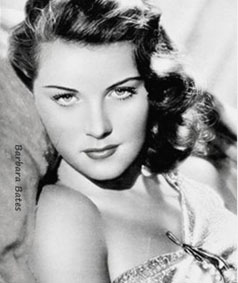 in All About Eve (1950)                                                     publicity shot
After winning a beauty contest back home in Denver, Colorado, she accepted the first prize of a return ticket to Tinsel Town, met United Artists publicist Cecil Coan and married him the moment he ditched his wife and kids. He was two decades Barbara's senior, but he promised to make her a star, which he succeeded in doing – kind of. Barbara was 25 when she played Phoebe, yet by 30 she was washed up in Hollywood. A combination of manic depression, ill-health and extreme shyness saw her removed from major productions once too often. Back home in Denver, she took jobs as a secretary and dental assistant, but in 1967 Coan's death hit her hard. Four months into her second marriage she climbed into her car in her mother's garage, turned on the engine and suicided with carbon-monoxide. A sad ending to a sad story.
MARI BLANCHARD (1923-70)
Destry (1954) opposite Audie Murphy
Californian Mari Blanchard overcame polio as a child and ran away to join Coles Brothers Circus as a teenager, learning trapeze and elephant riding. Her folks talked her into going to university where she picked up a degree in international law, not that she would ever practice it in her short life because Paramount spotted her picture on the back page of the Hollywood Reporter and signed her to an acting contract.
'Stupefyin' Jones'
Al Capp, the sleazy creator of the 'Li'l Abner' comic strip, based his character 'Stupefyin' Jones' on Mari's splendid body before sending her on a nation-wide tour promoting Sadie Hawkins Day. Before long she was getting decorative roles in the movies and involved in a sizzling romance with Hollywood attorney and all round ladies' man Greg Bautzer; a relationship that lasted about 12 months. George Raft became her next serious 'squeeze', followed by crooner Mel Torme.
None of her roles amounted to much until she was cast as the leading lady in Destry in 1954 opposite Audie Murphy. It was the same part played by Marlene Dietrich in the original version titled Destry Rides Again back in 1939, but Mari was no Dietrich. In 1958, her name and phone number were found in the address book of gangster Johnny Stompanato, alongside those of June Allyson, Anita Ekberg, Zsa Zsa Gabor and Beverly Tyler. Five years later she was diagnosed with the cancer that killed her in 1970 when she was 47.
KARIN BOOTH (1916-2003)                              
In 1941, Hollywood columnist Jimmy Fidler described Karin Booth as 'looking like Joan Crawford did ten years ago'. The Paramount starlet out of Minneapolis, Minnesota was already dating Sterling Hayden and within a year would be romantically linked with Dick Powell. Ever randy Mickey Rooney would tell reporters that she was not only his 'favourite friend', but his 'regular golfing buddy'. The only thing Rooney liked more than golf was women.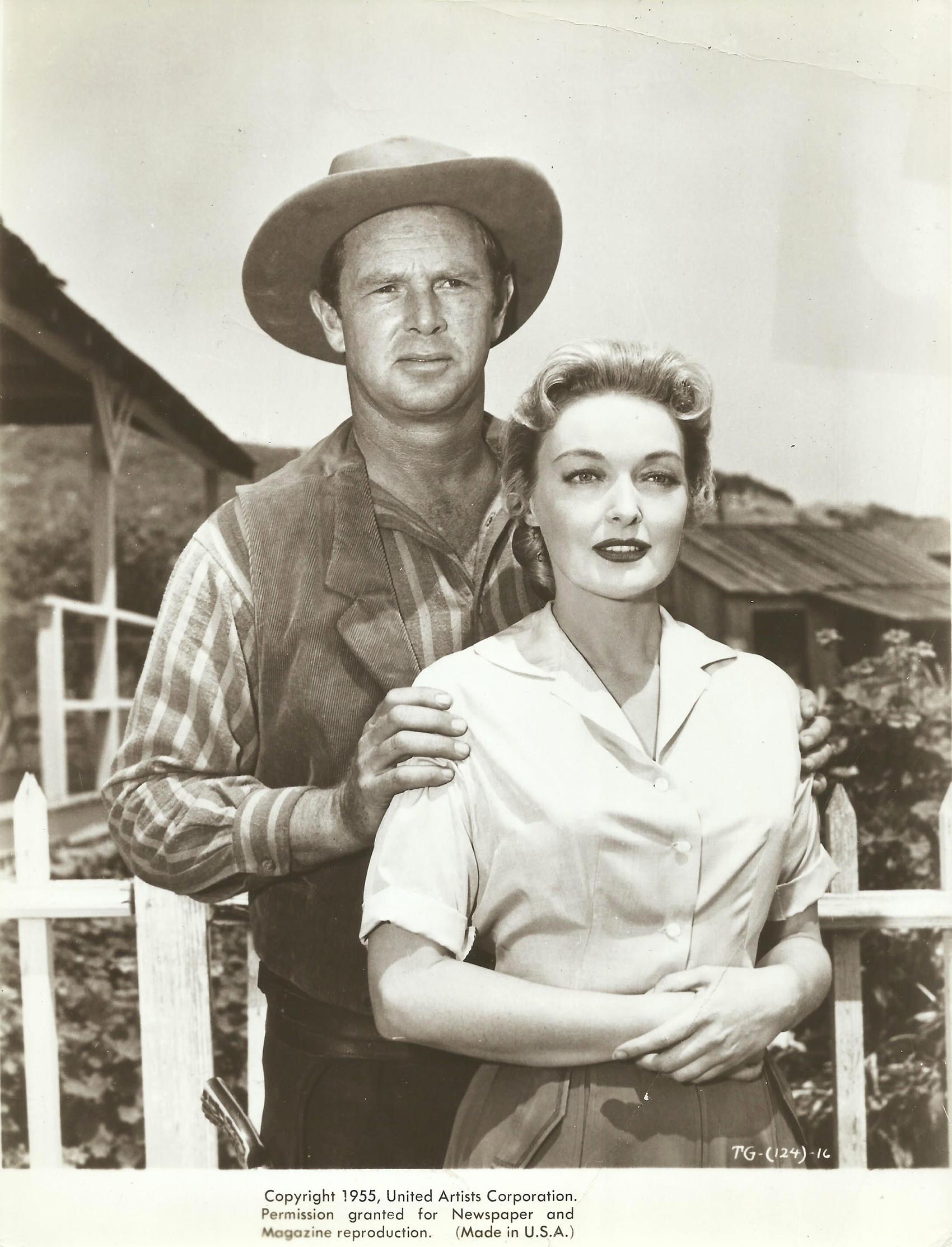 Karin & Sterling Hayden in Top Gun (1955)
In 1948 she wed Allan Pinkerton Carlisle, a 27 year-old yachtsman and son of a prominent Wall Street broker, himself the grandson of the founder of the Pinkerton Detective Agency, the first Allan Pinkerton. By 1964 Karin had over sixty acting credits. Mind you, they were mostly uncredited 'bits', but at least she was in the business. Then she retired. Her role as Janet Pierce in 1959's Beloved Infidel provided the pinnacle of her so-so career.
BARBARA BRITTON (1920-80)                                                          in The Virginian (1946) opposite Joel McCrea
Barbara Brantingham was born in Long Beach, California in 1920. Some sources say 1919, but her son insists it was 1920. I recently watched her playing opposite Joel McCrea in The Virginian (1946) and she was a delightful combination of beauty, wholesomeness and spirit. Unfortunately, she seemed to spend most of her career in westerns and B- features, yet one cannot help but feel she deserved more. She even made her debut in a Hopalong Cassidy oater.
Britton was a family name. Besides, Brantingham was too long said Paramount executives when they signed her. For some reason she became entrenched in leading lady roles in minor films or as the second femme lead in bigger productions. Tiring of this treadmill she moved to television and onto Broadway where her talents were better used. Oddly, she would gain the greatest exposure as the TV pitchwoman for Revlon, appearing 'live' in the company's commercials for over a decade. I personally feel she was one of the most beautiful girls ever to grace the silver screen.
In 1943 she made a war picture called So Proudly We Hail, followed by Till We Meet Again in 1944, and during the making of these pictures she suffered a minor nervous breakdown. A 48 year-old naturopathic physician named Eugene Czukor treated the 24 year-old beauty and they fell in love. They married in 1945 and Barbara bore him three children. Sadly, in 1953, their son Dwight died two days after his birth from crib death.
Barbara (R) and Anne Baxter in The Spoilers (1955)
The Spoilers (1955), starring Jeff Chandler, was her final big screen appearance. After that Barbara chose to spend most of her time raising her children and making the occasional foray into television or the stage. Her marriage, by all accounts, was a happy one that ended in 1980 when she succumbed to gastric cancer at the age of 59. Her much older husband would outlive her by 9 years. Barbara had lived a scandal-free life, in itself a rarity in the melting pot that was Hollywood in the Golden Age. Perhaps, that is the very reason she is barely remembered today.