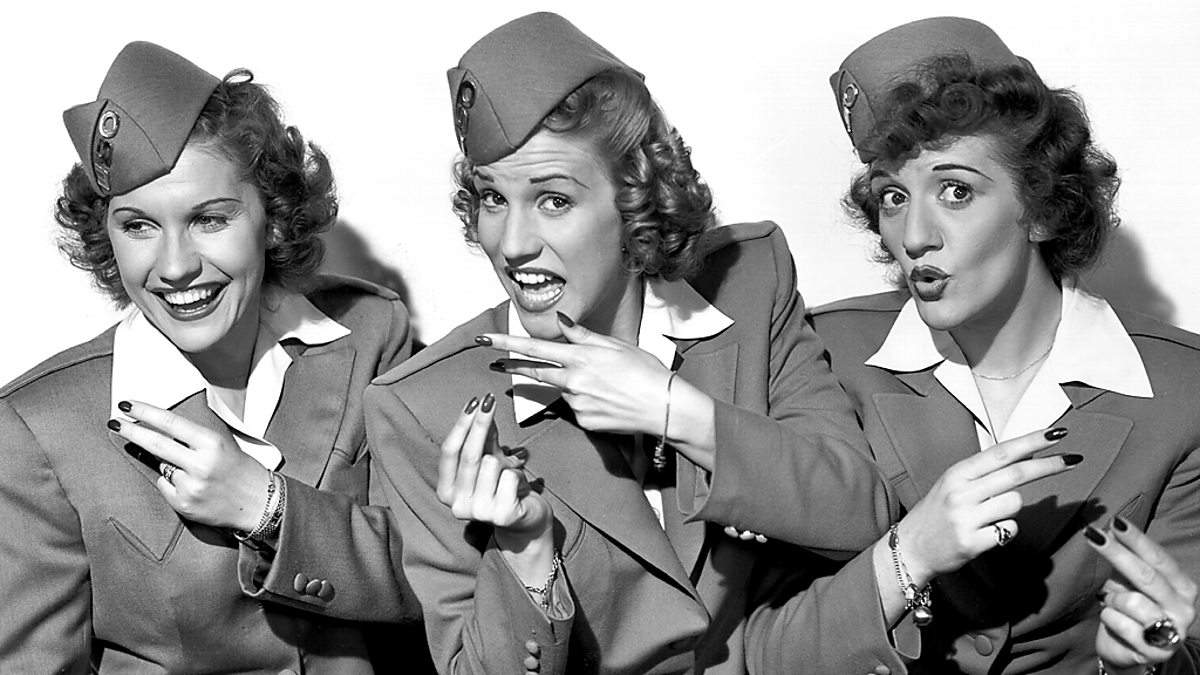 THE ANDREWS SISTERS – L to R
Maxene (1916 – 95), Patty (1916 – 2013) & LaVerne (1911-67) 
Whichever way you look at it the Andrews Sisters were a uniformly unattractive trio, yet they were a phenomenally successful singing group, especially during World War Two. Maxene was the dominant one handled most of the group's bookings and business dealings with their manager Lou Levy. From 1941 to 1949 they were husband and wife. Years later Maxene was often seen arm in arm with a girlfriend, openly flouting her gayness. Patty was the lively one and Laverne the quiet, unassuming one. Their first hit, 'Bei Mir Bist Du Schoen' was a huge hit in 1937 and made them instantly famous.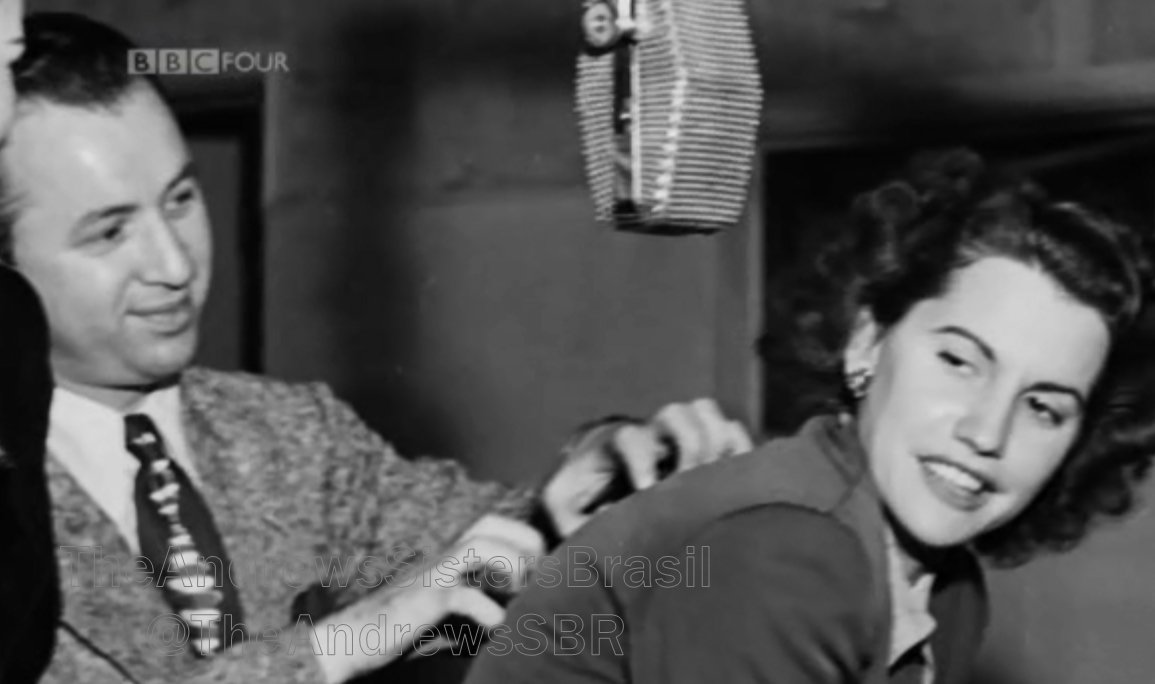 Lou Levy & Maxene
The girls appeared in 15 movies (eleven of them during World War Two), more screen appearances than any other singing group in history. Their hit single, 'Boogie Woogie Bugle Boy' was introduced in the Abbott & Costello wartime comedy Buck Privates (1941). Throughout the war they entertained at hospitals, munition factories and bases in the US and later on overseas USO tours. They also helped Bette Davis and John Garfield establish the Hollywood Canteen for entertaining servicemen.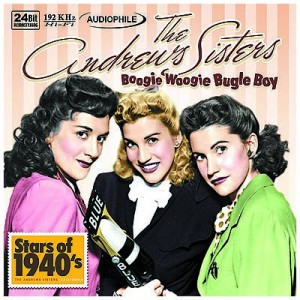 Unfortunately for Patty, she caught the eye of a shady song-plugger named Marty Melcher. Somehow he convinced Levy to make him 'Road Manager' for the girls and within about eight weeks he had Patty head over heels in love with him. She was already wealthy, a factor Melcher had found eminently desirable, and in no time at all he proposed to her. An over the moon Patty could not say yes quickly enough. It was 1947, and for the next two years the union seemed idyllic until Melcher switched his affections to a prettier, more promising meal ticket – the up and coming Doris day.
Doris Day & her husband Martin Melcher
He was soon openly flaunting his affair. Poor love-struck Patty would drive to Doris's home and pound on the door, demanding her husband return home. Their divorce came through in 1950 and Melcher immediately married Doris. He was, by all accounts, tall, dark, handsome and brainless, but smart enough to recruit his new wife's attorney to help him milk her accounts dry. He died young in 1968 and only then did Doris learn that he and the attorney had bankrupted her. She sued his estate (and her attorney) and eventually recovered around $6 million.
BUDDY CLARK (1912 – 49)
Buddy Clark was born Samuel Goldberg in Dorchester, Massachusetts in 1912; the year the Titanic went down. He was a popular young man growing up in Boston and an avid sportsman at college where he studied law. But his great love was singing. Ultimately, his rich baritone voice took him to New York City where he impressed when he sang out front of Benny Goodman's Orchestra one evening. His own radio show soon followed and Hollywood used him a few times to supply the vocals for some non-singing actors such as William Holden, Mark Stevens and Jack Haley. He even landed a cameo in the 1942 film Seven Days Leave, starring Lucille Ball and Victor Mature.
Buddy's biggest hit single came in 1947 when he recorded 'Linda'. It was a song written especially for the six year-old daughter of a show business lawyer named Lee Eastman. Little Linda Eastman would grow up to marry ex-Beatle Paul McCartney and become a performer in his band Wings. In 1950 Clark's own daughter, six-year-old Penny, was killed in a street accident as she ran across the road to greet her nanny. Buddy was spared that tragedy. He had perished a year earlier.
According to the recollections of Variety music reviewer Bernie Woods, Clark died a rather needless death. In October 1949 he drove about 300 miles to a football game at Stanford University in Palo Alto. After the game he came across four friends of his who had flown to the game in a light plane. Buddy suddenly decided he could not be bothered driving all the way home again and requested a lift in their plane. They initially refused him because the aircraft was a four-seater. There was simply no room for him. Not one to take no for an answer, he pleaded his case and offered to sit on the floor in the rear. His friends caved in and it cost him his life. His extra weight caused the aircraft to run out of gas before reaching Hollywood Airport and it crash-landed on Beverly Boulevard. The only one killed was Buddy. He was 37 and at the height of his fame.
PERRY COMO (1912 – 2001)
Perry Como was a truly wonderful singer. Unfortunately, he couldn't act to save himself so his career remained one-dimensional, although his TV show was very successful. Summing up his own achievements, he once said: 'For the amount of talent I had – and I couldn't dance, act or tell a joke – I enjoyed a tremendous career.' He appeared in just five pictures, three of which saw him completely overpowered by the vivacious presence of Carmen Miranda, so it could be argued that his budding acting career was the victim of mitigating circumstances. As far as his singing career goes, well, that was really something else altogether. He recorded no fewer than 42 Top Ten hits, thirteen of them topping the charts. In a single week in the 1940s Columbia sold four million Como records! He was an exceptional talent, better even than Crosby in my opinion. His tenure with RCA Victor Records ran continuously from 1943 until 1988!
He acquired the title of 'Mr. Nice Guy', which was itself a partially created image. When it came to chastising or firing someone he had other people do the dirty work. He would not even make a negative comment to anyone personally. Confrontation was just not the way he operated. That person would hear it from one of his minions. And Perry never forgot a slight. Never. An enemy was an enemy for life. But overall he was greatly admired by most people who knew him. His solitary marriage lasted from 1933 until his wife's death in 1998 and bore three children. Perry followed her three years later when Alzheimer's disease claimed him six days short of his 89th birthday.
VIC DAMONE (1928 – )
Vic Damone is fast approaching his 90th birthday. His fifth wife passed away in 2016. Among those he has marched down the aisle are actress Pier Angeli and singer/actress Diahann Carroll. Hailing from Brooklyn, he was born Vito Rocco Farinola to Italian immigrant parents. A huge fan of Frank Sinatra, he readily chose to take singing lessons from an early age, hoping to emulate his hero one day. While in an elevator at the Paramount Theatre he bumped into another Italian singer, Perry Como, and promptly halted the elevator between floors, sang for him, then asked if he should pursue a singing career. Perry's advice was to, 'Keep singing', and gave him the name of a local band leader. Vito Farinola soon became Vic Damone and he was on his way. Damone was his mother's maiden name and sounded less ethnic than Farinola.
Vic & Pier's wedding day 1954
He entered as a contestant on Arthur Godfrey's Talent Scouts and won. It was 1947 and he was not yet twenty. Comedian Milton Berle got him work at two night clubs and he soon signed a contract with Mercury Records. His first single reached number 7 on the charts and within a year he had his own radio show, Saturday Night Serenade. By 1949 he was booked into the Mocambo on Sunset Strip. National service in the armed forces from 1951 until 1953 might have interfered with his career, but he wisely recorded a number of singles that were released over the 24 months he was out of circulation.
Having appeared in a couple of films prior to going into the services, he was no stranger to Hollywood when he returned there two years later. He had met Italian beauty Pier Angeli before and they renewed their acquaintance in 1954. Her family considered him the perfect match for her and pressured the girl into ditching her 'unsuitable' boyfriend, James Dean, and marrying Damone. His movie career was only so-so, although he managed to land major roles in Hit the Deck and Kismet, both in 1955.
Ava Gardner
An interesting anecdote concerned his initial arrival in Hollywood. Several of the town's female stars, as was commonplace at that time, looked forward to 'trying him out'. A pre-Sinatra Ava Gardner got in early and arranged a date, even offering to pick up the young man at Ciro's. She arrived first and was at the bar when he walked in. 'Have a drink?' she offered. 'I don't drink', he replied. 'Have a cigarette?' she said. 'I don't smoke', he answered. Ava was apparently a quick judge of character. She looked him up and down, then gathered up her purse and smokes. 'I'll bet you don't fuck either', she cracked and headed for the door.