B – LIST BEAUTIES OF THE STUDIO SYSTEM'S FINAL DAYS – PT 1
For the final 15 years of the studio system, from the end of World War Two until about 1960, an enormous number of starlets were signed to five and seven year contracts by the large and small lots. Many did not make it to the big screen before their options expired, a few went on to become major players and the rest had their moment (or moments) in the sun before age, disillusion and lack of opportunity drove them from the industry. This was the 'B-List' and its inhabitants decorated scores of second features, (mostly westerns, war pictures and sci-fi), in the period mentioned, as they strove to be noticed by a public that, more often than not, vaguely recalled some of the faces but rarely the names.
I thought it might be of interest to take a look at a selection of these ladies who popped up in Saturday morning matinees, in westerns (mostly), starring the likes of Audie Murphy, Joel McCrea, Rory Calhoun, Sterling Hayden and Randolph Scott, to name but a few. Many of these actresses participated in a kind of 'musical chairs', hopping from one of the above-mentioned star's vehicles to another, occasionally as leading ladies, but more often than not as decorative background. Every once in a while one would clamber out of the B-List and make it into the big time, albeit all too briefly in most cases. But a few went all the way. Virginia Mayo did it. So did Dorothy Malone, Joan Leslie, Donna Reed and Gloria Grahame. But it is the also-rans that I would like to focus on here. Here is the first group. I have listed one picture under each name in case you wish to see more of the lady featured.
JULIE ADAMS (1926 – )                       The Man From the Alamo (1953) opposite Glenn Ford                                                                                 
Fans of post-war westerns, sci-fi and film noir will recognise the face of Julie Adams immediately. If her name is less memorable, it might be because she has acted under three different ones. She commenced her movie career as Betty Adams in 1949, switched to Julia Adams in 1951, and finally settled on Julie Adams in 1955. Hailing from Waterloo, Iowa, she made over 30 pictures under one name or another between 1949 (when Universal signed her as a contract player) and 1960. Most of them were westerns and included The Looters where she met her second husband, actor Ray Danton in 1955.
Creature from the Black Lagoon       Bend of the River                              Julie and her husband Ray Danton
She probably thought her leading role in the successful Jimmy Stewart western Bend of the River (1952) might lift her over the top. But it didn't. Instead, she is undoubtedly best remembered today for her starring role in the classic 'monster' flick Creature from the Black Lagoon (1954). And it still bugs her a little. 'No matter what you do, you can act your heart out', she sighed, 'but people will always say, 'Oh, Julie Adams – Creature from the Black Lagoon.' And, for better or for worse, she is right. Julie is in her 90s now and enjoys a reputation as a bit of a social butterfly.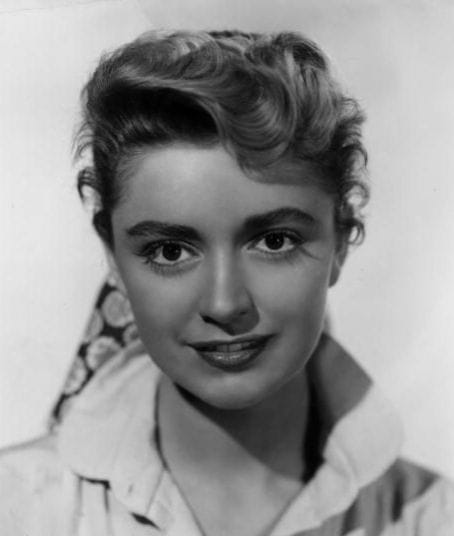 ANNA MARIA ALBERGHETTI (1936 – )                                                         The Last Command (1955) opposite Sterling Hayden    
Anna Maria was a talent. A real talent. Born in Pesaro, Italy in 1936 to a concert master father and pianist mother, she was singing with symphony orchestras by the age of six and, after her family moved to America, performing at Carnegie Hall at the tender age of fourteen! Not only a terrific singer, she was also extremely photogenic and not unlike her good friend Pier Angeli to look at. Paramount picked her up in 1950 and placed her into a couple of pictures that momentarily utilised her vocal talents. Mostly, however, she adorned westerns and fluffy romances that failed to draw on her extraordinary talents.
with Jerry Lewis in Cinderfella (1960)                            with her husband Claudio Guzman
This utter waste of her talent was never more evident than in the 1960 Jerry Lewis (so-called) comedy Cinderfella. Lewis called all the shots in his pictures and this one was no exception. The man's ego was positively boundless. The movie contained four songs and Anna did not get the opportunity to sing any of them. Why? Because Lewis sang all four himself. And we all know he could not sing to save his life. Disillusioned, she quit the movies and moved to Broadway and starred there for many years in many shows. In the new medium of television she reached millions of Americans via The Ed Sullivan Show where she appeared a near-record 53 times! In 1964 Anna wed director Claudio Guzman and bore him two children before their divorce in 1974.
LOLA ALBRIGHT (1924 – 2017)                                                 Pawnee (1957) opposite George Montgomery                                                                                                                
Fans of the fifties private eye series Peter Gunn will have fond memories of the sultry, smoky-voiced nightclub singer Edie Hart played by Lola Albright. Indeed, in spite of her 98 screen credits from 1947 to 1984, Lola is scarcely remembered for anything else. Hailing from Akron, Ohio, her stunning beauty caught the eye of talent scouts almost as soon as she arrived in Hollywood. If you look closely you can see her as a hat model in the Garland/Astaire musical Easter Parade (1948). A year later she caught the public's eye in a showy role in Champion, the picture that put Kirk Douglas on the map.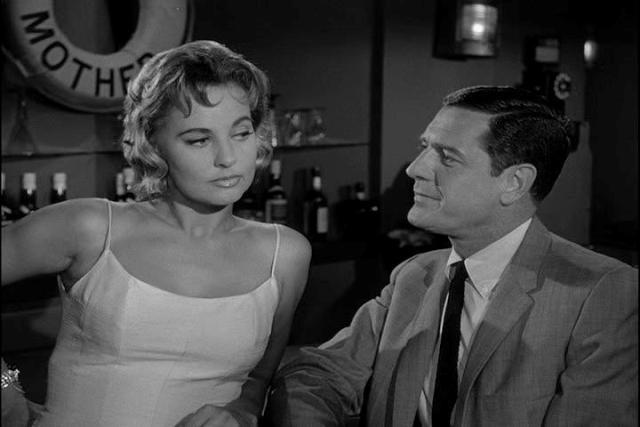 in Peter Gunn with Craig Stevens                                        with husband Jack Carson
Popular actor Jack Carson noticed her too and they began dating. He became the second of her three husbands in 1952. The union ended in divorce six years later because he wanted a stay at home wife, while Lola still wished to pursue an acting career. A gentleman named Bill Chadney appeared in 42 episodes of Peter Gunn as Emmett the piano player. In 1961 he and Lola were married but divorced in 1975. This wonderfully alluring woman lived to the ripe old age of 92, passing away in 2017 four months short of her 93rd birthday.
MERRY ANDERS (1934-2012)                                                                                             The Dalton Girls (1957)                                                                                                                         
Merry Anders was born Merry Helen Anderson in Chicago, Illinois in 1934. Moving with her mother to Los Angeles, she landed a job as a model with a small agency in 1950, replacing their top model, Tippi Hedren, who had moved on to TV modelling in New York. 20th Century Fox signed her to a seven-year contract in 1951 and gave her miniscule parts in Titanic (1953) and How to Marry a Millionaire (1953). The second in command at Fox suddenly fired her and she cried for three days and nights before deciding to try her luck as a freelance actress.
Lori Nelson, Merry & Barbara Eden in TV's
How to Marry a Millionaire
She married casting director John Stephens in 1955, but he was a violent man and they divorced. Ironically, it would be Stephens who introduced her to her second husband thirty-one years later. In 1958 she joined Barbara Eden and Lori Nelson as the three man-eaters in the NTA Film Network's series How to Marry a Millionaire. By the late sixties her phone had stopped ringing and jobs dried up. She even accepted a tiny 'glorified extra' role in Airport (1970), but after a final guest appearance on TV in Gunsmoke in 1971 she called it a day. After 25 years as a Customer Relations co-ordinator with Litton Data Systems she passed away in 2012 aged 78.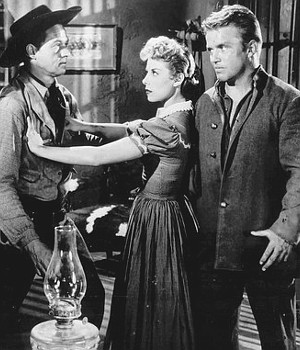 ADELLE AUGUST (1934 – 2005)                        Apache Ambush (1955)                           Bill Williams, Adelle and Richard Jaeckel
Eighteen year-old beauty Adele Slayburgh was named Miss Washington in 1952. Columbia Pictures signed her to a contract in 1954, along with three other up and coming youngsters – Kathryn Grant, Vincent Edwards and Kerwin Matthews. The studio changed her name to Adelle August and threw her into a couple of pictures as decoration. She was beautiful and personable, yet her entire career lasted just one year! In that short space of time she racked up 14 credits, half of them in movies, but she appears to have lost interest after playing Richard Jaeckel's wife in Apache Ambush (1955). After being squired around town by David Tebet, the ex-husband of Nanette Fabray, she surprised everyone by marrying tobacco magnate Leonard G. Rogers in 1959. Adelle had already retired from the screen and was content to live out the remainder of her life in Palm Springs with her husband.