GOLDIE HAWN (1945 – )                          
Goldie Hawn is a direct descendent of the youngest signer of the Declaration of Independence, one William Rutledge. If you have seen the musical 1776, Rutledge is the southern gentleman whose portrayer sings what is arguably the best song in the picture – Molasses to Rum. Mr. Rutledge went on to fight courageously in the Revolution and to become Governor of South Carolina following the break from Great Britain.
Goldie arrived in this world in 1945, eight years after her sister Patti. Their mother quickly enrolled both girls in dance school as soon as they could walk. Goldie took to it like a duck to water and by the age of just 17 she even opened her own establishment – Goldie's Dancing School. When she closed down her school and went searching for dance opportunities, her travels took her to South America at first and then to New York City.
Al Capp
When she heard of auditions for a show being prepared by world famous cartoonist Al Capp of Li'l Abner fame, she eagerly agreed to meet him. 'The cartoonist was there, and he was dressed in this dressing gown', Goldie recalled. 'He asked me to turn around, show him my legs, and put some beads in my mouth. Then he asked me to sit down on the couch next to him.' He then opened his robe and exposed himself. Goldie was at first infuriated and then hysterical. Capp's response? 'Go back home and marry a Jewish dentist', he sneered, because you'll never get anywhere.'
Desperate for work as a dancer, Goldie was reduced to taking jobs as a go-go dancer in sleazy joints like New York's 'Dudes 'n' Dolls' and the 'Peppermint Box' in New Jersey, where she danced in 'pasties' for ten dollars a night. 'There was this man sitting at the bar looking at me', she told her biographer. 'And I thought he was being sympathetic. Well, he wasn't. At one point, I turned around and he had pulled out his cock and was jerking off!' A stint in the chorus line at the Desert Inn Hotel in Las Vegas was less sleazy, but brutally hard work. The girls were required to dance 'at fever pitch or be fired', from ten in the evening until five am; four 90 minute shows a night.
'LAUGH-IN'
Things turned around completely in 1968, however, when she was selected as a cast member for a new, revolutionary TV show to be called 'Laugh-In'. She walked into the audition and uttered a solitary word: 'Hello'. Dick Martin and producer George Schlatter looked at each other and said in unison, 'She's in.' Of course, there was a tremendous amount of rehearsals, practice and polishing for all the cast, Goldie included, before the show went to air. 'Laugh-In' may have looked spontaneous and mostly ad-libbed, but it was not. Each one-hour program required sixteen hours of concentrated effort to create. It was all high pressure but it turned the unknown Goldie into a global star overnight.
with her ist husband Gus Trikonis
About a year earlier she had fallen in love with a choreographer-actor named Gus Trikonis. He was Greek traditional, a firm believer in the man of the house being the main provider. At first that did not pose a problem because neither he nor Goldie was going anywhere at all in their careers. All that changed dramatically with the incredible success of 'Laugh-In' and, in particular, Goldie's part in that success.
Cactus Flower – with Ingrid Bergman                                      and Walter Matthau
Her 'Laugh-In' exposure resulted in a $50,000 payday for her first movie role. Cactus Flower saw her cast alongside Walter Matthau and the legendary Ingrid Bergman in her debut. The notoriously difficult Matthau was soon putty in her hands. 'She warms your insides like a bowl of porridge', he told reporters. 'She has talent.' Ingrid was not quite so enthusiastic, describing her as 'just too adorable', her tongue perhaps planted in her cheek. That aside, Goldie was delighted to be Oscar-nominated for her performance and astonished to hear her name called as the winner.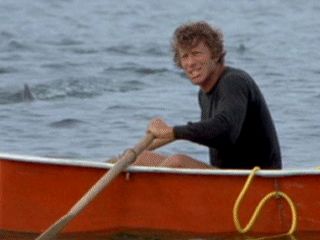 Bruno Wintzell                                         Ted Grossman about to be shark food in Jaws             with husband Bill Hudson
'It was Goldie's career that broke us up', Trikonis concluded. 'She was getting all the phone calls and the attention, and I found that difficult to deal with.' The break-up was peaceful enough and there was no immediate divorce. They simply went their separate ways. During the making of The Girl from Petrovka (1974), Goldie embarked on an affair with Swedish actor Bruno Wintzell. It was a 'lust' thing that ended with the end of filming. Stuntman Ted Grossman provided more of the same. And there were a few others until she met Bill Hudson when he was seated next to her on an airliner bound for Los Angeles in 1975. Four months later she was pregnant with his child.
Goldie's best role? Private Benjamin
Aware of Goldie's delicate condition, Trikonis chose that moment to demand a $75,000 lump sum settlement in exchange for a final decree of divorce. Considering she had virtually supported him throughout most of their marriage it was a monstrous demand. She agreed to it and, in July 1976, eight months pregnant with their son Oliver, she wed Hudson. In June 1979 their daughter came along – the future star Kate Hudson. By then Goldie was in the process of setting up Private Benjamin, both as its star and producer, while her husband's career was well and truly on the skids. So was their marriage. When the production moved to Paris for the final sequences she dropped into a very physical relationship with French actor Yves Renier. Hudson read about it and filed for divorce in August 1980. It would become official in 1982.
Yves Renier, Goldie & Steven Spielberg roller-skating      Chevy Chase & Goldie – relationship?
More rumours abounded when Goldie joined Chevy Chase again to make Seems Like Old Times (1980). The press were convinced the couple were renewing a romance that may (or may not) have originated on the set of Foul Play back in 1978. Once filming had finished she grabbed a flight to Africa for a few weeks' holiday away from the children. It seems she spent much of that time, not in Africa, but in Europe with Renier. Tom Selleck was seen regularly on her arm after her return to America, but she inevitably found her way back into the Frenchman's bed. Even when she belatedly learned that Renier was, in fact, a married man, it did not faze her in the slightest. She continued to sleep with him off and on until 1983. That was when she met Kurt Russell when he auditioned for the male lead in Swing Shift.
Goldie & Kurt in Swing Shift                                          with daughter Kate Hudson
'I'll be honest', said Kurt later with a laugh. 'I was first attracted to Goldie because she had a great behind.' He took her dancing at a local branch of the Playboy Club and, when the dancing was over, they broke into Goldie's Pacific Pallisades home which was temporarily closed for renovations. 'So, we were on the floor of the master bedroom, and the next thing we knew, there were flashlights shining in our eyes', recalled Kurt. 'A local security company had come to the house to check to see if there had been a break-in. We were lying there naked, and all of a sudden we just started laughing.' Goldie called Renier and told him she had fallen for someone else. Kurt broke it off with his current partner as well. And they have been together ever since.