HAYAKAWA, Sessue (1889 – 1973)                      
Other than die-hard fans of The Bridge on the River Kwai (1957), very few modern movie buffs would even have heard of Sessue Hayakawa, much less be familiar with his career. His performance as Colonel Saito in David Lean's masterly film made him known to millions around the world over half a century ago, but silent movie aficionados would remember him as a sex symbol of those bygone days.
at the height of his silent era success
A native of Chiba, Japan, he arrived in this world in 1889, the son of a provincial governor and an aristocratic mother of the Samurai class. A hearing defect prevented him from becoming a career naval officer, so he chose the stage instead. His theatrical company toured the USA in 1913 and film producer Thomas H. Ince offered him a contract. He starred in The Wrath of the Gods in 1914 and married his co-star, Tsuro Aoki, that same year. Despite his many extended absences they remained as husband and wife until Tsuro's death in 1961.
Thomas H. Ince
During his first stint in America (from 1911 to 1923) he attended the University of Chicago where he played quarterback for the football team. In one sensational incident he raised the ire of both the opposition and his own team when he brought down an opponent with the use of jujitsu!
Tsuro Aoki
The year after his marriage Sessue starred in C B DeMille's classic The Cheat, and it turned him into a superstar of the silent screen. Not only did the script call for him to seduce his Caucasian co-star Fannie Ward, he also branded her as his 'property. Miscegenation, (sexual contact between members of different races), was considered scandalous even before the Hays Office and censorship reared their pointed little heads. Consequently, the picture caused a sensation. Women across America, regardless of their cultural origins, fantasized over this new Japanese heart-throb. Sessue was hot to trot and suddenly became one of Hollywood's highest paid actors.
with Fannie Ward in The Cheat (1915)
The conclusion of the First World War saw a lot of Asian immigration to the USA, at a time when work was scarce. Americans bitterly resented having to compete with foreigners for jobs and Hayakawa's popularity abated quickly. His first movie career was over by 1922 and he and Tsuro hastened back to their homeland, hoping to rediscover cinema fame there. But it was not forthcoming, so Sessue re-located to France. He made a couple of successful pictures there and another in the UK before taking another crack at America.
in The Beggar Prince (1920)
It was 1931, sound had arrived, and his thick accent was quickly deemed unsuitable. There was also increasing anti-Japanese sentiment throughout the thirties, so he again chose to return home. And again he went from Tokyo to France where he made the geisha melodrama Yoshiwara in 1937. The Second World War erupted while Sessue was living in Paris. He was still there when the city was occupied by the Germans in 1940. He joined the French Resistance and aided Allied fliers to escape the country. When asked years later how he explained his decade long absence to his wife, he replied, 'She dare not ask.' Following the war, he took his third tilt at Hollywood. He played character actors in Tokyo Joe (1949) and Three Came Home (1950). His performance as Colonel Saito in 1957 in The Bridge on the River Kwai garnered him an Oscar nomination. Once more he was back on top in Hollywood and continued to act until his retirement in 1966. He then went home to Japan and became a Zen Buddhist monk who occasionally gave acting lessons.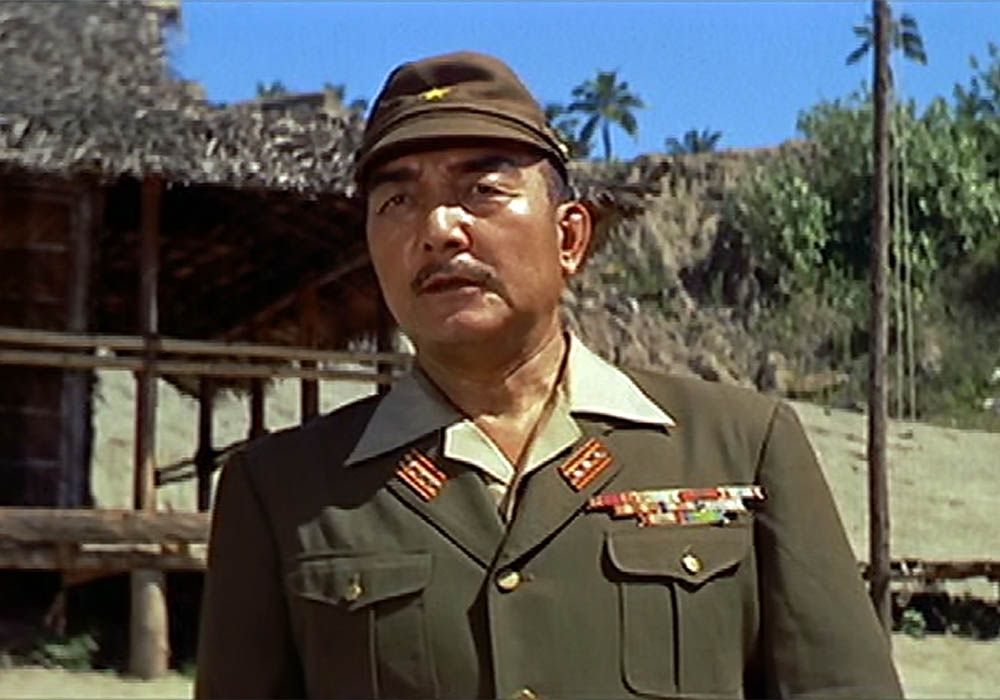 as Colonel Saito
Back in the silent era Hayakawa played the Hollywood superstar to the hilt. He purchased a gold-plated Pierce Arrow and even hired liveried footmen to accompany it. When another superstar, Roscoe 'Fatty' Arbuckle, went out and bought an identical vehicle, Sessue promptly donated his no longer 'one of a kind' automobile to the Long Island Fire Department. He and Tsuro often hosted lavish parties in the twenties, luncheons for up to 150 guests, sit-down dinners for 250 and buffet suppers for as many as 900 people at a time! Their home was built in the style of a French castle no less.
When we consider that he was paid the staggering sum (for 1919) of $200,000 for The Tong Man alone, it is not difficult to believe that the Hayakawas had money to burn. From 1918 to 1921 he produced 23 films and netted $2 million per year from them, not counting his acting salary or that of his wife. It may be difficult to believe today, but Hayakawa's fame once rivalled that of Douglas Fairbanks, Charlie Chaplin and William S. Hart.
Ruth Noble makes headline news in 1929
In 1929 a New York actress named Ruth Noble gave birth to a son by Sessue. The boy was briefly named Alexander Hayes until Sessue and Tsuro decided to 'adopt' the boy. They changed his name to Yukio and took him to Japan to be educated and raised. Miss Noble tried hard to pevent her son being taken out of the country, but it was too late. She complained to the press that she had been tricked into signing papers. Maybe she was. The Hayakawas later had two daughters of their own.
Just before Prohibition took effect in 1920, Sessue stock-piled an enormous quantity of alcohol to fuel his parties for years. An inveterate gambler, he once lost a million dollars in a single evening at Monte Carlo! He simply shrugged it off. The ban on miscegenation was not so readily ignored, however. He resented having to always play 'villain lovers' when white heroines were involved. When offered the lead in The Sheik in 1918, he opted instead to start his own company. Another 'alien', Rudolph Valentino got the part and it immortalized him. In 1949 Sessue lamented, 'My one ambition is to play a hero'. But it was not to be. His 20 or so films for Famous Players saw him portray the villain every time, compelled to relinquish the girl to men of 'proper' race. For that reason his films were not popular in Japan. How could they possibly be? He was forever forced to portray Japanese men as cruel brutes and his countrymen (and women) could never forgive him for that.
Sessue Hayakawa experienced the euphoria of being a Hollywood superstar sex symbol being paid enormous amounts of money over a lengthy period. While his countrymen battled through the horrors of World War Two, he enjoyed six years of high living in Occupied France, safe from the Nazis by virtue of his Japanese passport. In short, he led a charmed life through two world wars and emerged triumphant and safe. He was a gambler, a generous party host, a ladies' man and a fine actor. His only real regret, and it was probably a genuine one, was that he could never portray a Japanese man in a positive light. Even his most memorable role in The Bridge on the River Kwai saw him playing a sadistic commandant of a Japanese Prisoner of War camp. He never did get to play the hero.