CARRY ON UP THE JUNGLE (1970)
Joan Sims and Frankie Howerd in Carry on up the Jungle
By now the regulars in the cast were starting to have delusions of grandeur. Jim Dale turned down the role of the Jungle Boy because he felt the dialogue he was expected to deliver was mostly grunts and gibberish. Terry Scott was cast instead. After Kenneth Williams refused the lead role of Professor Tinkle because shooting clashed with his TV show, he was offered the cameo role of Walter Bagley, but he knocked that back as well because it was too small for a player of his importance. Charles Hawtrey ended up doing it.
CARRY ON LOVING (1970)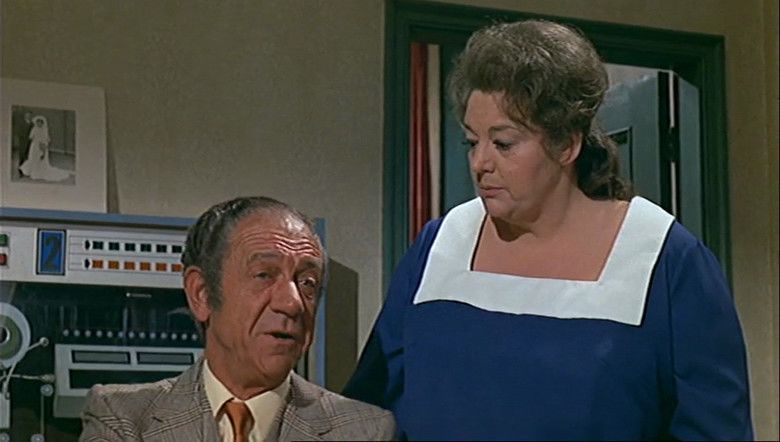 Sid James and Hattie Jacques in Carry on Loving
This picture is possibly the worst in the entire series, yet it finished 1971 as the fourth highest grossing movie in Britain, evidence that the 'Carry On' gang were still incapable of losing money with their efforts regardless of the quality of the scripts, direction or acting.
CARRY ON HENRY (1971)
Sid and Barbara at the height of their off-screen romance
This movie appears to have been re-named Carry on Henry VIII in the USA. Evidently, someone thought Americans might not be able to figure out who Henry was unless they had some help. Sid James played him and came in for a huge amount of criticism for his sexist performance and (especially) his famously 'dirty' laugh. He had been portraying all his characters in just that fashion for 21 films in the series, so why it took until now for the critics to complain is a mystery in itself. The lovely Margaret Nolan plays 'a buxom lass' here, the second of her six 'Carry On' films. Sid wore the same coat worn by Richard Burton in Anne of the Thousand Days (1969).
CARRY ON AT YOUR CONVENIENCE (1971)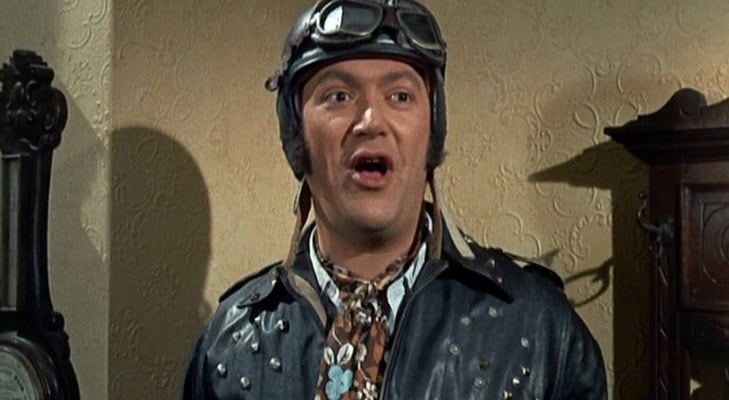 Bernard Bresslaw
This, the 22nd in the series, was the first 'Carry On' film to lose money at the box-office. It eventually recovered costs (in 1976) with its TV deals and distribution rights, but its anti-union theme was a gross misjudgement by the film company. Surely they were aware that the majority of fans of the series were working class, yet they went ahead with this rubbish anyway. A movie about a strike in a toilet factory (W.C. Boggs' Lavatory Factory, would you believe?), and a string of lavatory jokes was always a pathetic idea, but to make the union the butt of most of the jokes was never going to appeal to a working class clientele. Indeed, at the time of its release many fans considered it to be a pro-Conservative propaganda film at a time when working class people in Britain were striking over pensions and the minimum wage.
CARRY ON MATRON (1972)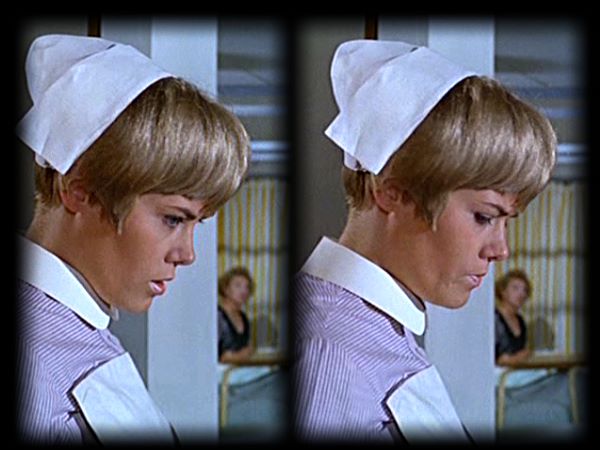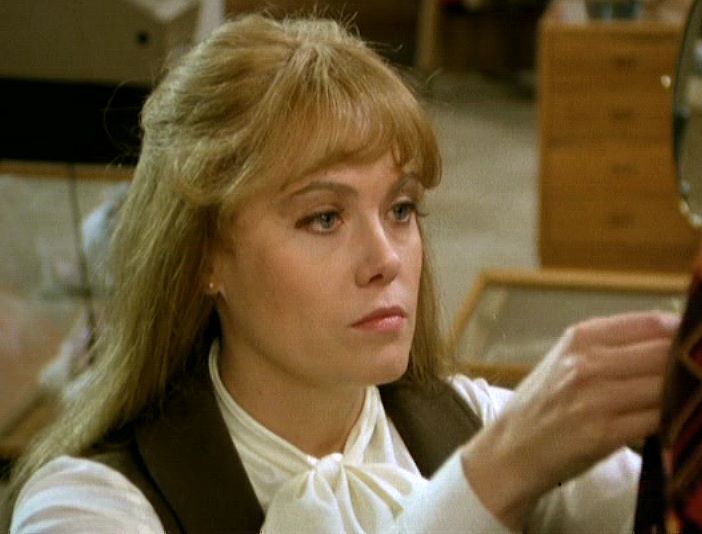 Wendy Richard as Miss Willing                                     And as Shirley Barnes in Are You Being Served?
There was nothing memorable about this, the 23rd film, in the series although Wendy Richard made an appearance as Miss Willing (just two lines of dialogue). She was about to commence 13 seasons as Miss Shirley Barnes in the hit television series Are You Being Served? Wendy passed away from breast cancer in 2009 aged 66. On the set of Carry on Matron the seemingly obnoxious Kenneth Williams caused a stir when he dropped his trousers and 'mooned' a group of visitors one day.
CARRY ON ABROAD (1972)
Hawtrey's last 'Carry On' film.
When this offering premiered on UK television in 1978 it attracted a record eighteen million viewers, the most viewers of any show to that time.  For the life of me I cannot understand why. It was just more of the same from the crew. This was the final movie appearance of Charles Hawtrey. His alcoholism was out of control and he had virtually become unemployable. It was necessary to sober him up with cups of coffee every time he was due to appear before the cameras. The crew finally ran out of patience with him and he was fired at the completion of filming. Hawtrey would hit the headlines on 5 August 1984 when either he or his much younger male bed-mate left a cigarette burning on a sofa at Charles' home and the place burnt down. Four years later he died after refusing a necessary double amputation of his legs to prolong his life. He was 73.
CARRY ON GIRLS (1973)
An air of desperation was beginning to creep into the 'Carry On' pictures. This was the first one to feature neither Kenneth Williams (stage commitments) nor Charles Hawtrey (retired/fired), so more risqué jokes and nudity were substituted. Margaret Nolan ('Dink' in Goldfinger back in '64) has a nude scene on Brighton Beach and she and series regular Barbara Windsor have a hotel fight sequence in their bikinis. Ho-hum. It was also decided to only make one film a year instead of the usual two from then on. The writing was on the wall.
CARRY ON DICK (1974)
The oldest Dick Turpin in movie history
This one sees 61 year-old Sid James playing highwayman Dick Turpin (who was 33 when he was hanged in 1739, by the way). Because Sid was playing a dual role (he was also a man of the cloth), the government of South Africa banned the picture in its entirety. They deemed a priest/highwayman to be anti-Christian! It would be Sid's final film. He and little Barbara Windsor were intimately involved off the screen by now. Previously, she had a penchant for gangster-types and was probably intimate with two Kray brothers. She certainly had a one-night-stand with Reggie Kray, the brother who would be incarcerated for life for killing Jack 'the Hat' McVitie, yet another gangster. Reggie brutally stabbed him repeatedly in the face chest and stomach in 1967 in front of witnesses. Barbara also married another gangster, Ronnie Knight, but her three-year affair with James wrecked the marriage. She still dreams of becoming Dame Babs, but three husbands, two Krays and five abortions would suggest that ain't gonna happen.
CARRY ON BEHIND (1975)
Elke Sommer and Kenneth Williams in Carry on Behind
Regular stars of the series, Sid James and Kenneth Williams, were paid around £5,000 per movie, so noses were seriously put out of joint when Elke Sommer picked up £30,000 for Carry on Behind. Notably absent from the cast were Sid and Barbara Windsor. He was in Australia doing a show and she was in New Zealand touring with 'Carry on Barbara'. The general feeling was that they had been fired from the picture because of their much-publicized off-screen affair. More likely, they were simply getting too old for their characters. For most of the picture Miss Sommer was bra-less, probably a contractual requirement of some kind.
CARRY ON ENGLAND (1976)
Judy Geeson in Carry on England
Once again Sid James was unavailable due to stage commitments as was Kenneth Williams. Sadly, James died from a heart attack on stage at the Sunderland Empire Theatre a few days before filming commenced. One of the most expensive of the 'Carry On' pictures, Carry on England was also one of the worst, financially and artistically. The focus was on more bare flesh than before which saw Tricia Newby replace Carol Hawkins who objected to the excessive nudity. Surprisingly, the talented (and beautiful) Judy Geeson lowered her standards and featured in this rubbish. Her real-life sister Sally had appeared in three previous entries. The picture was so bad that some cinemas withdrew it from their screens after just three days.
THAT'S CARRY ON! (1977)
Inspired by the success of MGM's 1974 compilation That's Entertainment, the producers decided on a compilation of their own. Introduced by Barbara Windsor and Kenneth Williams, this offering pieces together the best bits from 28 previous 'Carry On' features. Only the disastrous Carry on England is overlooked.
CARRY ON EMMANNUELLE (1978)
The first thing any fan of the raunchy 'Emmanuelle' movies will notice is that the title here has an extra 'n' in Emmannuelle. That was done to avoid any copyright problems with the originators of the other franchise. The picture was churned out in less than a month – and it shows. It is woeful, a witless, crude, poorly acted pile of junk that even the regular cast members sleep-walked through. I never much liked the 'Carry On' films yet, compared to this one, the others are incredibly witty and funny. That is how bad this picture is!
CARRY ON COLUMBUS (1992)
Jim Dale as Columbus
This final 'Carry On' was almost as bad as the penultimate one fourteen years earlier. And no wonder. Writer Dave Freeman was given just ten days to write a script completely from scratch and scarcely any of the regular cast members were available (or alive for that matter) to perform in the thing. Sid James, Charles Hawtrey, Kenneth Williams and Hattie Jacques were all dead and Frankie Howerd died just before shooting was about to begin. Kenneth Connor refused to be lumbered with a bit part as his farewell to a series in which he had starred for decades. Barbara Windsor described the script as 'crap' and opted to do end-of-pier theatre instead. Bernard Bresslaw and Joan Sims were unwilling to participate, so that left just Jim Dale. In his memoirs Jon Pertwee wrote that he thought he was being offered a part in Ridley Scott's 1492, although I find that difficult to believe. As poor as this picture undoubtedly is, it actually made more money than the other two 'Columbus' movies released that year (Christopher Columbus: the Discovery and 1492). Even so, it sounded the death knell on a series that had long since outlived its appeal.