CARRY ON COWBOY (1965)
Margaret Nolan in Carry on Cowboy
Voluptuous Margaret Nolan makes the first of her six 'Carry On' films here playing Miss Jones. Not only was she beautiful, but she also showed a genuine flair for comedy. James Bond fans will recall her as Dink in the opening scenes of Goldfinger (1964). She was also 'the Golden Girl' we see in the opening credits of that movie. Regulars Bernard Bresslaw and Peter Butterworth get their first real runs in this 'British western'. Butterworth is a man with an interesting background. He was in the British Navy during WW2 and was aboard an aircraft when it was shot down over Europe and he was taken prisoner by the Germans. Whilst in a POW camp he took part in an escape that was later made into a movie titled The Wooden Horse in 1950. Without disclosing his involvement in the real escape, he auditioned for a part in the picture but was rejected because he 'did not look heroic or dashing enough' to be convincing. The stagecoach scene was shot in Surrey where the ground was wet and muddy, so a crewman sat in the coach with a powder gun, giving the impression that dust was flying from the horses' hooves when, in fact, they were kicking clods of mud in all directions.
CARRY ON SCREAMING (1966)
Jim Dale in Carry on Screaming
Sid James was ill and had to be replaced in the lead. Harry H. Corbett landed the job and could later boast that he was part of one of the biggest and most popular films of 1966. He found fame playing Harold Steptoe in the popular TV comedy series Steptoe & Son (1962). Harry was paid 12 thousand pounds, the most anyone to that time had been paid for a 'Carry On' picture. Carry on Screaming was not only one of the most successful of all the 'Carry On' films, it was also the longest, running for 92 minutes. The plot was anything but original. It was based on the Vincent Price hit House of Wax (1953).
CARRY ON… DON'T LOSE YOUR HEAD (1966)
Jim Dale, Charles Hawtrey and Sid James in Don't Lose Your Head
Joan and Kenneth Williams embarked upon a three-day feud when he insulted friends of hers who had been invited onto the set as guests. French beauty Dany Robin portrays Jacqueline here. Three years later she married Sid James' agent. She told of Sid staying overnight at her home, while her husband was away, and twice climbing uninvited into her bed. The bit part (uncredited) of the messenger is played by Nikki Van der Zyl, a German actress whose voice was used (also uncredited) for several Bond girls. She dubbed Ursula Andress and Eunice Gayson in Dr No, Shirley Eaton in Goldfinger and Claudine Auger in Thunderball. She even dubbed Raquel Welch's grunting in the 1966 film One Million Years B.C. This was the first 'Carry On' picture produced by Rank. Because of legal issues they were not permitted to use the 'Carry On' prefix until much later. Follow that Camel would be the second feature in the same situation until both were eventually given the green light and the prefix was added.
CARRY ON… FOLLOW THAT CAMEL (1967)
Phil Silvers (centre) in Follow that Camel                                        Bernard Bresslaw as Abdul Abulbul
American comedian Phil Silvers of 'Bilko' fame was brought in and given top billing. He suffered from short memory loss during filming and had to have his lines displayed on boards behind the camera to assist him. Kenneth Williams publicly rebuked him on the set and later in his personal diaries. Silvers replaced Sid James who was unavailable because of commitments to his TV show George and the Dragon and was paid a lot more than the regular stars of the 'Carry On' team, which created a great deal of animosity on the set especially from Williams. Jim Dale accidentally dropped his rifle on Williams' foot in one scene, causing him to limp for the remainder of his scenes. Dale swore it was accidental but Williams insisted in his autobiography that it was deliberate. The camel used in the film came from Chessington Zoo and had never before walked on sand, so corrugated material covered in sand had to be laid down for it to walk on. The Sahara scenes were shot on Camber Sands. Filming was interrupted at one point when it snowed. During rehearsals the camel bit Jim Dale on the leg. Producer Peter Rogers hit it with an umbrella which infuriated its owner.
CARRY ON DOCTOR (1967)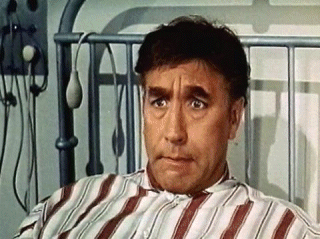 Frankie Howerd in Carry on Doctor
Aware that Don't Lose Your Head (1966) and Follow That Camel (1967) had sported guest stars, yet returned the least amount at the box-office of any of the 'Carry On' pictures, the producers went back to the tried and true formula of including all of the regulars in this one. Even Sid James was cast despite still recuperating from a heart attack. That is why most of his screen time is in bed. There was also considerable wariness about casting two notoriously gay actors (Frankie Howerd and Kenneth Williams) in the one film, hence they rarely appear on screen at the same time. Carry on Doctor turned out to be the third biggest hit at the British box-office for 1968.
CARRY ON…UP THE KHYBER (1968)
Charles Hawtrey and Terry Scott in Carry on up the Khyber
This typically childish offering was the second biggest hit at the British box-office in 1969. In fact, many critics describe it as the best movie in the entire series! Personally, I found it just as annoying and predictable as all the others. Princess Margaret actually visited the set during filming and was shown a clip in which Sid James' character Sir Sidney Ruff-Diamond is writing a letter to Queen Victoria. Evidently, his opening words, 'Dear Vicky…' infuriated the princess. Joan Sims was equally unimpressed when Kenneth Williams loudly broke wind during their love scene and complained to the director about it.
CARRY ON CAMPING (1969)
Barbara Windsor in Carry on Camping
The premiere for Carry on Camping took place in Hull, England and queues stretched around the block to see it. Word had probably spread about Barbara Windsor's bra-popping scene. Her bra was supposed to be connected to a fishing rod and an elderly stage hand was to jerk it off at a given time. The man pulled too hard and Barbara found herself face down in the mud. Several takes were required before she was left cupping her bare breasts with her hands. When Matron grabs her arm away and exposes her bosom the yell we hear from Barbara is real. That was not supposed to happen. One cannot help wondering if that scene was responsible for Carry on Camping topping British box-office receipts for 1969, well ahead of Carry on…up the Khyber in second place.
CARRY ON AGAIN DOCTOR (1969)
Nurse Scrubba, now Mrs. Michael Caine.
Look for a nurse called Scrubba in one scene. She is being played by Shakira Caine, the future wife of Michael Caine. She is uncredited and it is one of only seven screen credits she has ever accumulated. Shakira was Miss Guyana in 1967 and finished third in the Miss World pageant that year behind Miss Peru. Caine spotted her in a Maxwell House coffee ad on TV and was all set to fly to Brazil to meet 'the most beautiful girl I have ever seen', when he was informed that she resided in London. They met, fell in love and have been married for the past 44 years.