There were 31 'Carry On' pictures all told. The first, Carry on Sergeant, reared its substandard head in 1958 and made money. The last, Carry on Columbus, was screened in 1992. They were all low budget servings of British music hall humour consisting of sexist jokes, remarks and plots, delivered by a British repertory company whose actors became household names in their own lifetimes. The acting was unmemorable, the scripts mostly drivel and the public loved them! Plans were started in 2003 to produce some new 'Carry On' features with all new casts, but (happily) these plans keep falling through. Even as recently as January 2017 new films were on the drawing board, but something always managed to kibosh the projects.
CARRY ON SERGEANT (1958)
Hattie Jacques and Kenneth Connor in Carry on Sergeant
The first 'Carry On' picture was supposed to be a 'one-off', but it returned the third highest gross of all features made in Britain that year, so plans were quickly made for a follow-up film. Many of the 'Carry On' regulars appear here for the first time. These include Charles Hawtrey, Kenneth Connor, Kenneth Williams, Terry Scott and Hattie Jacques. Shirley Eaton, the actress who would achieve fame when painted gold in the James Bond hit Goldfinger (1964), plays the sexy female lead. She would return twice more before Goldfinger elevated her status out of such features.
CARRY ON NURSE (1959)
Shirley Eaton in Carry on Nurse
The second film in the series sees the arrival of Joan Sims who would grace no fewer than 24 'Carry On' pictures, becoming the longest serving female member of the team. Shirley Eaton is back and playing Nurse Dorothy Denton. Future regular Bernard Bresslaw is uncredited here, but his feet and legs double for the especially skinny legs of Terence Longdon in a bathtub scene. This was the only film in the franchise that Jill Ireland appeared in. Carry on Nurse was the most successful of all the franchise's releases in the USA. Producer Peter Rogers went to each of the major players and told them he had just been signed to do four more features, so successful had the first two been, and would they be interested in taking a share of the returns from then onwards in lieu of a salary. They all opted for salary, a decision that cost each of them a fortune. In the future, whenever anyone complained about money, he simply reminded them of that fact.
CARRY ON TEACHER (1959)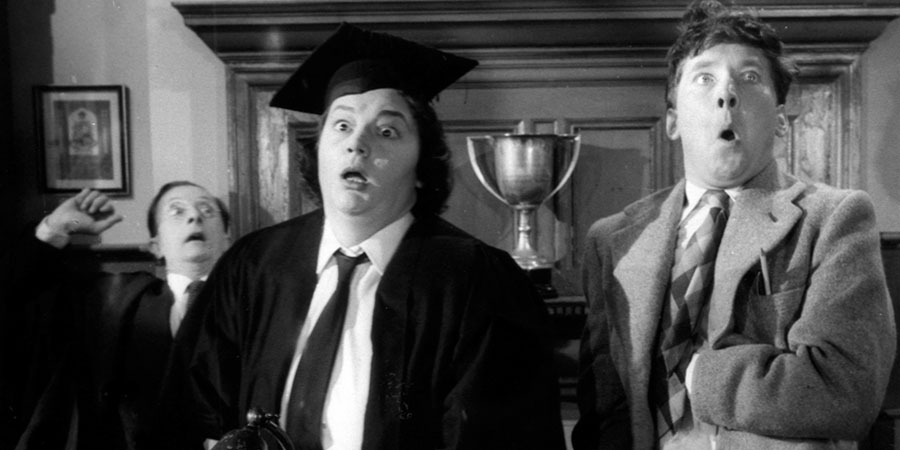 Charles Hawtrey, Hattie Jacques and Kenneth Williams in Carry on Teacher
The third 'Carry On' picture was as successful as its predecessors, although this time it was without the services of Miss Eaton. Interestingly, fourteen year-old Francesca Annis plays a schoolgirl here. Twelve years later Roman Polanski would select her to play Lady Macbeth in his version of the Bard's famous play. In it she would become the first naked, sleepwalking Lady Macbeth in history. Lovely Carol White also lands a smallish part in Carry on Teacher. She would tragically destroy her once beautiful body with drugs and booze and die at 48 in 1991.
CARRY ON CONSTABLE (1960)
Joan Sims, Kenneth Connor and Leslie Phillips in Carry on Constable
This picture, the fourth in the franchise, sees the debut in 'Carry On' films of Sidney James. It was also Shirley Eaton's third and final appearance. She was destined for greater things. Hawtrey, Williams, Connor and Jacques had so far popped up in all four. Leslie Phillips takes his third and last turn and would not reappear until Carry on Columbus 32 years later.
CARRY ON REGARDLESS (1961)
Kenneth Williams and Charles Hawtrey in Carry on Regardless
Sidney James suggested to the producers that they use Sally Geeson in a small role. She was the younger sister of Judy Geeson (To Sir with Love) and would later play Sid's daughter in the TV series Bless This House (1971-76) before leaving the industry to become a schoolteacher. In Carry on Regardless she has an uncredited bit as a 10 year-old girl at a toy exhibition.
CARRY ON CRUISING (1962)
Sid James in Carry on Cruising
This was the first of the series to be filmed in colour, an indication of the level of success the 'Carry On' pictures were experiencing. Joan Sims fell ill three days before shooting began at Pinewood Studio, so her lifelong friend Dilys Laye replaced her at the last minute. Another 'regular', Charles Hawtrey, experienced an attack of 'big-headedness' and walked out over the billing and the producer's refusal to put a gold star on his dressing room door! He would be back. The cruise ship S.S. Happy Wanderer was a studio mock-up. Distant views of the ship at sea were of the P & O cruise ship S.S. Oronsay.
CARRY ON CABBY (1963)
Amanda Barrie in Carry on Cabby
'Carry On' regular Jim Dale makes his debut in this the seventh film in the series. Hawtrey is back, but he could not drive a car, so studio staff gave him lessons. Kenneth Williams turned down the role of Allbright because he thought the script was inferior. The fact that all the 'Carry On' scripts were inferior appears to have escaped him. Norman Chappell replaced him. Bisexual actress Amanda Barrie makes the first of her two 'Carry On' appearances here. She would play Cleo in Carry on Cleo in 1964.
CARRY ON JACK (1963)
Juliet Mills, Kenneth Williams and Bernard Cribbins in Carry on Jack
Only three of the regulars, Hawtrey, Williams and Jim Dale are present in this outing. None of the regular women get a run. Surprisingly, Sir John Mills's daughter Juliet lowers her sights and standards considerably when she agrees to play Sally (in drag most of the time as a midshipman) in her one and only 'Carry On' appearance. Carry on Jack is a spoof on Mutiny on the Bounty, yet the producers (for some vague reason) wanted to call it Carry on up the Armada, but the British censors found that title objectionable. The ship is a frigate called HMS Venus. The movie is set in 1805, yet the frigate sinks five ships of the Spanish Armada of 1588! This is the 8th picture in the series and the second to be filmed in colour.
CARRY ON SPYING (1964)
Barbara Windsor on debut with Bernard Cribbins in Carry on Spying 
Barbara Windsor's first 'Carry On' picture. She plays Daphne Honeybutt. Hawtrey's character was originally to be called James Bind until the producers of the James Bond films threatened to sue. Eventually the character was changed to Charlie Bind. This was the last film in the franchise shot in black and white.
CARRY ON CLEO (1964)
Amanda Barrie and Sid James in Carry on Cleo
Carry on Cleo was shot on the abandoned Cleopatra (1963) sets left behind in London. The costume worn by Sid James is, in fact, the same one Richard Burton wore in that film. The most oft-quoted line from any 'Carry On' picture, ('Infamy, infamy, they've all got it in for me') is uttered by Kenneth Williams as Julius Caesar in this one. It is not an original line, having been taken from Jimmy Edwards' radio show some years back.  Amanda Barrie (Cleo) is back again and stark naked as she bathes in asses' milk. Later, she recalled sticking bits of paper over her nipples but they kept floating away. Joan Sims also returns, her first appearance since Carry on Regardless. Barbara Windsor was supposed to play the lead but had a brief falling out with the producers. She would not be cast again until Carry on Doctor in 1967. In fact, it might surprise fans to learn that she only made nine 'Carry On' pics altogether.