5          ERROL FLYNN (1909-59)
The name Errol Flynn is synonymous with promiscuity and hedonism. He only lived for 50 years, but he cut a swathe through Hollywood's women (and several men) that has rarely been rivalled. He ended up being an opium addict, his liver shredded by disease and his once devastatingly handsome looks long gone. But it was his sex life that the world followed with great interest, especially when he was charged with two counts of statutory rape in 1942. He was acquitted, but the headlining story gave birth to the 'In like Flynn' saying that became the man's catch-cry. One of the plaintiffs, Peggy Satterlee, is pictured below at Flynn's yacht.
Errol was a party animal – literally – and delighted in arranging sex romps for his male friends, complete with as many hookers and willing young starlets needed to satisfy his cronies. In the late thirties he dallied with the likes of Dolores Del Rio, Lupe Velez, Hedy Lamarr and Carole Lombard. But it was the decade of the forties, particularly during World War Two, that he had the time of his life. Exempted from the war for genuine medical reasons, he was left in the highly enviable position of being a handsome, charming movie star in an industry minus most of its male stars. He could virtually take his pick. And he did.
Errol and Lily Damita           wife #2 Nora Eddington              and #3 Patrice Wymore
There were reasonably lengthy relationships with Shelley Winters, Ann Sheridan, Virginia Hill, Julie Bishop and Greer Garson, but lengthy relationships were never of great interest to Errol, although he did marry three times. Actress Lili Damita was his first wife (1935-42), but it is generally agreed that she was more or less his stepping stone into Hollywood. Wife number two was Nora Eddington whom he met during his statutory rape trial in '42. They wed in 1943 but divorced five years later. Nora understandably resented his insistence on bringing women home for sex. Patrice Wymore married him in 1950 and they were still husband and wife (but not living together) when he died in 1959. By then he was shacked up with a fifteen year old named Beverly Aadland.
Errol (50) and Bevery Aadland (15)
Lana Turner, Ida Lupino, Marlene Dietrich, Anita Ekberg, Linda Christian, Rita Hayworth, Joan Bennett, Veronica Lake, Tallulah Bankhead and Yvonne de Carlo all found their way into Errol's bed at some time or another. And these were just the movie stars. He also had affairs with socialites Doris Duke, Barbara Hutton and Gloria Vanderbilt, as well as Argentina's Evita Peron. Speculation continues to this day about whether or not he and his co-star in 8 movies, the lovely Olivia de Havilland, ever consummated their obvious mutual attraction. She is now over 100 years old and has almost always maintained they did not. Almost always.
Olivia de Havilland             Tyrone Power
Even today there are Flynn fans who refuse to accept that their hero was bisexual. He was. His affair with Tyrone Power was common knowledge in Hollywood. In fact, Ty ended it because Errol made no secret of it. Ross Alexander was a featured player in Flynn's first film Captain Blood (1935), and the two were certainly intimate. William Lundigan was another. Rock Hudson, Howard Hughes and writer Truman Capote may also have been his lovers, but definite evidence has never been uncovered.
4          FRANK SINATRA (1915 – 98
Frank Sinatra must surely be one of the most enigmatic of all movie stars. It appears that those who knew him either adored the man or despised him. Admirers claim he was a philanthropist who delighted in helping others, usually complete strangers, with anonymous donations of cash or services. They also describe him as a loyal and true friend they could depend on in times of trouble. His detractors, however, maintained he was impossible to work with, petulant, used to getting his own way, abusive and dangerous. I imagine that somewhere between the two assessments lies the truth. One thing they might all agree on, however, is that Frank was never dull and could be particularly affable and charming if he chose to be.
marriage to Ava 1951                          and to Mia Farrow 1966
He married four times, two of whom were actresses – Ava Gardner (1951-7) and Mia Farrow (1966-8). He also became engaged to dancer/actress Juliet Prowse during their on again – off again relationship from 1959 to 1975, and to Lauren Bacall in 1958. Frank may have dallied with young beauties Zsa Zsa Gabor and Hedy Lamarr, but the dates do not gel as far as I am concerned. Nevertheless, throughout the late thirties and the forties he seduced scores of Hollywood beauties – the likes of Lana Turner, Joan Crawford, Judy Garland, Marilyn Maxwell, Marlene Dietrich, Merle Oberon and scores more.
Juliet Prowse, Frank, Judy Garland                  and with Lauren Bacall
In the fifties, after he hit it big for the second time with his Oscar-winning stint as Maggio in 1953's From Here to Eternity, Frank found time for many of the greatest sex symbols of the age. Lovers such as Grace Kelly, Gina Lollobrigida, Marilyn Monroe, Angie Dickinson, Jeanne Carmen, Eva Bartok and Judith Exner-Campbell are all generally acknowledged by historians. And there was very little slowing down in the sixties either.
Anne Baxter, Natalie Wood, Anita Ekberg, Jill St. John, Irene Tsu, singer Keely Smith, Victoria Principal and Liz Taylor were intimates of 'Ole Blue Eyes'. So was the widow of JFK, Jacqueline Kennedy in 1975. America's First Lady, Nancy Reagan, enjoyed 'private time' with Sinatra at the White House in 1983, leaving instructions to staff to not interrupt 'under any circumstances'. Frank said he was intimate with his close friend, Shirley Maclaine, but she denies ever having any kind of sexual relationship with any member of the Rat Pack. Rumours have persisted that there were flings with Leslie Caron, Donna Reed, Jacqueline Bisset, Carol Lynley, Hope Lange and Tuesday Weld, but these may simply be just that – rumours.
Frank, Ronnie & Nancy
Former lovers have written of their affairs with Sinatra. The general feeling is that he enjoyed the chase and the conquest for their own sake. Once he had slept with a woman he quickly lost interest in her. It was not uncommon for him to express undying love, just to get a woman into bed, then send her on her way the next morning without apology or explanation.
3          CLARK GABLE (1901-60)
For over a decade Clark Gable was the King of Hollywood, at the box-office and in private. He could more or less take his pick of the stars and starlets, not just at MGM, but at any studio he chose. And he did, bragging in later years as he scanned the scores of glamour photos of MGM stars, 'Aren't they beautiful? And I've had every one of them.' It would be accurate to say that Gable was the original 'toy boy', long before the term was even coined. On Broadway and later in Hollywood he used older women to advance his career. And he did so until he reached the top. Then he discarded them.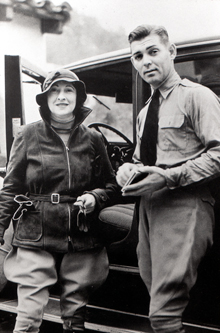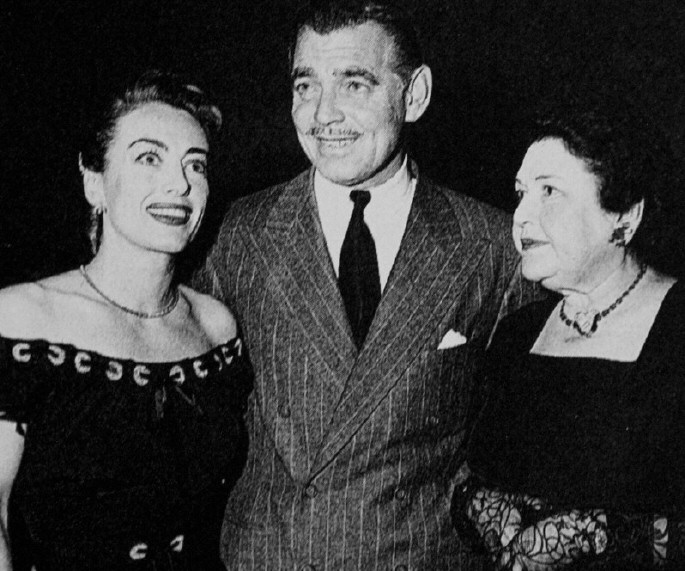 wife # 1 Josephine Dillon               # 2 Ria Langham           Crawford, Gable & Louella
Josephine Dillon was 15 years his senior and an acting coach. He married her in order to learn his craft. Then he used Jane Cowl, Pauline Frederick and Laura Hope Crews, all influential women much older than him, to enhance his Broadway career. When Hollywood called in 1930 and he needed someone with money he ditched Josephine and married Ria Langham. Biographers say he even allowed gay actor William Haines to fellate him in order to get himself introduced to director George Cukor. Gable was not gay himself, or even bisexual. It was just a means to an end. So was giving dumpy, influential columnist Louella Parsons a tumble every once in a while.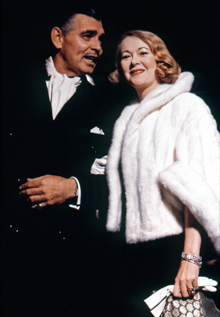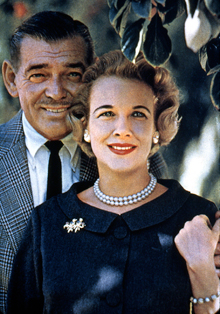 wife # 3 Carole Lombard                          #4 Sylvia Ashley   #5 Kay Williams
Nine years later Ria too had served her purpose. Clark had met Carole Lombard and wanted to marry her, so it was 'Goodbye Ria'. He was in the throes of cheating on his beloved with his co-star, Lana Turner during the shooting of Somewhere I'll Find You (1942) when Carole was killed in a plane crash. Heartbroken and guilt-ridden (Carole had known of Lana and was hurrying back home to nip the romance in the bud when her plane encountered a mountain), he renewed old relationships with Virginia Grey and Joan Crawford. Then he bedded Paulette Goddard and even proposed to the future Mrs Ronald Reagan, Nancy Davis, but she turned him down. By 1949 he was still wallowing in self-pity when he married Lady Sylvia Ashley. It was a disaster. Describing her as, 'a wildcat in the sack', he nevertheless could not abide her shopping sprees and her habit of changing his home around. They divorced in 1952.
Once he hit the big time Clark turned into a serial philanderer, a womanizer of Olympic calibre. While conducting his 1930-36 affair with Crawford he also managed to impregnate Loretta Young. She later adopted her own daughter by Gable and named her Judy. Sometime between 1934 and 1935 he serviced Claudette Colbert and Katherine deMille on a regular basis, and occasionally Jean Harlow, whenever he felt the need. After the studio ordered him and Crawford to 'cool it or else', he embarked upon a two-year relationship with Merle Oberon while seeing Virginia Bruce at the same time. One night stands with Joan Blondell, Mary Astor, Marion Davies, Norma Shearer, Ann Sothern and Lupe Velez were distractions, nothing more.
Loretta Young and daughter Judy 
The forties were an even richer hunting ground. After Carole's death he went on the rampage. Veronica Lake, Anita Colby, Marilyn Maxwell, Audrey Totter, Shelley Winters, Eleanor Powell and Hedy Lamarr all helped keep his mind off things. Several sources name Olivia de Havilland as another of his conquests, but that is open to question I feel. As the fifties came around and his legendary looks waned he still landed some great beauties. On the set of Mogambo in 1953 he slept with the ever eager Grace Kelly, but tired of her by the time shooting ended. It is believed he had by then tired of Ava Gardner who was also in the picture. Mamie van Doren and Martha Hyer provided a brief dalliance or two until he chose to wed and divorce Lady Sylvia. His last marriage (his 5th), to Kay Williams appears to have settled him down. Friends say he was happy for the first time since Carole's death. In fact, he was about to become a father when he fell victim to a heart attack at 59.
2          RICHARD BURTON (1925 – 84)
Acting friends who worked with them both were agreed that Richard Burton had to be the luckiest man in the world when Sybil Williams accepted his proposal of marriage in 1949. She was idolized by all who knew her. He would ditch her 14 years later for Elizabeth Taylor. Throughout those 14 years he slept with most of his leading ladies. They included Lana Turner, Claire Bloom, Maggie McNamara, Lee Remick and Mary Ure. Sybil was blissfully unaware that her new husband had met 17 year-old Claire Bloom the day after their wedding, fell in love with her (or so he said), then bet a mate a pint he could take her virginity. Which he did. At one time he was somehow sleeping with Sybil, Claire, his other co-star Mary Ure, 19 year-old Susan Strasberg, and a couple of pretty extras!
Ricard & Sybil                    with Claire Bloom                               and Jean Simmons
He even bedded Jean Simmons, the wife of his close friend Stewart Granger! And his philandering continued after he married Liz. In fact, he married her twice. In the interim between the two he became engaged to Princess Elizabeth of Yugoslavia, but the wedding was eventually called off. In 1959 he made The Bramble Bush for Warners and was soon sleeping with Angie Dickinson and a beautiful starlet named Barbara Rush. Angie's marriage broke up because of their affair. So did the marriages of a dozen Hollywood executives who discovered their partners had been seduced by Burton. Before he even met Liz he managed to work his way through nearly all 20 chorus girls in the stage production of 'Camelot'.
with Liz Taylor                                     and Genevieve Bujold
His co-star in Anne of the Thousand Days (1969), Genevieve Bujold ended up in his bed, even though he openly derided her ability as an actress to the press and everyone else. Raquel Welch and Nathalie Delon were serviced by him as well while he was married to Taylor.
Despite enjoying a marital sex life that most men would have died for, Burton cheated on all his wives with new bed-mates every other day. It has been estimated that between 1947 and 1975 he seduced around 2,500 women! And none of his wives ever caught him at it. Until his late forties the man had an insatiable desire for sex. It had nothing to do with love. Just desire. In 1954 he met 14 year-old Rosemary Kingsland at a café opposite the Old Vic. 'I think I was flaunting myself a bit', she said years later. Even so, Burton seduced and impregnated her. 'You'll have to get rid of it', he told her and paid for an abortion, claiming to friends later that it was 'every man's fantasy to make love to a schoolgirl'. Well, not every man's. He also revealed to an interviewer that he had tried having sex with a man, but did not enjoy it. Ill health finally put paid to his infidelities in his fifties.
# 1    WARREN BEATTY (1937 – )
The undisputed number one womaniser in Hollywood history just has to be Warren Beatty. Few would disagree. A recent biographer settled on the figure 12,775 as the actual number of sex partners he had over a 35 year period. Obviously, that is nothing more than a very rough estimate, but it indicates that Beatty has been a prolific player in the game of sex for much of his adult life. He married actress Annette Bening in 1991 and they are still together. Whether or not he has continued in the same vein since 1991 is anyone's guess, but even a Lothario of his calibre must slow down sooner or later.
Annette Bening
To even attempt to examine such a list of lovers is an undertaking that is somewhat pointless, so I will focus on some of Beatty's better known liaisons. Probably, his first high profile girlfriend who managed to stay with him longer than a few days would have been British beauty Joan Collins. They were together from 1959 until 1961, not that Beatty limited himself to Joan alone during that time. His libido would never contemplate that for a moment. Eventually, she called it quits anyway. 'I don't think I can last any longer', she said, referring to his incessant need for sex. 'He never stops. It must be all those vitamins.'
Joan Collins                                Natalie Wood                   Leslie Caron
Diane Keaton
When Natalie Wood entered his life for a year in 1963 she, too, gave up the ghost for the same reason. 'I tired of his virility', she said. Incidentally, her sister Lana became a Beatty statistic a decade or so later. Leslie Caron was his next meaningful relationship after Natalie. From 1964 until 1966 they were seldom apart, but he ultimately moved on. She made an interesting observation. 'He always falls in love with girls who've won or been nominated for an Oscar', she noticed. And it appears to be true. First came Natalie wood (1963), then Leslie (1964), followed by Julie Christie (1967) and then Diane Keaton (1979). Obviously, Leslie's use of the word 'always' was inaccurate, but we know what she meant.
and Julie Christie                Princess Margaret           Dewi Sukarno
Beatty's romance with Julie Christie lasted from 1968 until 1974, although during that time he took hundreds of other lovers. Hundreds. Goldie Hawn was one. Britt Eklund another. He even nailed his buddy Jack Nicholson's ex-girlfriend Michelle Phillips as soon as they split up. It didn't bother either man one iota. Throughout the sixties he included among his one and two night stands Cher, Jane Fonda, Brigitte Bardot, Faye Dunaway, Inger Stevens, Susannah York, Vivien Leigh and a host of other actresses. It goes without saying that his roving eye regularly strayed outside the movie business. Princess Margaret of England, Princess Elizabeth of Yugoslavia, Dewi Sukarno of Indonesia, Germaine Greer and even the notorious British call-girl at the centre of the Profumo Scandal, Christine Keeler, bestowed their favours on this man who seemed to be able to 'pull' women from every walk of life.
Christine Keeler                           Germaine Greer              Carly Simon
Linda McCartney nee Eastman was one conquest (1966-8) connected with the music industry. Others in the sixties included Diana Ross, Barbra Streisand and Maria Callas. Carly Simon and Joni Mitchell fell for him in the seventies. So did Jacqueline Kennedy (1975) and Christina Onassis in 1980. His turbulent affair with Madonna drew headlines for a while. In the eighties he enjoyed a liaison with Mary Tyler Moore at the start of the decade, and is rumoured to have serviced Elle MacPherson, Candice Bergen, Kate Jackson, Raquel Welch, Bianca Jagger and Vanessa Redgrave before settling down in marriage.